This Wayfair office furniture post is sponsored by Wayfair, but all opinions are 100% my own. Thanks for helping me to support the brands I love.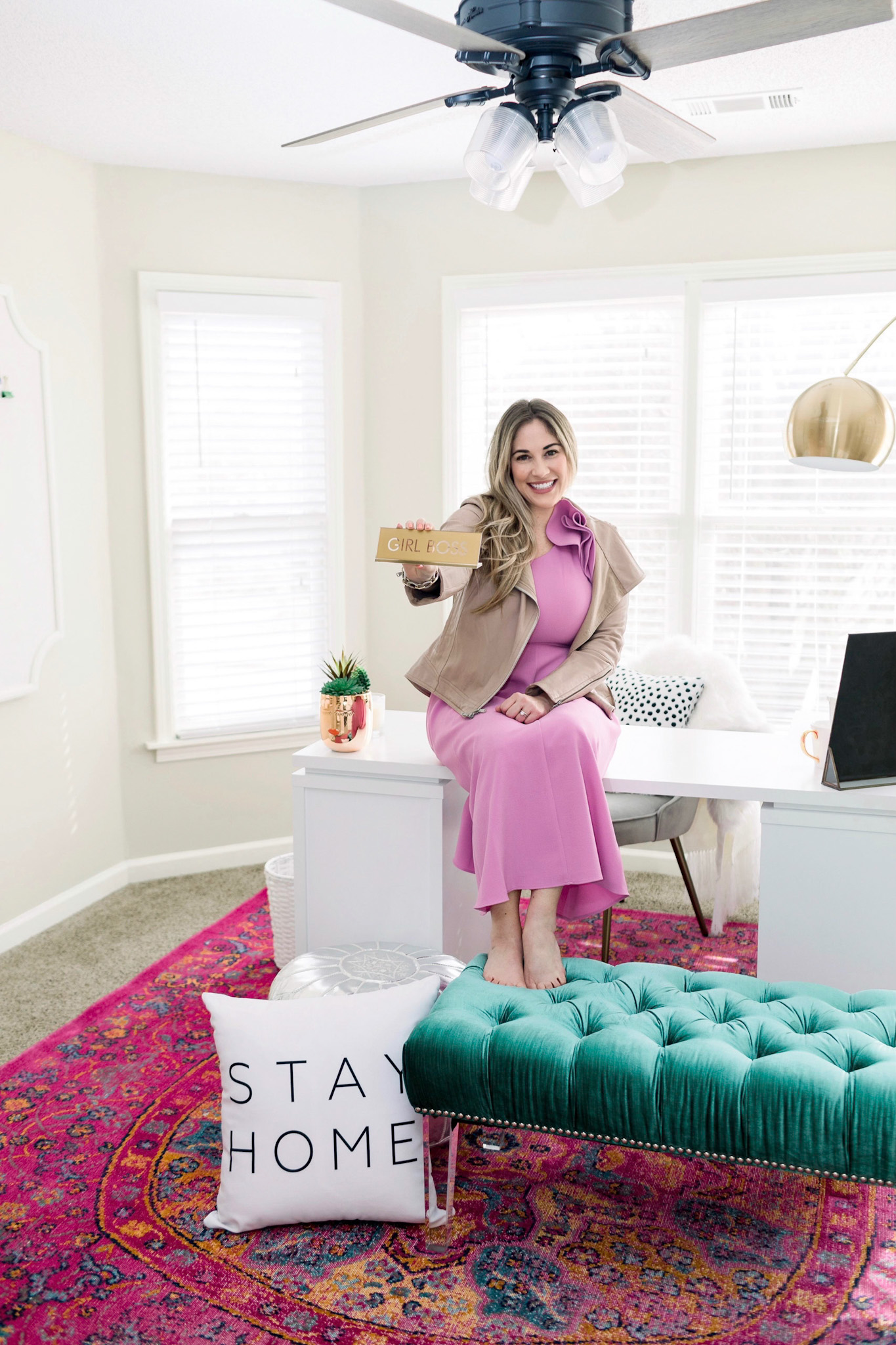 SHOP MY WAYFAIR OFFICE FURNITURE:

Do y'all remember back in August/September when I shared about my master closet being a total wreck? I had been keeping a lot of different odds and ends for our wedding in that closet. In the process of moving things out of the closet, they needed a place to go. So…the office was the designated place for it all. This led to my office ending up a mess too!
Now that we can see some light at the end of this tunnel that is winter and we are nearing nicer weather, spring cleaning fever hit me! I decided it was time to clear out the office, get things organized and make it a nice work space for myself that I can actually use. 😉
I got a little help from Wayfair in all of this. Do y'all love Wayfair as much as I do? Even though it's a huge site, it still feels like such a hidden gem! With so many amazing Wayfair office furniture options that are great quality, great customer service and great prices, you just can't beat it!
I found my desk, pouf and desk tray all on Wayfair. My desk has built-in shelves, drawers and a cabinet for filing important documents and keeping things super organized. I love how roomy it is and how it is L shaped for even more storage and work space. And that tray is perfect for organizing bills, mail or anything else important I have to keep right there so I can see it all.
All of the little touches in here really bring the entire room together. Wayfair has so many Great Wall shelf options, and these wall shelves allow me to display a multitude of things like Leighton's artwork, my framed degrees and anything else I want to be able to take a look at while I work to keep me motivated. And they are great for decoration too!
I wanted to share some tips with y'all in case you're looking to give your office a makeover but you're not sure where to start.
Tips for Organizing Your Office
Utilize bins to maximize storage space and keep items together. I keep all my stuff for mailing in my bins. I like to keep envelopes, cards, stamps, etc.
Buy pieces with built in storage. This bench has some built-in storage space and is a great way to keep more items organized like your favorite blankets.
Get a desk that has lots of room and storage space so you can have a section for everything. A working space to read or write, a space to type and even a space to put follow up items.
Keep your favorite items on display and organized with art shelves or wall racks. This way you can keep your favorite pictures, books, etc. organized together and bonus, it looks cute too!
Get trays for your desktop or drawers to put smaller items in and keep separate.
There are just so many things about my Wayfair office furniture that I really love. It feels so refreshed in here, and I've been loving sitting in here and using it as a little escape to just get some work done. Do y'all have a space in your house that needs refreshing? Let me know in the comments!