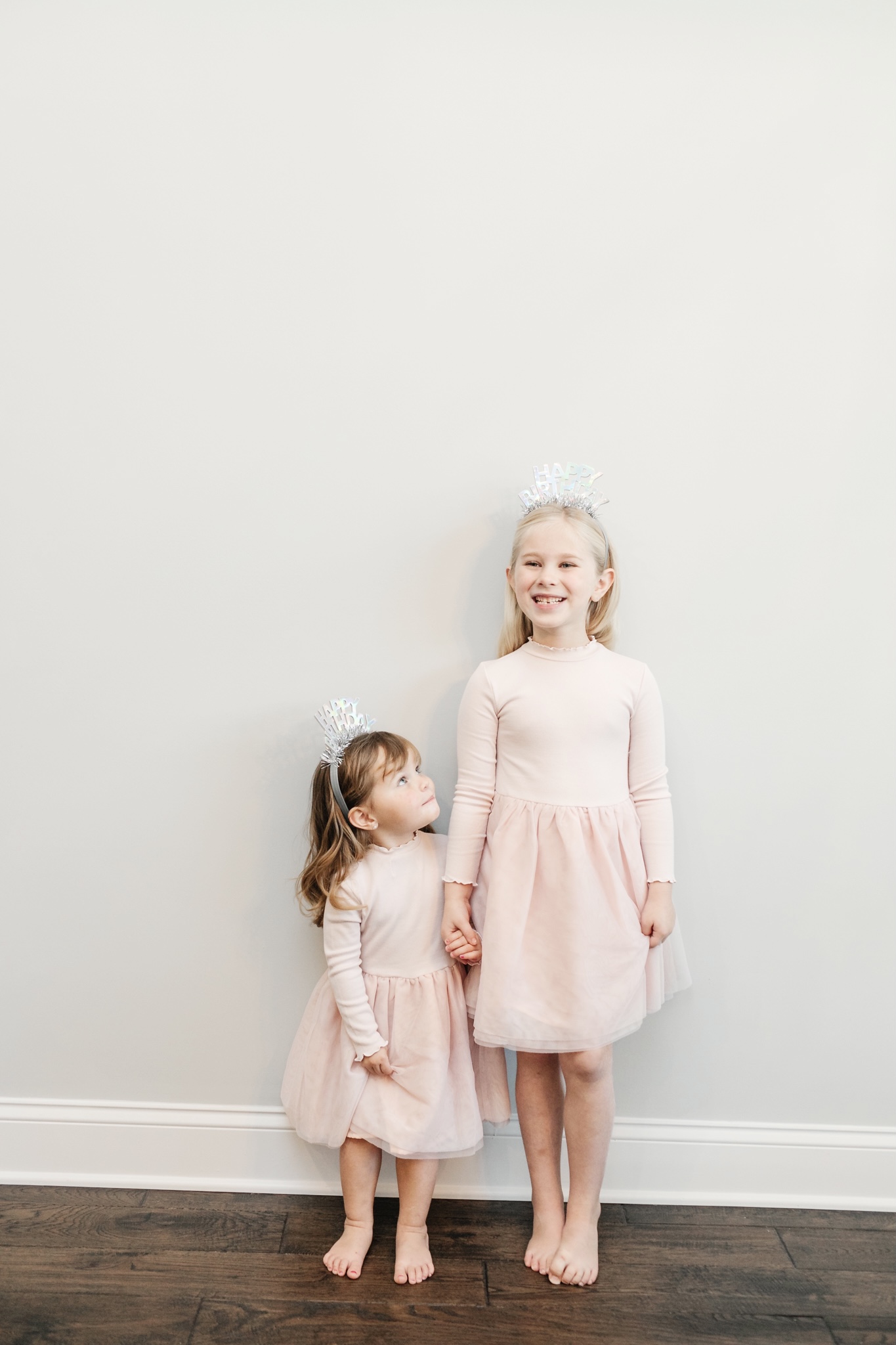 SHOP THE PUMPKIN AND PINK PRINCESSES BIRTHDAY PARTY LOOK:

I can't believe we had a 6 year old come last Thursday! Two weekends ago, we had small family birthday party for Leighton, and she had an absolute blast! It was just immediate family on my side and 1 of Leighton's best friends. I felt so bad about it being such a small little party, but Leighton seemed to think it was the best thing ever! She absolutely loved seeing family and was so happy her bff made it.
Leighton's Pumpkin and Pink Princesses Birthday Party:
With her birthday being in the fall, we couldn't resist choosing these pretty little pumpkin invitations from Minted. I thought the pink and orange would be so cute together, and it would go perfectly with the girls' little tutu dresses and headbands. It worked out great because all WEEK long, all they wanted to wear were their tutus lol! Who would have known they would love them that much?!
We wanted to keep it Pumpkin and Pink Princesses Birthday Party simple since I'm 9 months pregnant, so we just ordered everyone's favorite pizza, bought drinks and chips, and I made a fruit platter and homemade fruit dip. It was perfect for easy cleanup paired with paper plates, cups, napkins and straws.
I decided to ask Leighton what kind of cake she wanted this year since last year we did cupcakes (we like to mix it up!) We had just recently got some cookies a couple months ago, so she was adamant that she wanted a chocolate chip cookie cake. So I ordered from my favorite local cake shop, Small Cakes, and they said yes, they could easily do that! I had looked over some examples and just knew that I needed it to be a little bit girlier (and pinker) than just a chocolate chip cookie cake, and then I found a picture of one with sprinkles or funfetti in it. It was perfect! I showed it to Leighton, and she started screaming that's the one I want!
I sent them pictures of the invitations and the tutu dresses so we could coordinate the colors of everything together, and I just love how the cookies and these pretty little rosette sugar cookies turned out. I think the pink and orange colors go so well together, and the little orange and pink pearls on the cake really are the icing on the cake…pun intended! Aside from our wedding cake, this was hands down the second best cake I've ever tasted. I wasn't sure how a chocolate chip cookie cake would turn out when I typically order regular cakes from there, but trust me, it was AMAZING! We only had a couple slices left, and they were gone the next day lol!
Leighton let Amelia help her open her presents, and they had the best time. She got jewelry, slime, clothing, leotards, a robe, scrunchies, a pillow and more! She played with the jewelry and slime and had to try on her new clothes all afternoon. By the end of the night, we were all exhausted because it was such a perfect day. And to make the day even better, she lost her second tooth that morning, so the Tooth Fairy visited her that night. We had a fun, eventful Fall Break and birthday, and honestly it was one of my favorite parties of Leighton's in years! What have y'all been doing for birthdays this year?