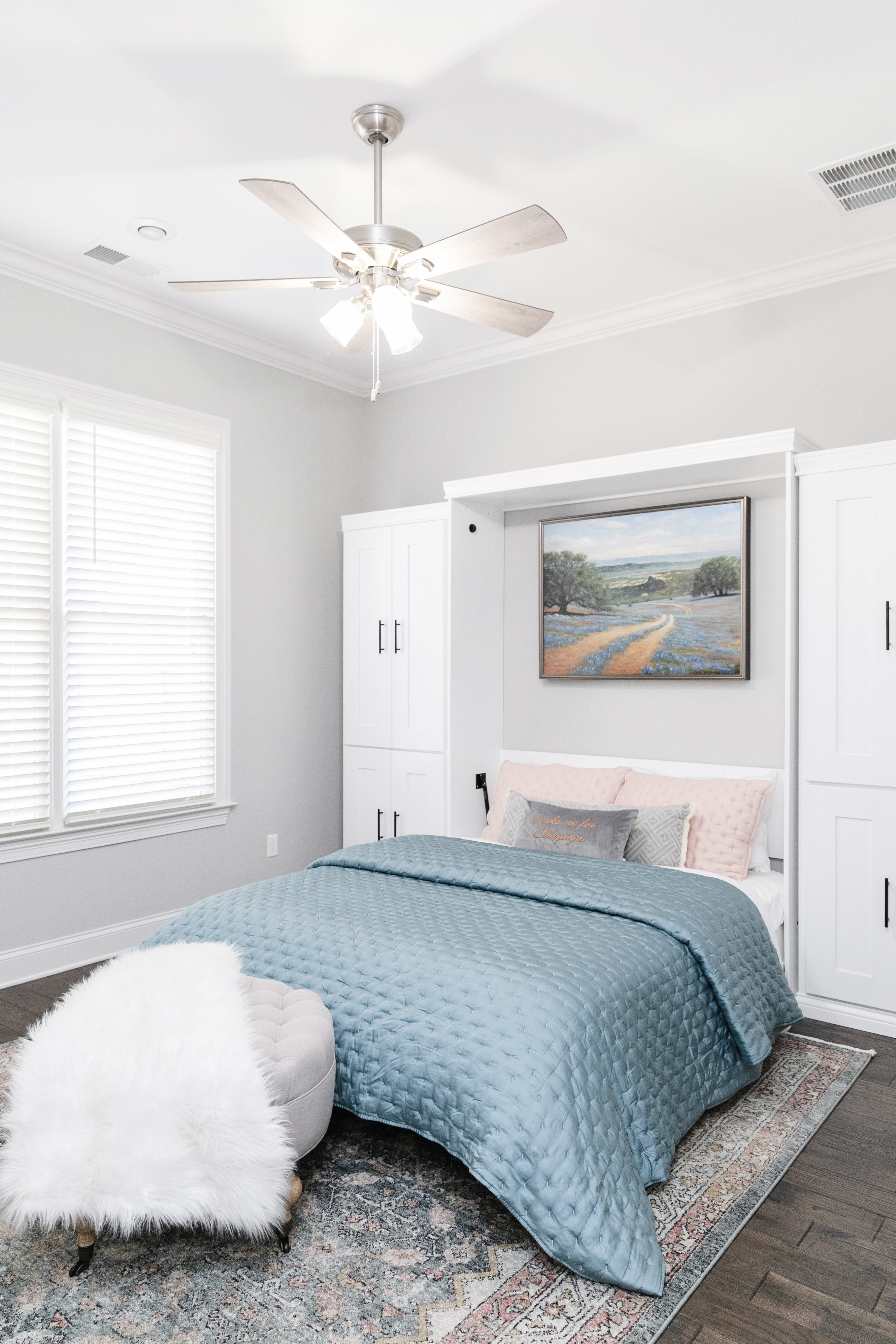 Shop the Look

I'm finally getting around to sharing an update on my guest bedroom featuring a murphy bed. I first shared it here last month, but it's come a long way. Since then, I have really made this room look more like an actual room and not just some combo room that isn't really finished. And I'm so happy with how it has turned out!
The hardest thing about styling a room with a murphy bed is that you are probably short on space. That means we are looking for ways to add more storage throughout. Since you're adding a murphy bed and looking for more storage, it's possible that you might have a multifunctional room. My room is both a guest bedroom and an office. That brings me to the third challenge. I want each space to be unique in the room, but I still want it to flow and serve its purpose (while looking good!)
That's what I'm here for today – to show you some great ways to decorate your room with a murphy bed. We don't need a plain Jane room! We want one that will stand out and still work for our family.
How to Decorate a Room with a Murphy Bed
1.) Add molding onto the top of your murphy bed for a more customized look. Crown molding really elevates any room and space, and the same is true for your murphy bed. It gives it a custom look that makes the bed look much more expensive and not just a pull-down wall bed.
2.) Add side cabinets, bookcases, or built-ins to conceal the bed when up. Not only does it conceal the bed, it gives a much more cohesive look to the room and makes the furniture (i.e. the bed) look nicer. And an added bonus is that you now have even more storage space for clothing, bedding, bookcases, decor, and more!
3.) Add modern, updated hardware to the bed and cabinets. Not only does it make your bed look much nicer and updated, but larger handles on the bed actually help you to open and close the bed too. Win-win!
4.) Pull the space together with a rug. Nothing makes a space look more complete than adding a rug. It's the perfect canvas for your room!
5.) Pile on the plush bedding and pillows for a luxurious look and feel. You don't skimp on your bed, and you shouldn't on your murphy bed either! Just make sure you have enough room to store your pillows and comforters when the bed is up. We just got this comforter and this quilt and shams from Dillard's Wolfchase, and I love how they look and feel! No more feeling like a guest in the guest bedroom. This bed is just as nice as my own!
6.) Add art above the bed. What better way to make your bed look like it's there all the time than to add art above the bed? It will make your room look complete.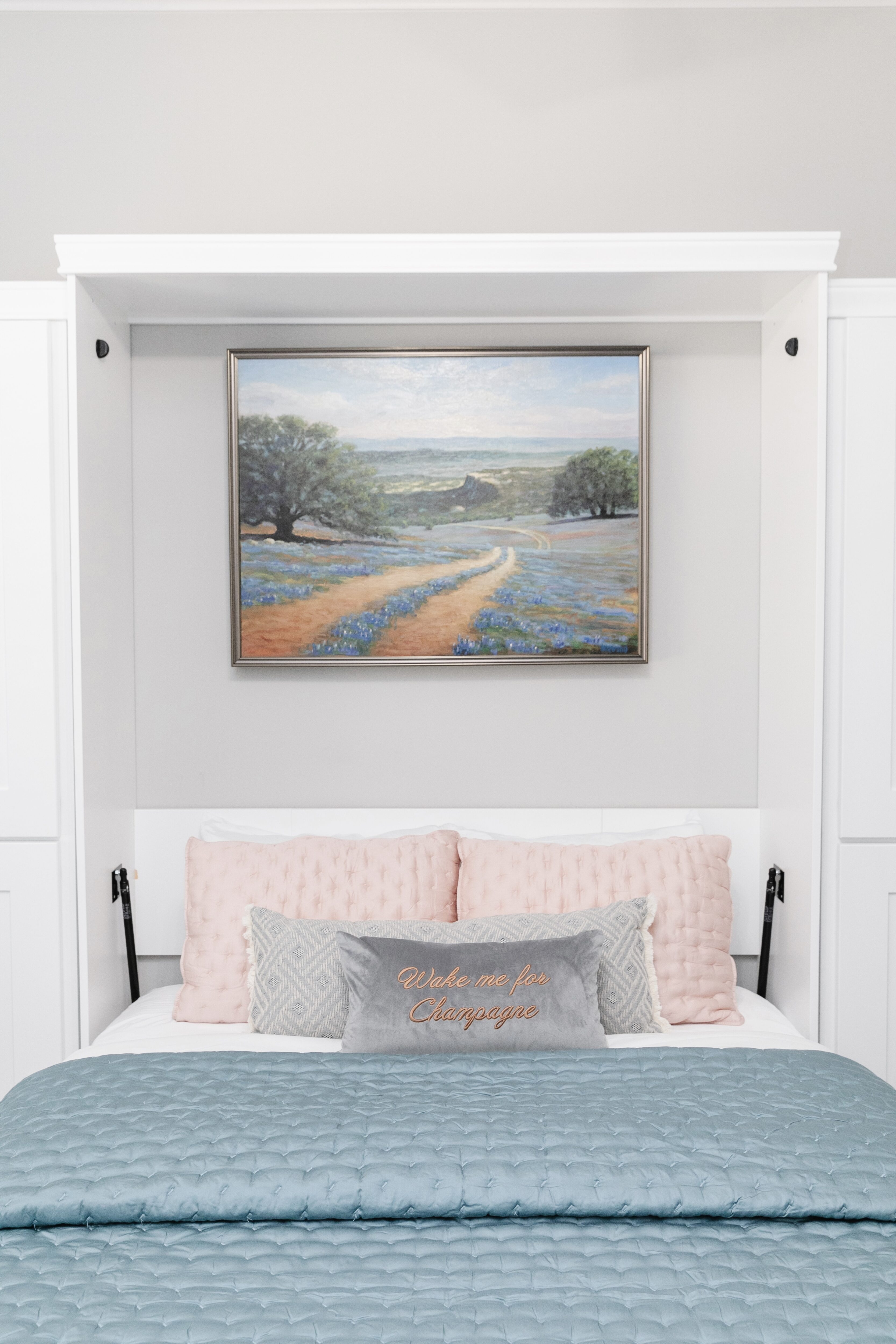 7.) Create functional spaces within the room. When the bed is down, I have a sleeping area and a sitting area. Giving the room these spaces will not only be practical, it gives the room a nicer, finished look.
8.) Add furniture and decor that is easy to move when the bed is up or down. My ottoman has casters on it, and it's the perfect way to move around pieces no matter whether the bed is up or down.
9.) Adding an ottoman or bench at the end of the bed will elevate the room. You've seen my ottoman at the foot of the bed. It is easy to move, and it can double as a little bench at end of the bed to sit on. It could even hold a tray and some items and work as a side table or coffee table. Add pillows or throws to really elevate the look.
10.) Add lighting around the bed. We are working on this one right now. Add a floor lamp, table lamp, or even art light. It's the perfect way to make the bed look like a part of the room and not just some makeshift item that's been added.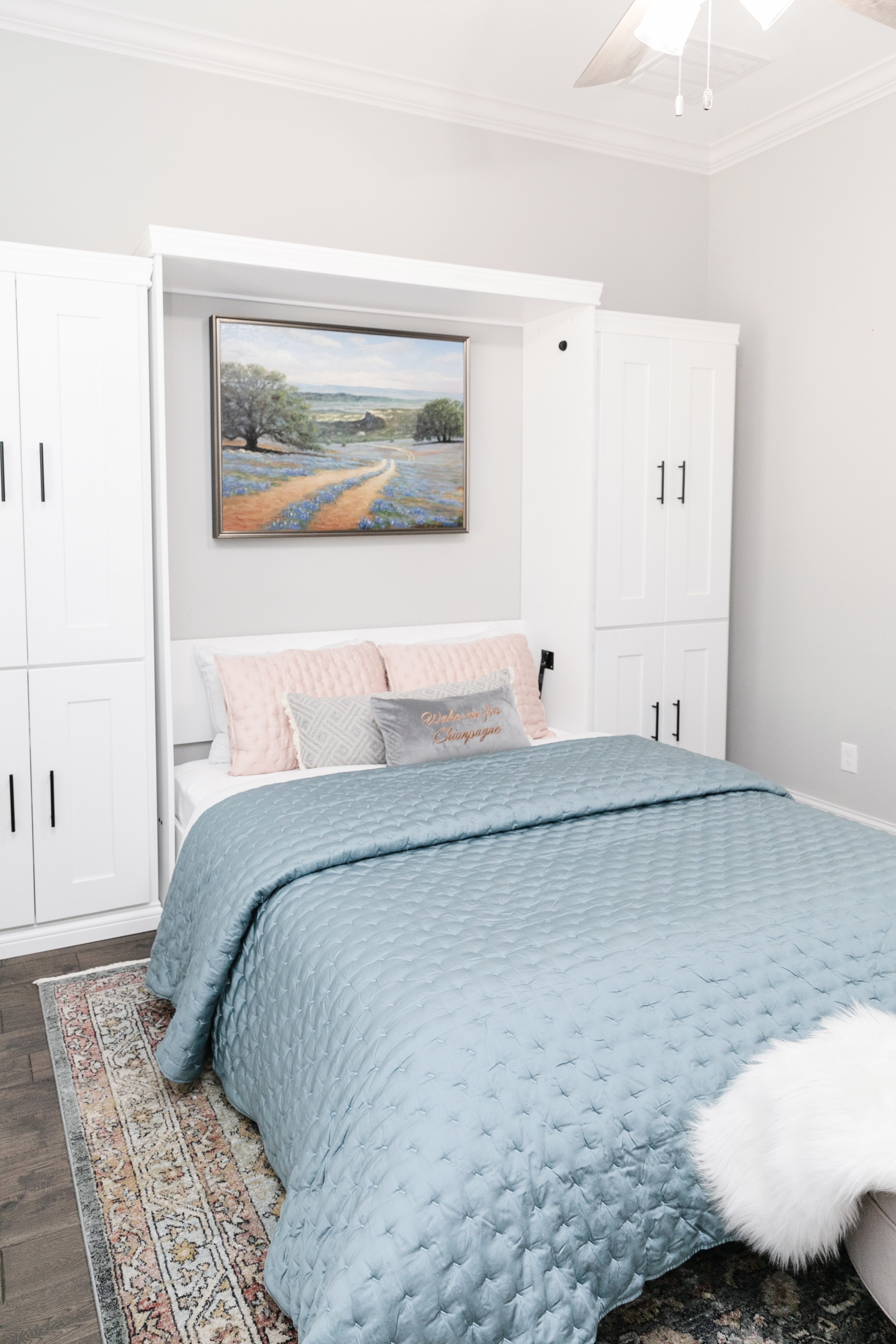 What do you think about the room so far? It looks so much better with the bedding, side cabinets, new rug, and ottoman. I cannot wait to finish decorating and show you another update soon. Do you have a murphy bed? Have you considered adding a murphy bed for a multipurpose room?