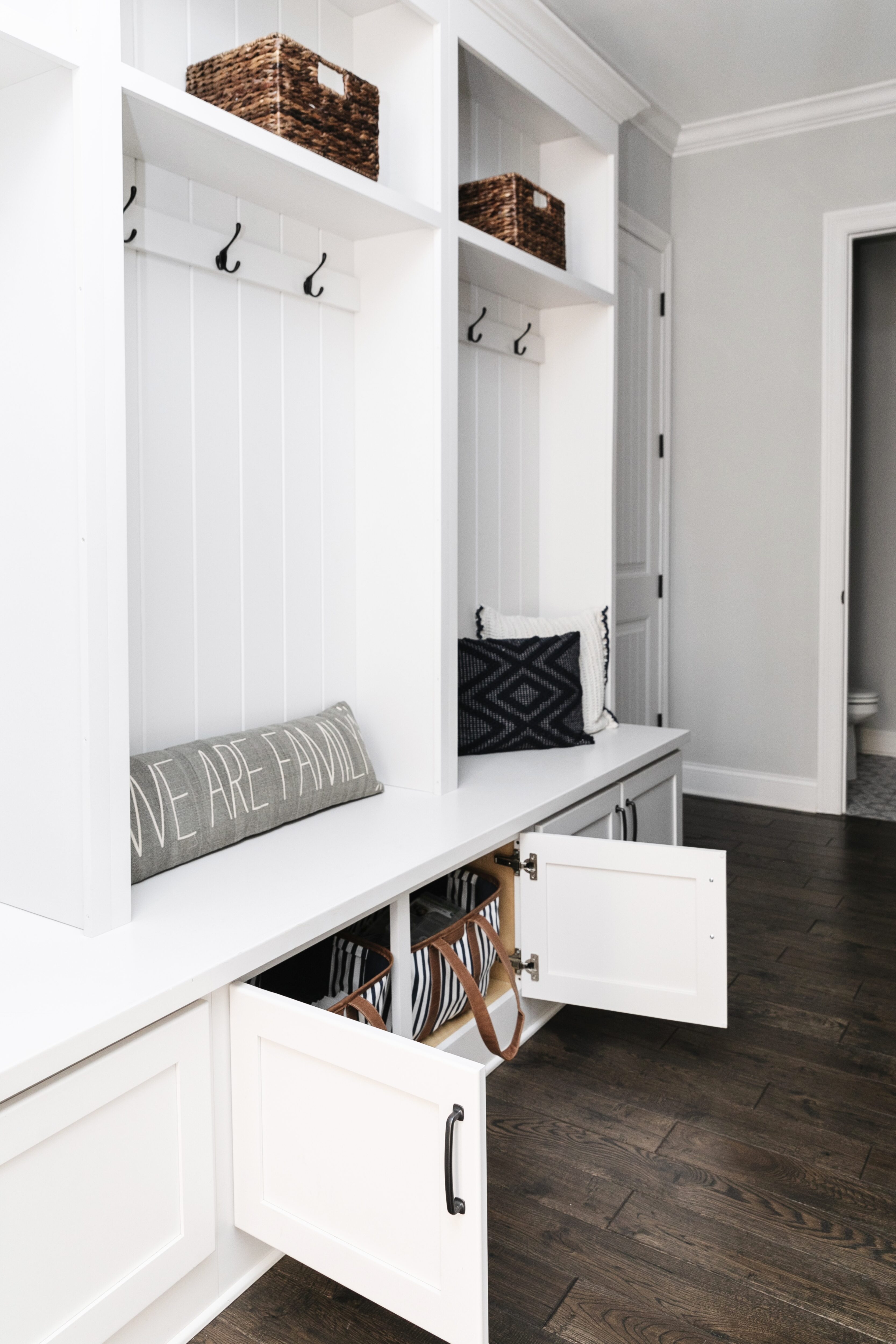 Shop the Post
[

Whether you have built-ins all throughout your house, or you love buying and adding storage furniture like bookshelves, storage benches, or cubbies, you are probably looking for something to put on them to contain all your stuff. Extra papers, desk accessories, shoes, clothing. You name it, our house is overflowing with it!
I wanted to share some of my favorite containment pieces today that are perfect for all these spaces. It really depends on what size your furniture is, what size container you're looking for, and what look you're going for. I love how versatile they are. They not only provide a great storage solution for all things, but they can also double as decor. Check out my favorites below and where I've used them.
5 Storage Options for Shelves, Cubbies, and Bookcases
1.) Collapsible totes – we have these fabric totes in our entryway cubbies and some in our garage too. The ones in the cubbies are these fabric totes that collapse down flat. They're great for picking up and carrying with you to another place, so I love to use these for things that I sometimes have to carry on the go with me. They would also be great for under-sink storage for cleaning supplies. Pick it up and carry it with you. In the garage, I have these awesome plastic collapsible totes. They're great in the garage too.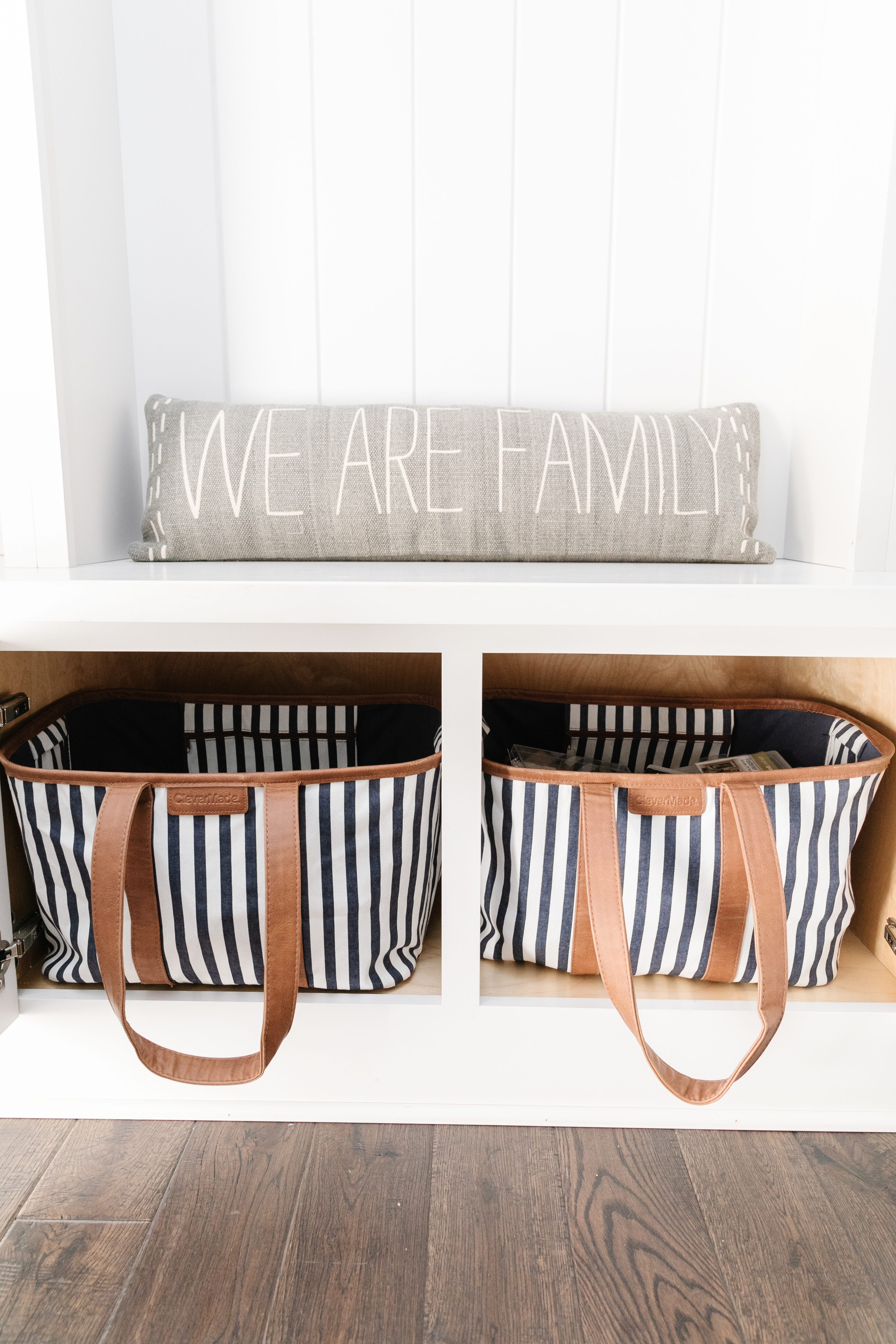 2.) Fabric bins – We have these in our cube storage organizer in our family room upstairs, and we absolutely love it! It's great for the kid's toys and books, and it keeps them all separated, organized, and out of site so it still looks clean and neat. These bins are easy to slide in and out, and you can even leave some squares empty and put books in that cubby. The possibilities are endless!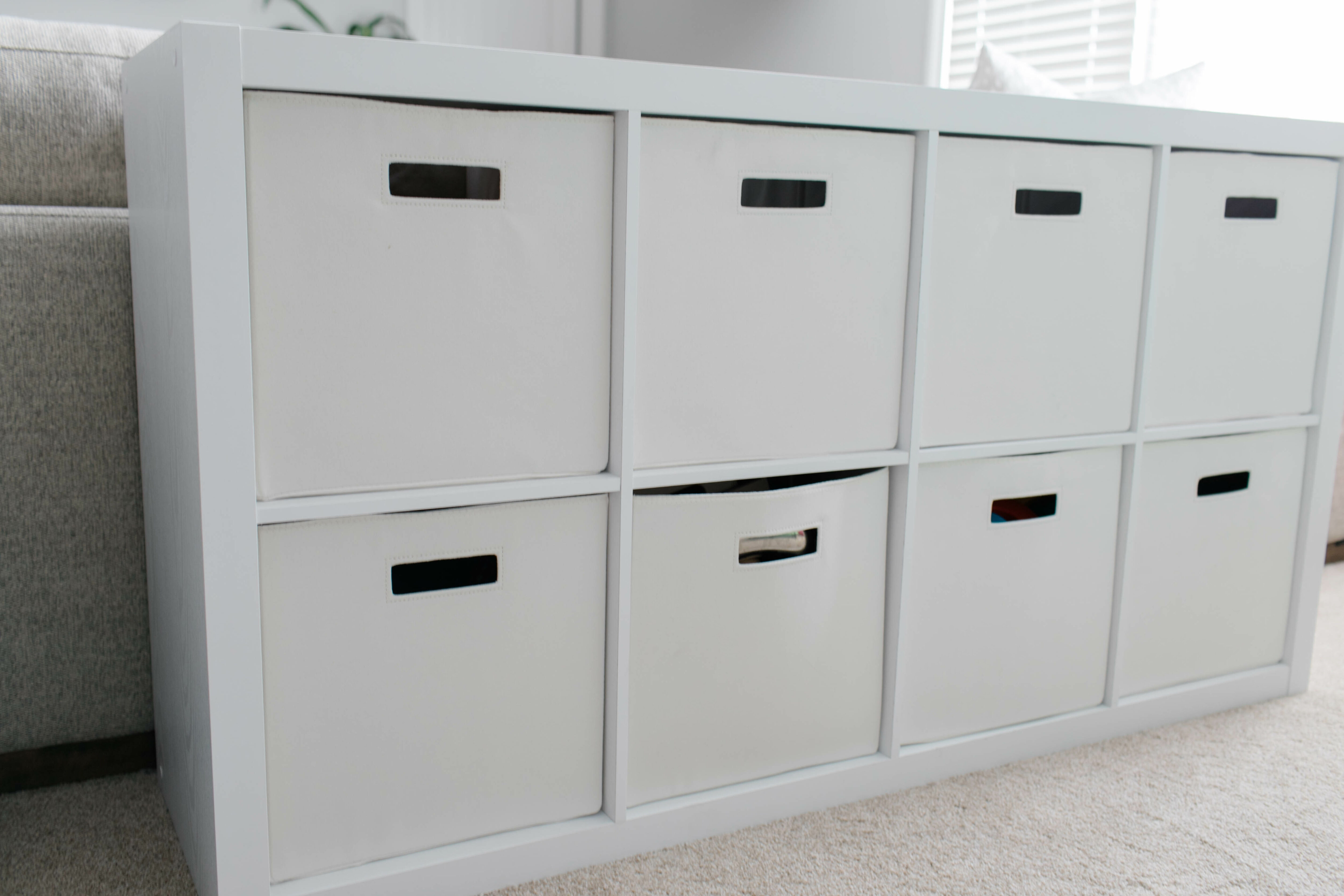 3.) Canisters – Canisters are always a great option! Not only are they functional, but they can add such a fun pop of color and look so good on your shelves. We use these in our living room and in my office. I have a small one that holds paper clips, and you can easily store most of your office supplies in them. And it's a great way to decorate your shelves too and give it that nice, finished look in the room.
4.) Wicker baskets – We have these all throughout our house. We use these dark espresso-handled ones in our entryway and in our master bedroom and bathroom. In our living room built-ins, we use these whitewashed ones that are lidded. They hide a lot of the kid's cards and board games and look so good in any space! They even have slim ones that can fit under your bed and store out-of-season clothing.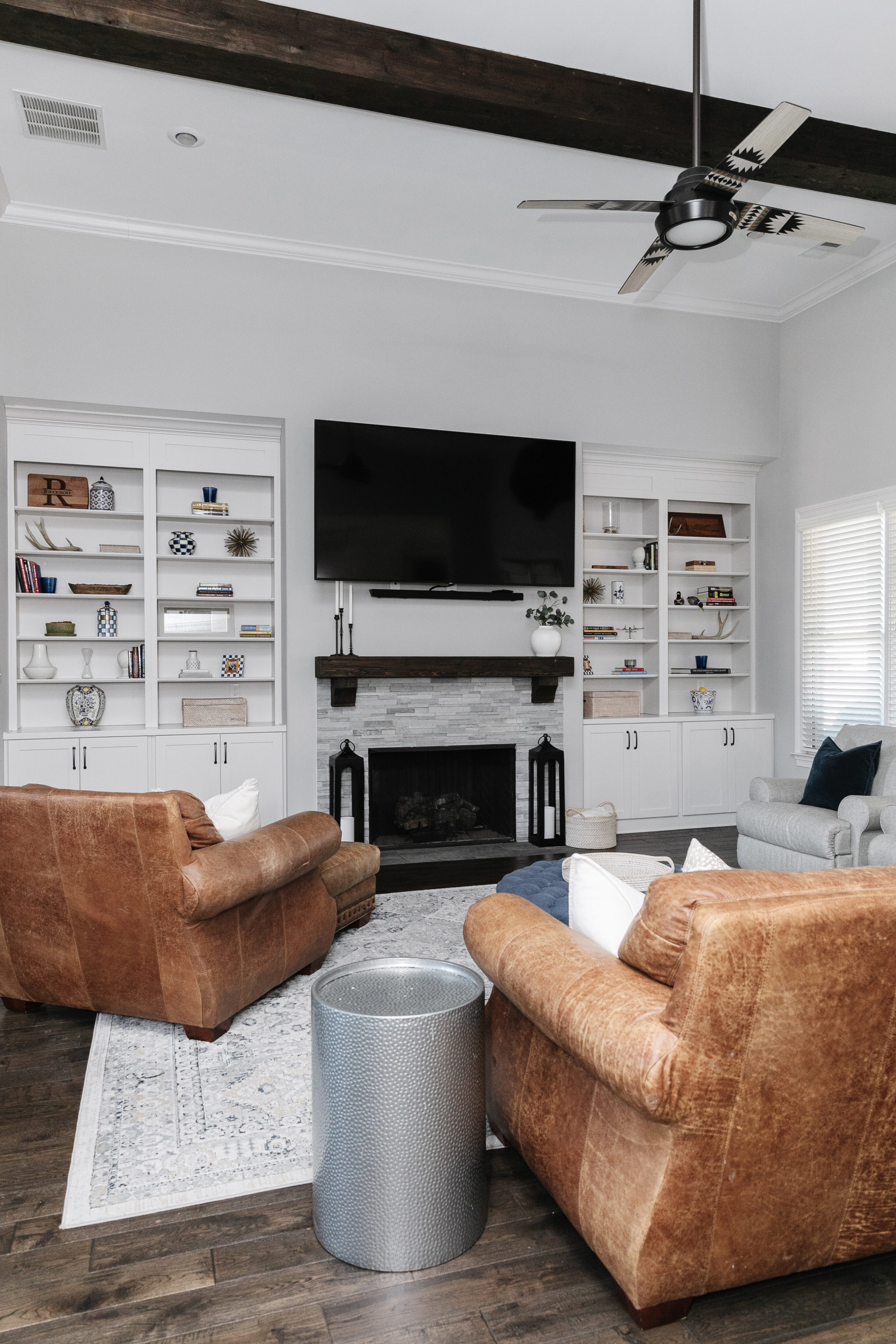 5.) Acrylic bins – We have these in my office, and we also have them in our storage benches in our eat-in kitchen. They are pretty durable and look clean. I also love that you can see through them to see what is in them. We use them in our pantry, bathrooms, and refrigerator also. You can never have too many of these around the house!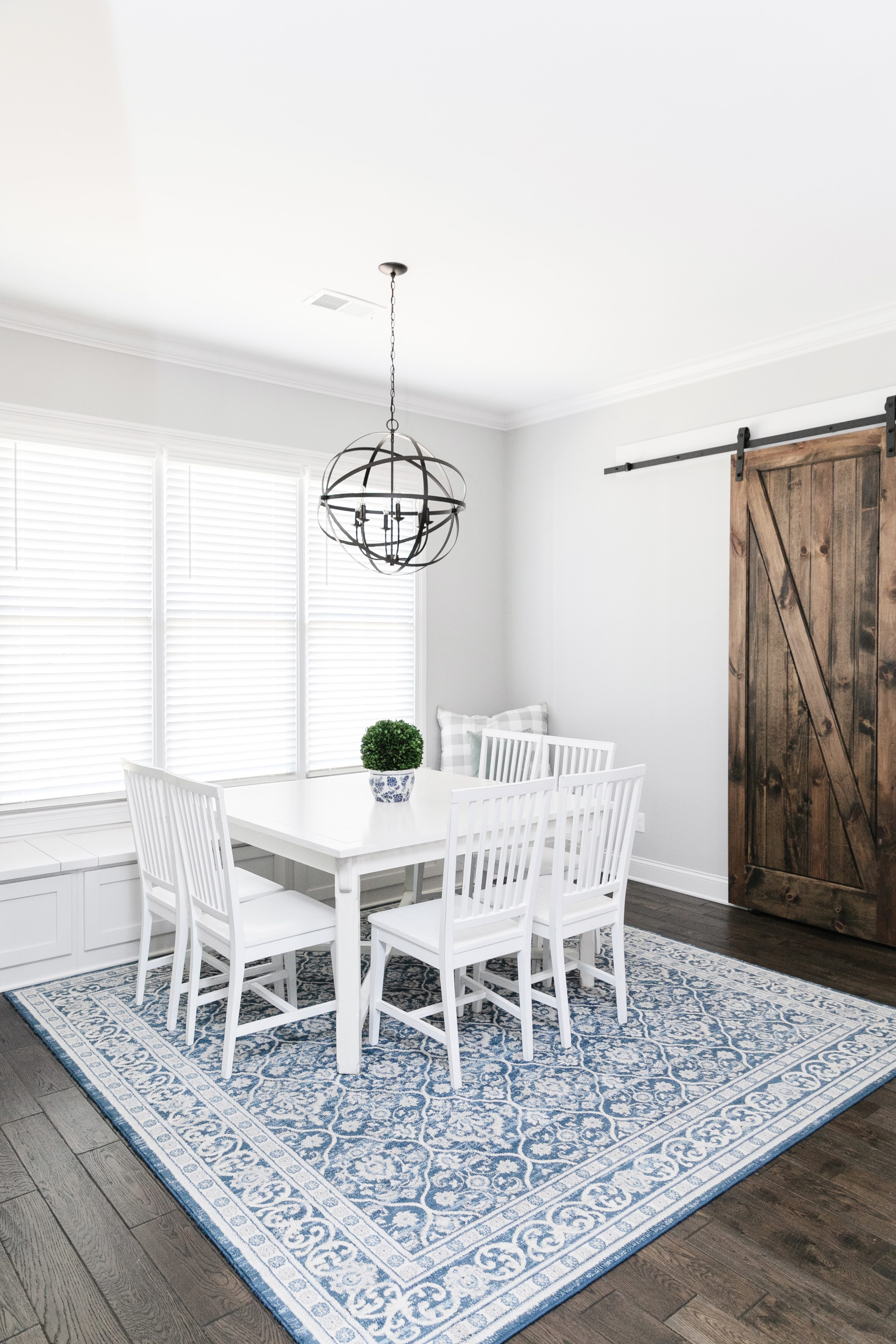 Containing your items in storage containers throughout your house and garage is the best way to organize and store items. They are a great way to keep a room clean and to keep items organized. If you're looking to store and organize items in your house, pick a small space and start with that area first. Then work area by area. It will feel so good, I promise! Which of these 5 storage containers is your favorite? Which room are you working to organize first?