Happy Friday!! I'm a little behind but I wanted to give y'all a recap of last weekend.  We had some gorgeous weather in the 70's (and are now back to the upper 30's today!)  If you follow me on
Instagram
, you can see my bundled up outfit for today, and while you're at it, I'd love it if you'd follow me on
BlogLovin
.  = )  Apparently Memphis doesn't understand that it's now spring!  Don't forget to enter the giveaways
here
 for a Target gift card,
here
 for a group giveaway and
here
 for an Evie J hot pink necklace!
Old Navy Ikat Maxi Skirt.  Old, but similar one
here
for $49.99.  Last seen
here
.
Gap Tee.  Old, but similar one
here
for $10.
Banana Republic Timeless Tank Top
.  $20.
Coach Kristina Polarized Aviators.  $
183
.  Nonpolarized version
here
for $148.
J. Crew Orange Enamel Necklace.  Old, but similar one
here
on sale for $89.99.
Ann Taylor Earrings.  Old, but similar
here
on sale for $38.86.
I decided last minute to go to Mudbugs in March last Saturday afternoon.  My sister was meeting up downtown with my mom for dinner and the Elton John concert.  Jealous!!  My sister had some time to kill beforehand, so we went by by and got our crawfish eating on!  Those little mudbugs (ugggh, why do we have to call them that?!) were good.  I refuse to suck the heads though!  Is that a Southern thing??  My sister could only stay for about an hour and then she had to leave, so guess who I spotted right as I was leaving?  My blogger buddy Colleen!  I left with Colleen, her hubby and a couple of her friends and we headed over to the Flying Saucer, and then I met my other blogger buddy Bekah!  Could this weekend get any better?  Well, it did, becasue later I met up with another blogger buddy, and I had already hung out with Lindsey and Janessa the night before for my neice's birthday party.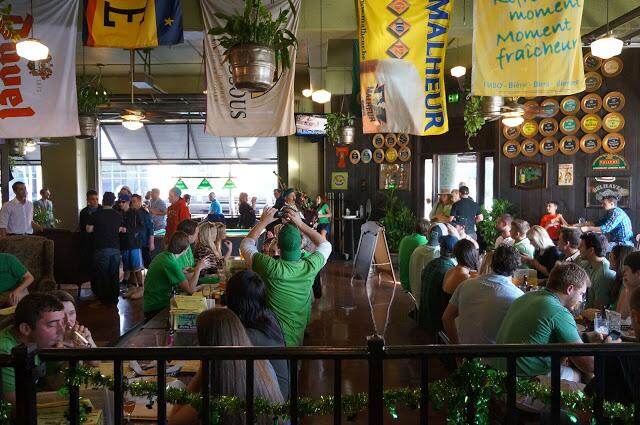 After we left Flying Saurcer, we decided we were in the mood for barbecue (It's Memphis, come on!)  So we headed over to the BBQ Shop.  I was excited because it had been on my list of places to eat for a while.  It was not my favorite BBQ place in Memphis, but it definitely makes my Top 5 list.  We have some good BBQ in Memphis, so to make it in the top 5 is pretty dang good.  We met up with another blogger buddy who I finally got to meet IRL, Amanda.  she made me wish I had dressed cuter to eat mudbugs (or at least brought a change of clothes!)  Bad fashion blogger, I know.  = )
I slept in the next morning, and let me tell you it was awesome!  You know that saying that no one ever goes through life and regrets not getting enough sleep?  Well, they obviously haven't met me.  I woke up to the smell of bacon, my favorite!  Shane had cooked breakfast for us since he was off work that day.  And I have to say his bacon cooking skills have gotten considerably better over the next few months (I am a good teacher.)  = )
With that gorgeous weather, I couldn't resist sitting outside on the screen in patio and doing some work on the computer.  I gave the yorkies some rawhides to chew on, and they were happy as clam…or dog.  It's going to be hard to compare with last weekend with a forecast consisting of rain, snow and the 40's, but I'll take it anyways!  You can see more pictures of my screened in patio here.  Now if we could just have blogger buddy meetups every weekend!  I'll see yall on Monday with 2 giveaways!  Have a great weekend, and try to stay warm!