Happy Monday ladies!  I know I should be upset that Monday has has found us again, but I'm going to Vegas in just a couple days so I am ecstatic!  I've never been, and we have been planning this trip for 2 years now!  I'm going with my sister and dad, so we will watch a little Nascar with dad, do a little gambling, then it's shopping time with my sister.  I cannot wait (in case you couldn't already tell!) 
So now comes the exciting news for you, keep reading below to enter the Rafflecopter Giveaway for a $300 Kate Spade Handbag.
  If you win, you get to pick any bag you want up to a $300 value. 
And don't forget to enter the giveaway for the HairPeace No Slip Hairband here and the $30 Target gift card here.
  They both end tomorrow and will be announced on Wednesday before I head out to Vegas.
Have yall noticed that each month my wish list just gets longer and longer?  This is that hard in-between time of the year where spring is on our mind, but it's still winter here with temperatures in the 40s all this week.  Most people don't realize it, but this is actually the best time to get the most bang for your buck out of your wardrobe.  You can easily still wear long sleeve blouses in springy colors and even layer them if it's really chilly.  On warmer days roll up those sleeves, or break out some of your spring clothing.  You can essentially wear both your winter and your spring clothing this time of the year.  That's what I call winning.  This wish list is chock full of goodies such as mint, butterflies, polka dots, neon, dogs, floral, scallops, stripes and metallic.  I think that pretty much covers all the trends this spring.  Done and done.  See those beautiful mint earrings?  Only $9!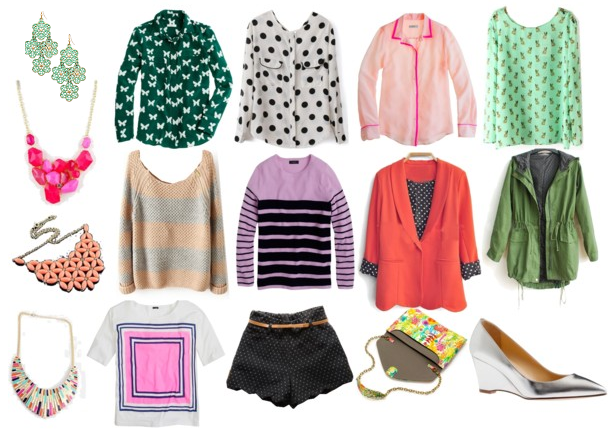 1.  C7 Boutique Mint Floral Cluster Earrings.  $9.
2.  J. Crew Silk Butterfly Blouse.  $150.
3.  Sheinside Polka Dot Blouse.  $32.10.  Sign up to save 15% off your purchase!
4.  J. Crew Silk Tipped Blouse.  On sale for $79.99.
5.  Sheinside Dog Blouse in Mint.  $28.06.
6.  Sheinside Hot Pink Acrylic Necklace.  $10.93.
7.  Sheinside Flower Collar Necklace.  $12.06.
8.  Sheinside Zipper Sweater.  $32.74.
9.  J. Crew Boxy Boy Sweater.  $238.
10.  Sheinside Scalloped Polka Dot Blazer.  $55.68.
11.  Sheinside Green Hooded Polka Dot Jacket.  $46.16.
12.  Sheinside Bib Collar Necklace.  $10.61.
13.  J. Crew Double Square Tee.  $39.60 with code SUNNY.
14.  Sheinside Polka Dot High Waisted Shorts.  $28.71.
15.  J. Crew Liberty Clutch.  $148.  Sold out online.
16.  J. Crew Everly Metallic Wedges.  $248.
Now for the winners of the two giveaways last week for the C7 Boutique Mustache Scarf and the $50 Gift Card to American Pretty Boutique.  If you didn't win the $50 Gift Card to American Pretty Boutique, all new customers can still save 10% off their entire purchase with code FIRST10.
The winner of the C7 Boutique Mustache Scarf is…
Laura Serrano.  Congratulations and email me for details!
The winner of the $50 American Pretty Gift Card is…
Alison.  Congratulations and email me for details!
Spring is in the air…Which means it's time to ditch the drab colored handbag you've been toting all winter.And what better purse to replace it than a brand new Kate Spade handbag?!
Best of all, we are letting YOU pick which bag you want.
You can choose any handbag you want.
{up to $300}
This month I'm teaming up with Kaitlyn and 18 other amazing bloggers:
1// Kaitlyn  2// Breanna  3// Melissa  4// Brooke  5// Mallory6// Clara  7// Jana  8// Ashley  9// Holly  10// Jennifer11// Samantha  12// Sybil  13// Tookies  14// Laura  15// Stephanie16// Andrea  17// Marquis  18// Robin  19// Lourdes  20// LisetteThese are some of the sweetest girls I have met – go check them out!All you have to do is use the Rafflecopter below!This giveaway will run from Monday, March 4 – Thursday, March 7, 10:59pm CST.It is open to US Residents only.All entries will be verified. If you did not complete a task which you said you did, a new winner will be chosen.Good luck!a Rafflecopter giveaway