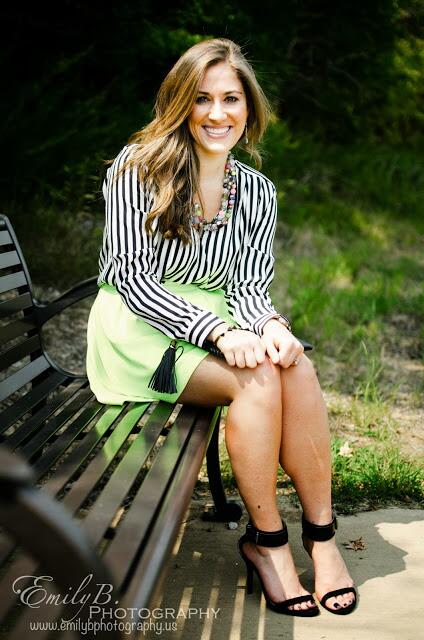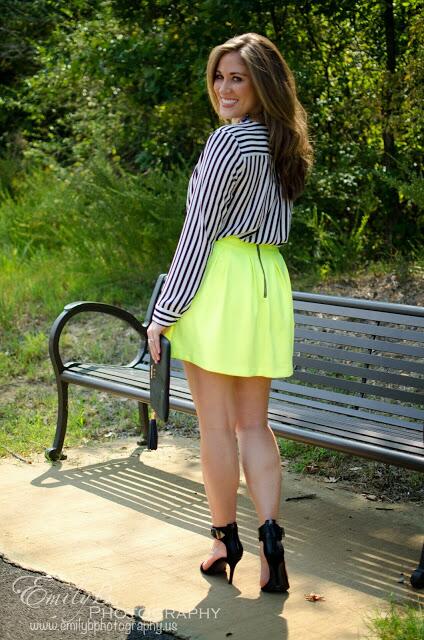 H&M Top // Urban Philosophy Skirt // GiGi New York Clutch c/o // Zara Sandals via eBay (splurge) // The Watch Company Citizen Watch c/o // Crave Jewels Necklace c/o (20% off with sparkle20) // Ara Nicole Bracelet c/o // LaMaLu Earrings (sold out, but love these)
I hope everyone had a wonderful weekend!  Saturday and Sunday I finally finished off my $500 Ann Taylor gift card I won.  I ended up getting every single item for 40-50% off at Loft and Ann Taylor, therefore stretching my gift card even further.  I feel like I got some great staples, some of my favorites being these boyfriend jeans, this trench coat, this quilted leather skirt and this sweater dress that I'm actually wearing to work today.  Today is the first day of our credit meeting today, so it will be a busy week of meetings and dinners.
Saturday night we celebrated Shane's sister's 25th birthday.  They grilled out shrimp and chicken cabobs, and the weather was amazing.  It is definitely the perfect grilling weather.  Sunday the weather felt even more amazing.  Shane and I had lunch together on the patio at Frida's.  I got the Camarones Veracruz, and the shrimp in it were huge and came with melted butter.  So good!  Their guacamole wasn't that great, but their salsa definitely made up for it.  After lunch I had to go to school for a couple of hours to work on some group projects with my class.  Then we ended the night with a golfcart ride around the neighborhood, picking up dinner to go and watching a movie on the screened in patio.  I wish I would have taken a picture of it, but we actually ended up falling alseep out there and slept on modular couch on the screened in patio all night.  It was pretty cool waking up outdoors to the sun coming up.  = )
I'm sure you couldn't help but notice the gorgeous statement necklace I'm wearing today.  It is from Crave Jewels.  They have a gorgeous selection of jewelry, and they are all handmade by the owner, Erin.  She strung every single bead on this necklace, and I have to say that she has wonderful taste in jewelry because this necklace is just perfect!  Today I have teamed up with Crave Jewels to giveaway a $50 credit to their Etsy store.  To enter the giveaway, just use the rafflecopter widget below, and good luck!