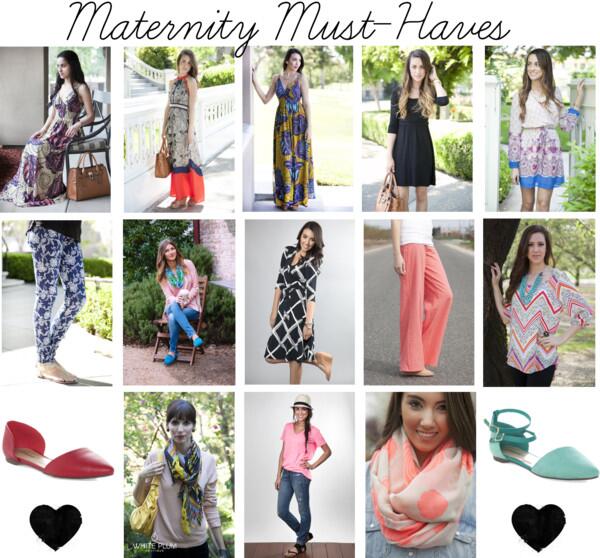 Today I'm teaming up with one of my favorite online boutiques,
White Plum
, to show you some of my maternity clothing must-haves.  I have only bought a few maternity pieces so far because I have preferred to try to style non-maternity pieces as long as I can.  I am officially 22 weeks today, and sizing up a size or 2 has worked perfectly so far.  There are a few key pieces that I know I will eventually need in maternity soon such as shorts, pants and jeans, but I love the flexibility of wearing non-maternity pieces so far.  One of the greatest things about wearing non-maternity pieces is that they make me still feel like "my normal self."  I have loved being pregnant so far, but with such a love for fashion, I want to still be able to express myself and wear clothes that match who I am and make me feel comfortable.  Also I can always get these non-maternity pieces taken in at the tailor afterwards.  It is much cheaper than buying a lot of maternity pieces that I may only wear once more in my life.
Some of my favorite pieces to wear while pregnant are drawstring pants, leggings, blousey tops and tunics, boyfriend tees and drawstring, maxi and wrap dresses.  I have also found a new love for cute flats.  It is amazing how often I reach for flats and sandals instead of high heels now.  Flats don't have to be boring!  Pick a pair in a bright, trendy color or with unique details.  One of my other favorite things to do is to try to focus a lot on accessories also.  Pick a colorful or great printed scarf, a neon crossbody purse or some statement jewelry.  These pieces will make you still look chic even if you don't feel quite so chic while carrying around a basketball.  = )  Make sure you check out
White Plum Boutique
for great pieces that can work for anyone, and I have already added
this
,
this
and
this
to my wish list for after I have Baby Boswell.