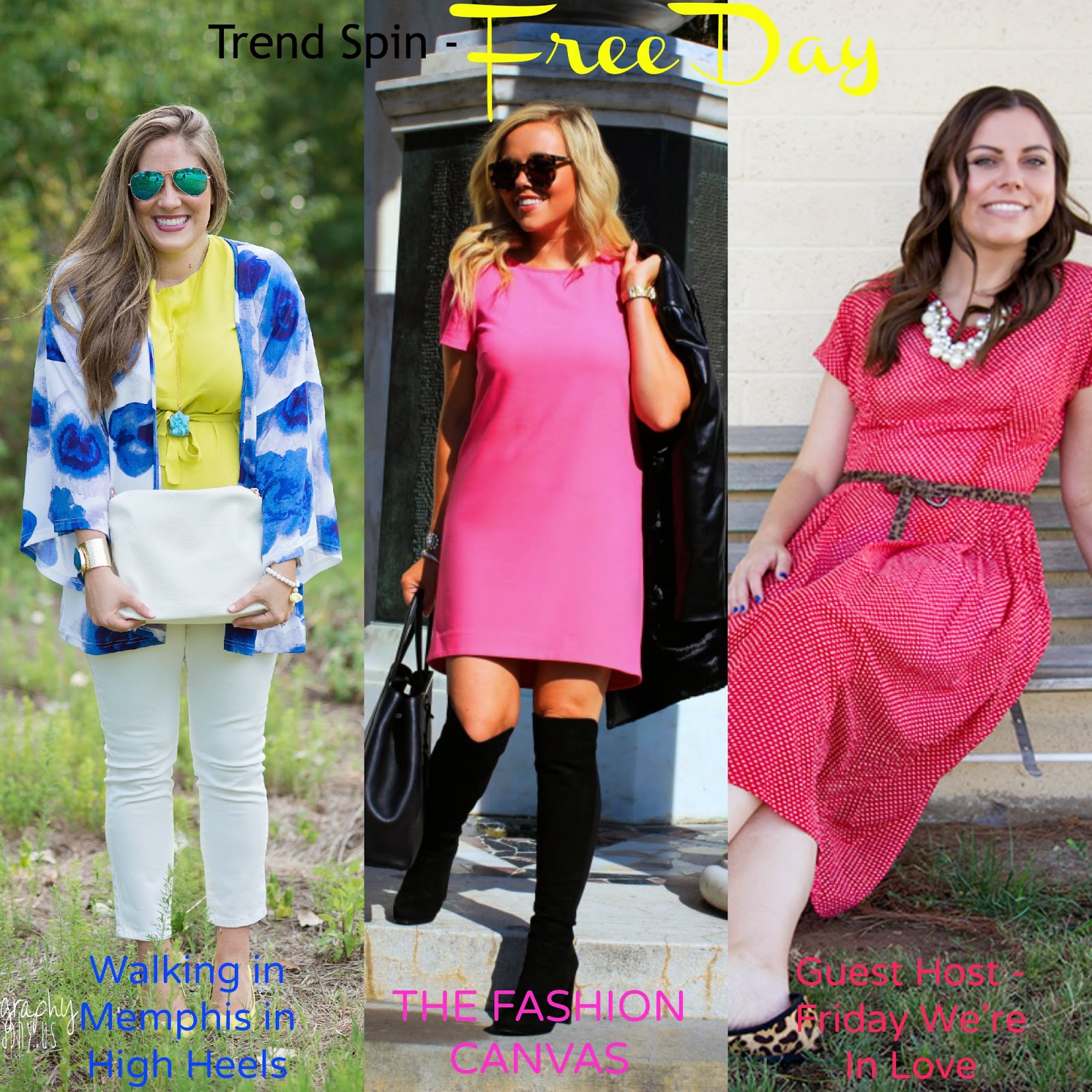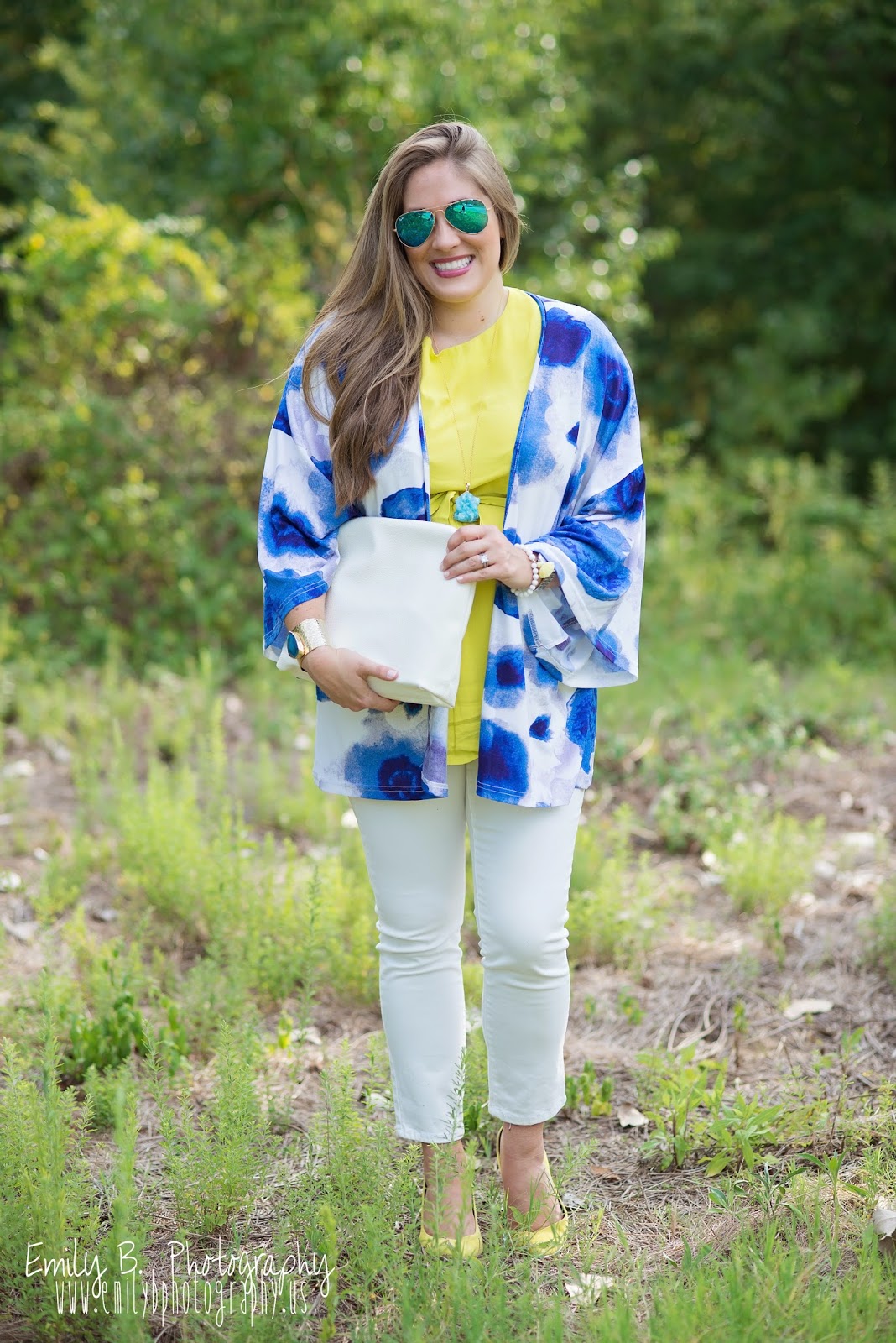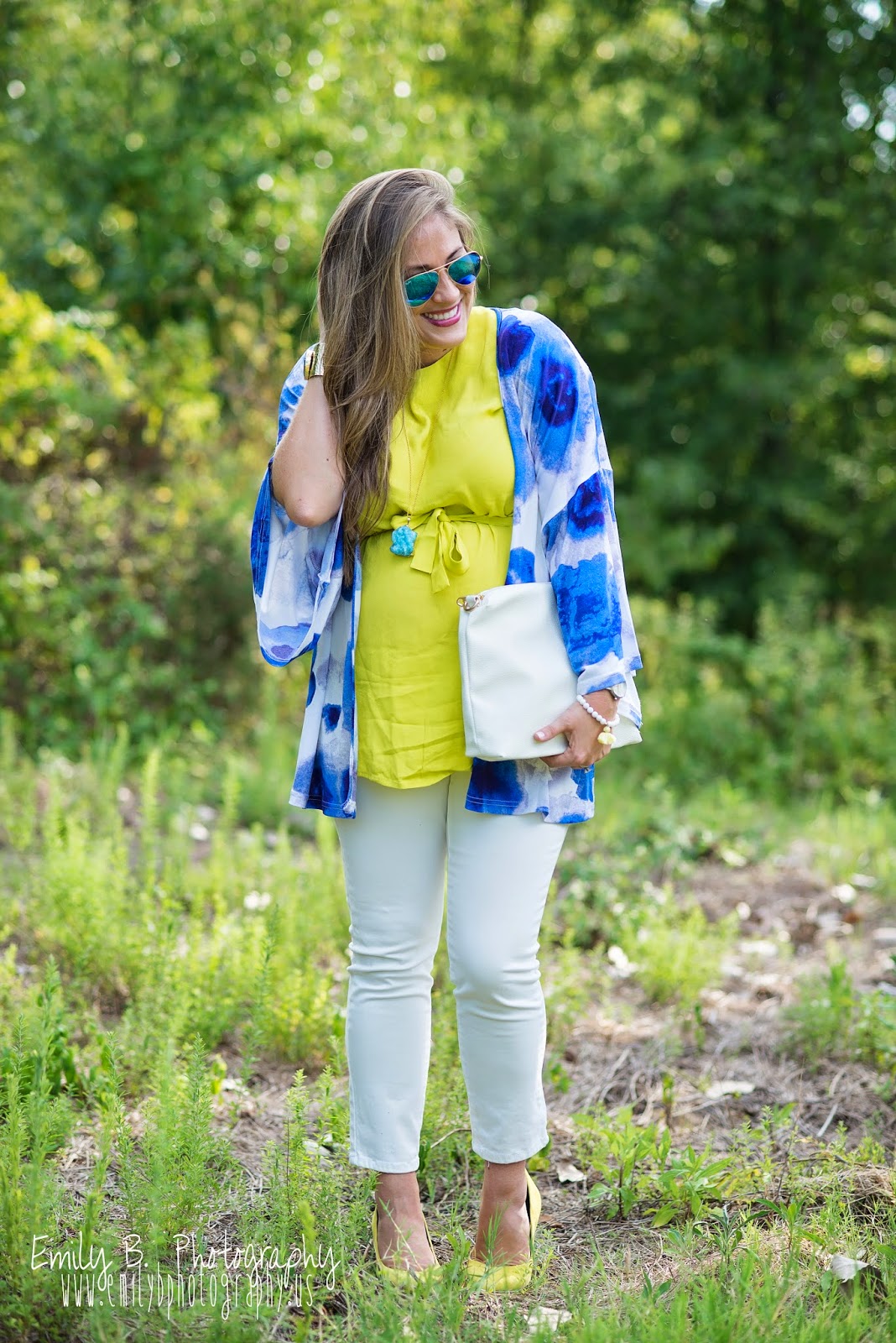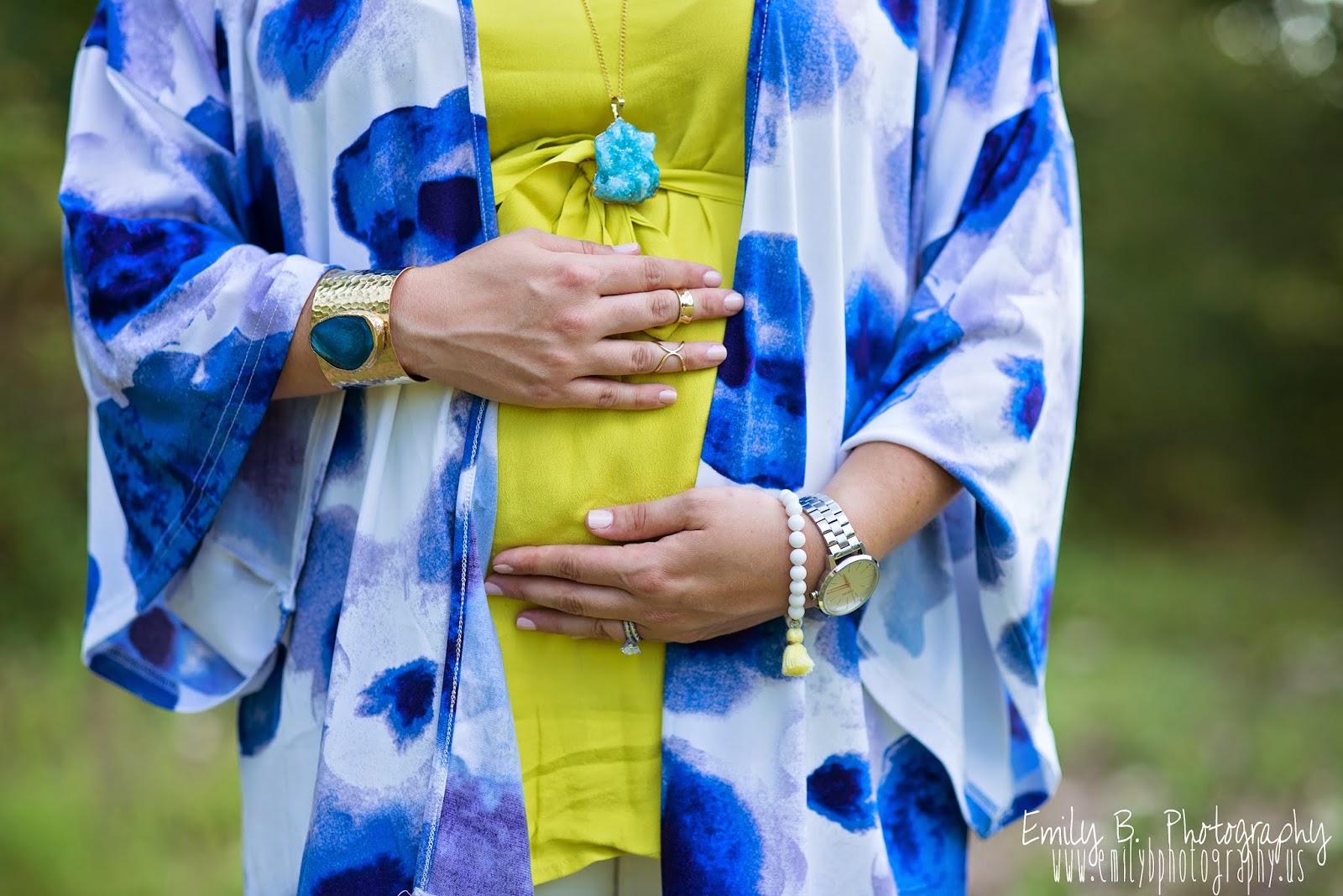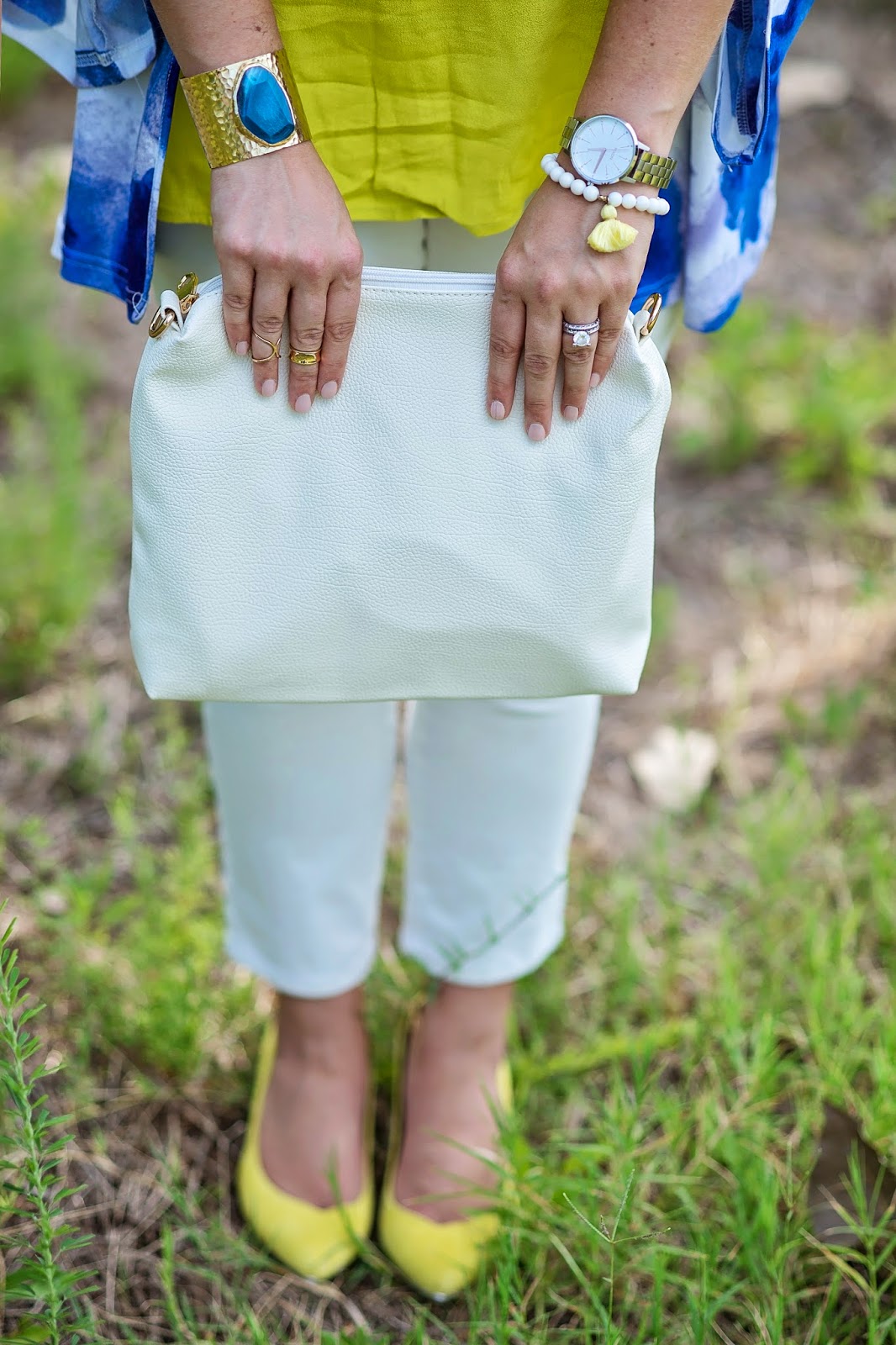 Thank you so much for stopping by the Trend Spin Linkup today! Today's theme is free day, so you can linkup any fashion related post at all!  I wore one of my new favorite outfits in one of my favorite color schemes.  I love how blue and yellow looks together, especially when paired with crisp white.  It may be after Labor Day, but I'm not one to follow tradition.  I may have fall on my mind, but it is still in the 90s here.  Since we only have a couple more weeks of summer left, I just had to get this summery and colorful outfit in.  I love the bright yellow color of this gorgeous Seraphine blouse.  I have already worn it quite a few times to work.  It is such a pretty piece in such a pretty color, and you know how much I love bright colors and neon.  Make sure you check out Seraphine if you're pregnant or nursing.  They have such gorgeous, high quality items that won't make you feel like you're wearing typical maternity clothing.  I paired the citrus blouse with my kimono that I have literally been living in.  I'm sure you've seen it quite a few times on Instagram, but layering has become a good friend of mine this year.  Now it's your turn to show us your favorite fashion posts!  You can linkup any look.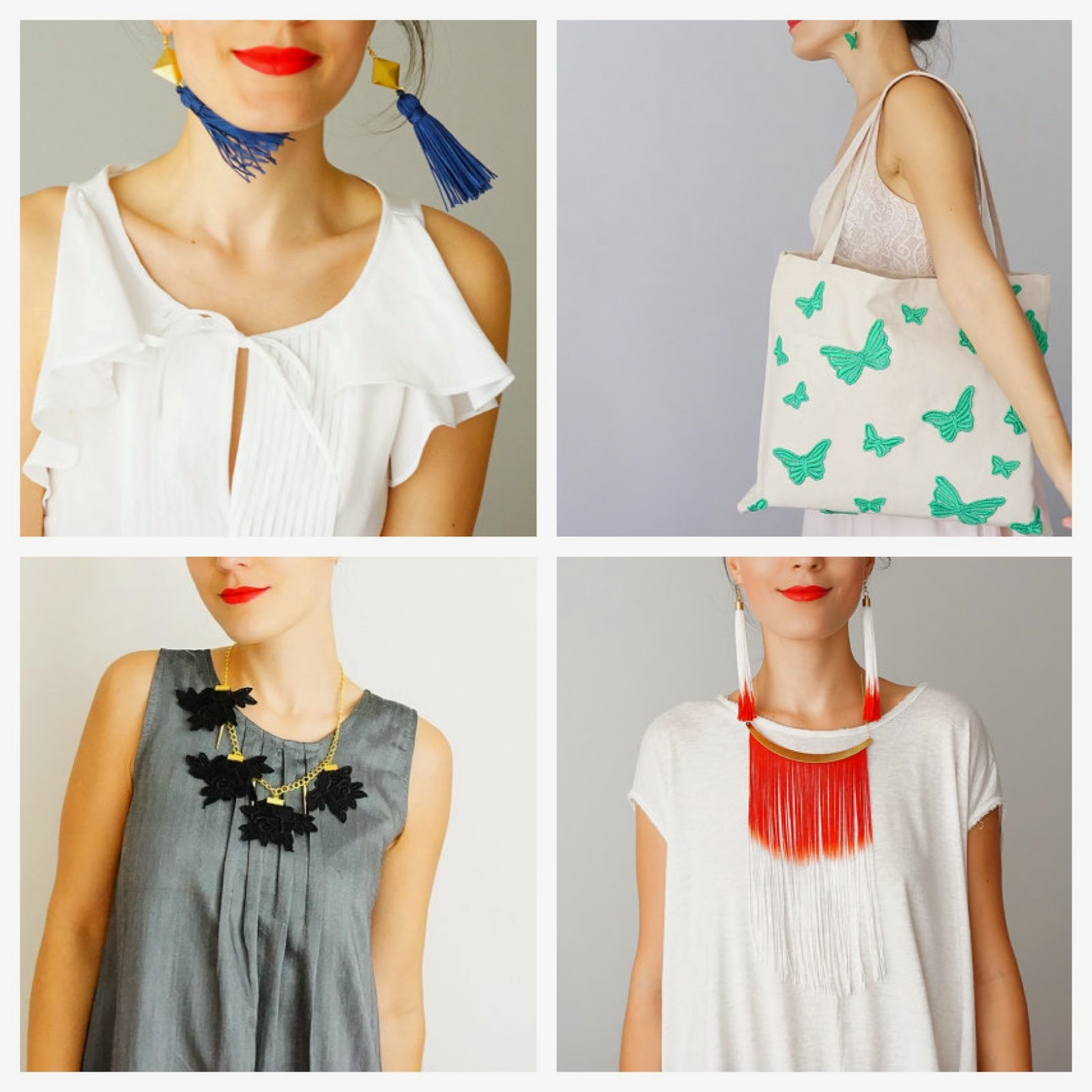 P.S.  Have you entered the $50 giveaway from Epuu Design?  Above are some of my favorite pieces from her shop.  Make sure you enter here!
Here were our top two red, white and blue looks of the week!
Featured Bloggers in Red, White & Blue
Next Tuesday's theme is print mixing. Come linkup your favorite stripes mixed with polka dots, florals and anything in between!
All bloggers will be able to submit their post links via the inlinkz widget below every Tuesday at 7:00am CST with their take on our trend of the week. This will allow bloggers to show off their personal style, find new followers and meet some great fashionistas! You will also have the chance to be featured on our blogs the following Tuesday! So grab the button (
on my Trend Spin Linkup page
) and link up. For all bloggers we simply ask that you please follow your 2 hosts and your cohost of the week –
Walking in Memphis in High Heels
,
The Fashion Canvas
and
Camille
(the first 3 links in the linkup) and provide a link to the Trend Spin Linkup in your post or add the button below to your blog. Don't forget to stop by the
The Fashion Canvas
and 
Camille
to see how they wore their trend today. See you next week for one of my favorites – print mixing!!