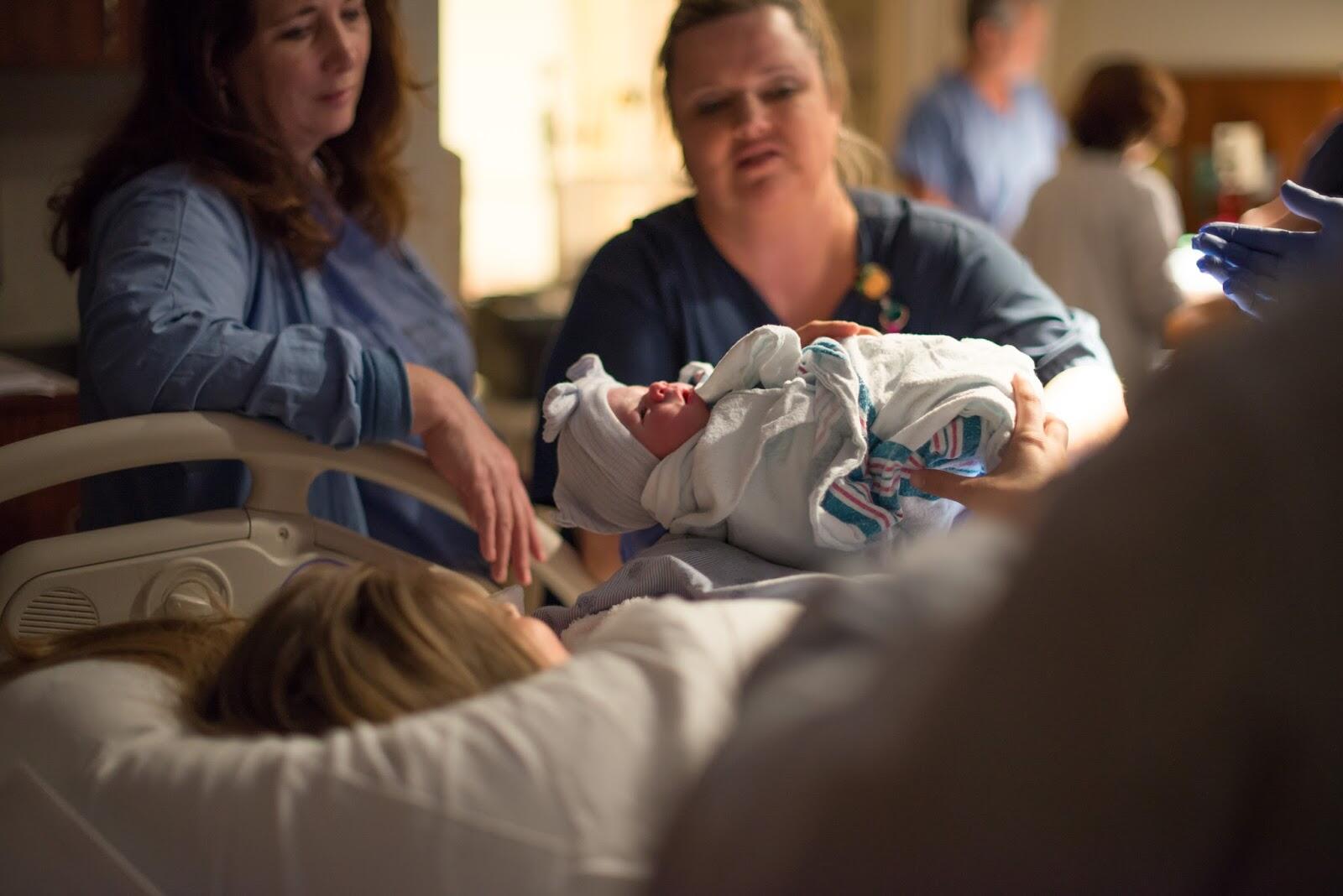 Nurses are the ones who help you get settled into your room and prepared for delivery.  They coach you through contractions.  They bring you 1,003 cups of ice and washcloth after washcloth for your forehead.  They listen to all your complaints and try to help you minimize the pain in any way they can.  They do everything.  They do all this, and then in swoops the doctor to deliver the baby, and then he's out in about 15 minutes.  The nurses were with you for days.  My mom (that's her in the left of the first photo) is a nurse, my sister is a nurse, and I have quite a few friends who are nurses.  My mom always like to say that the nurses are the ones who do all the work.  Mom, you'll appreciate that comment.  = )  Honestly, I think both the doctors and nurses are amazing, but today we are going to talk about the nurses who helped you bring your little one into the world.
Right now Pampers is having a Pampers Swaddlers Thank You Nurses Campaign.  Pampers is honoring nurses across 3 different award categories:  Labor & Delivery, NICU and Postpartum.  Nurse nominations can be shared now through December 14, and Pampers will be honoring 3 finalists with short documentary videos and other awards that you can read about here.  There will also be a Pampers #ThankYouNurses twitter party hosted by iConnect tonight from 8:00-9:00pm CST.  Prizes will include American Express gift cards, diapers and wipes to 4 different winners, so make sure to be there!
I've talked about it before during my IVF story and Leighton's birth story, but we had so many great experiences with nurses from going through IVF even up to delivery.  It was such a long and scary process, but it makes me appreciate every single moment with Leighton so much more.  I feel so blessed to have her in my life with me and to have had such an amazing crew of doctors and nurses throughout the in-vitro and delivery process.  To help celebrate, Pampers wants to make life #betterforbaby and is teaming up with me to give away a $100 American Express gift card and pack of Pampers Swaddlers to one lucky reader.  To enter just use the rafflecopter widget below!  P.S.  The giveaway here is open to anyone to enter, not just nurses.  = )  Which nurse would you nominate for the Pampers Swaddlers Thank You Nurses Awards?