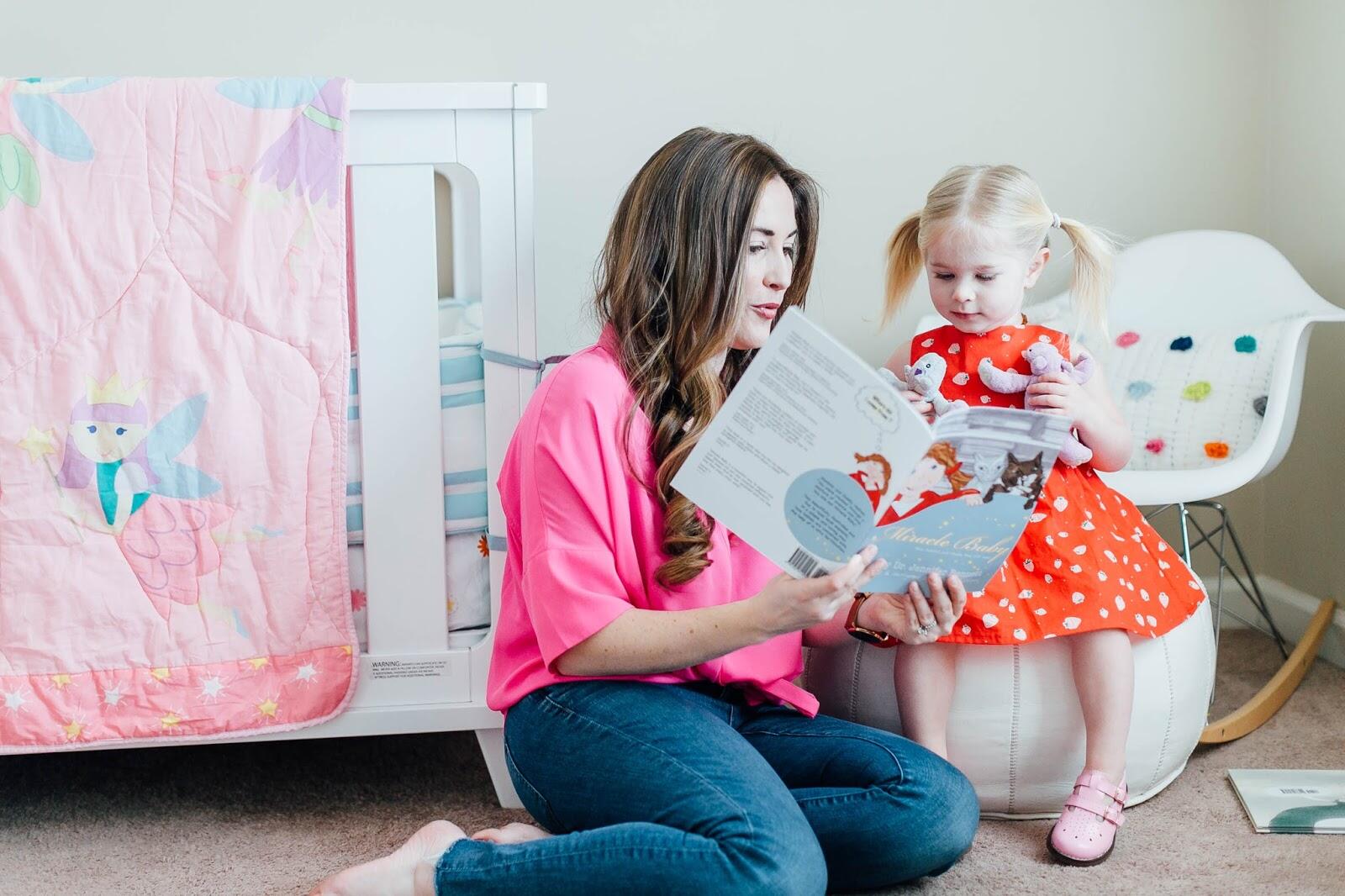 On Me:  Loft Jeans // CROSBY Top c/o // Daniel Wellington Watch (Use code HIGHHEELS for 15% off any purchase!) c/o // Sugarfix by Baublebar Bracelets c/o
Next month is National Reading Month, and with Leighton loving to read (or talk in her own little language and have me read to her), this event is even more special than it's been in the past.  Leighton has quite the book collection already and has completely filled up all 6 shelves on her bookcases already.  At one of my baby showers, we actually opted for guests to bring a book for Leighton instead of buying a card.  It was such a genius idea my sister-in-law came up with, and it helped us start Leighton's book collection right away.  And now we have all those books that we can look at, read the well wishes and sweet notes in the front of them and cherish for years to come.
With Leighton now being a toddler, I thought it was time to finally start buying some books that actually teach her things that I think are really important for her to know and understand.  I had been looking for books like this that were actually toddler appropriate for a while and stumbled upon a few good ideas in one of the Facebook groups I'm in, Lil' Mamas.  I ended up buying 6 different books, and they all explain somewhat sensitive subjects or things that are difficult to explain to toddlers such as how a baby is made with in vitro fertilization, bullying, poverty, showing kindness and even prejudices that people face.  The best thing about these books is that they are all toddler appropriate.  They have an underlying theme of these great subject matters that can sometimes be hard to explain to your toddler, but they do it so a way that is both fun and educational for children.
The books we chose to buy were: