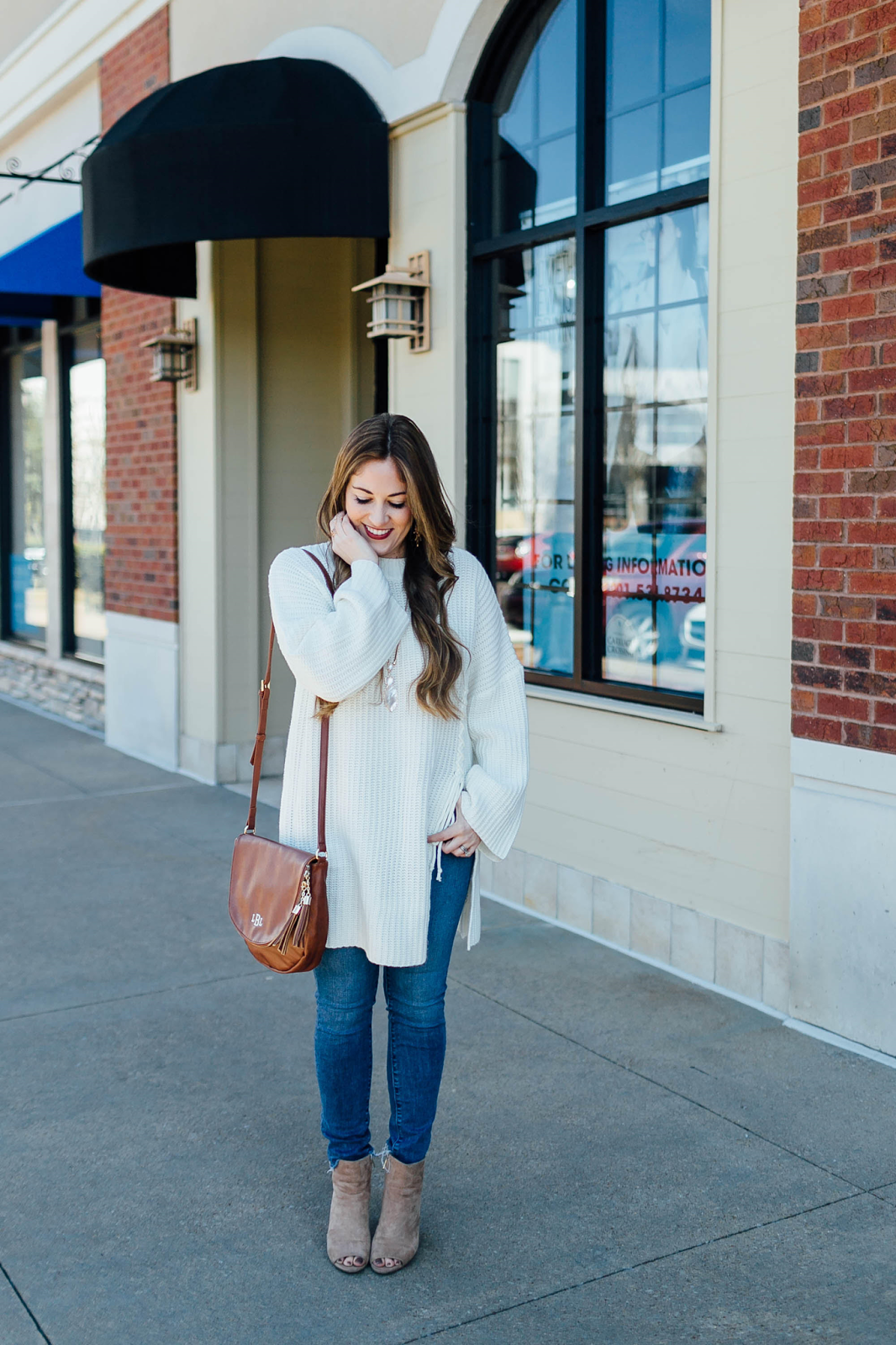 Jeans
// Sweater (
similar
,
similar
) c/o //
Booties
//
Watch
c/o //
Earrings
c/o //
Rings
c/o //
Bag
c/o //
Lipstick
c/o
1. Don't be afraid to alter your tunic. Tunics (or any other clothing piece for that matter) are rarely ever a one size fits all piece. Think about it. With so many different shapes and body sizes of all women around the world, how can a brand ever make an item that will fit everyone? Well, it won't straight out of the package. You want your tunic to not be too oversized, but you don't want it to be too fitted either. The first thing I did when got this tunic was to take it straight to my tailor, and I love how perfectly it fits now.
2. Look for a tunic that preferably has side vents on it or some other kind of detailing to break up the look. This is especially true if you are short or petite so that the tunic doesn't overwhelm your frame too much. Side vents also help so the tunic isn't too tight at your hips. I chose this tunic because it has lantern sleeves, a slit on the front up to the waist and lace-up detail. The slit actually runs up to my waist on one side which helps to not make the tunic look to long or oversized.
3. Look for tunics that are cinched at the waist with drawstrings or add a belt to help show off your waist if the tunic still looks too shapeless.
4. Opt for tunics in one solid color. If you do find a print, find one in a smaller print that isn't too busy to overwhelm your frame, especially if you're on the shorter side like me. I also prefer tunics that either have a V-neck to draw the eye up to your face or one with a mock neck or turtleneck because it gives a more slender, long and cohesive look visually.
5. Find a tunic that hits above or below the widest part of your body, so for me I would want it to hit either above or below my hips. If yours is too long, consider either having it taken up by a tailor or adding side vents if it doesn't already have them.
6. Pair your tunic with a heel, even if it's a small one. This will help with not overwhelming your frame. If you are tall, you are lucky and can get away with most types of shoes.
What do you think about tunics? What type of body shape do you have?