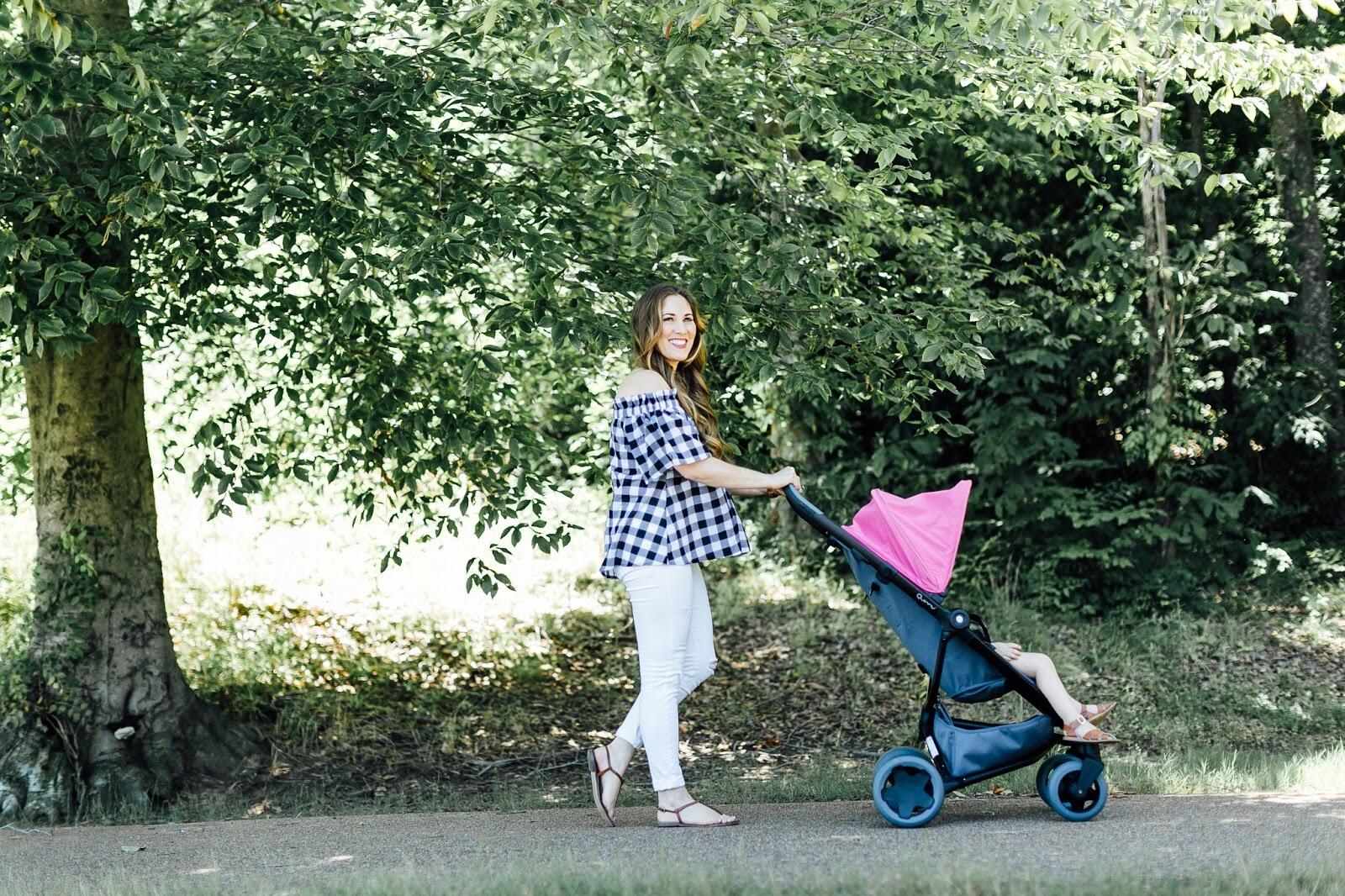 JavaScript is currently disabled in this browser. Reactivate it to view this content.
Since the
Quinny Moodd stroller
has been our hands down favorite over the last year, we were so excited to try out the new
Quinny Zapp Flex Plus
 for the first time this past week.  From just looking at the stroller, you would think it is a great, on-the-go compact stroller.  And it is, but it's also a travel system believe it or not.  It can be paired with a car seat to accommodate babies from birth and beyond.  It boasts 4 large wheels, fun color patterns, a compact design and a seat that fully reclines and can be used forward facing or parent facing too.  The stroller fabric is water resistant and the large canopy unzips to extend even further for sun protection.  Most of these were features that I thought you either had to get from one type of stroller or another – a compact one or a travel system.  But I love that
Quinny
combined some of my favorite features into one.
We are SO lucky to have so many great parks within just a few miles of us, and about 1/4 of a mile away each direction, we have 2 parks.  Needless to say, we end up there a lot on nights and weekends.  But as Leighton gets older, more active and more terrible 2-ish (yes, I just made that word up!), it can sometimes be hard to get in a super long walk with her.  Toddlers only want to sit still for SO long.  Sometimes it is long enough for a 4 mile walk, and other days I can get 2 houses down, and she is having a fit.  As we are deep into toddlerhood these days, I've learned a few tricks that work and wanted to share some activities for toddlers whilst on stroller walks with you today.  Because honestly, stroller walks aren't just for Leighton, they're for me too.  They are good to get outside and exercise some.  They're also great to just get outdoors in the fresh air.  And honestly, they are pretty peaceful and relaxing.  In those moments, it is just me and LC, and I'm able to just relax and clear my mind (as long as I don't hear a screaming toddler haha!)
1.)  Pack snacks and something to drink.  This will always be number one on my list.  There is nothing worse than a hangry toddler unless she is hangry and sleepy lol.
2.)  Pack a couple small toys.  Yes, the fresh air outdoors and surroundings should be enough to keep anyone entertained…unless that someone is a toddler.  I have bought a couple small books, magnet puzzles and even Play-Doh recently to keep Leighton occupied.  And I don't pull them out until I absolutely have to.  You don't want to show all your cards at once.  A good friend taught Shane and I that.  = )
3.)  Bring some music with you.  Leighton has a small little Bluetooth pink speaker, and she loves it.  I just pair it with my iPhone and play some music or audiobooks for her.  She loves it, and it makes her feel in charge and special because she gets to hold the speaker herself (our phones are off limits.)
4.)  Play a game with them.  Leighton loves counting and colors right now, so we will sometimes try to guess which type of vehicle will pass us next on the road – car, truck or SUV, and we also have to guess which color it will be.  You can also do this with counting trees or other things around you too.
5.)  Tell them a story.  Shane just started doing this a couple weeks ago, but Leighton absolutely loves it.  Leighton has 2 favorite stuffed animals she has had since she was born , Lucy and Lily.  So recently we have started to make up stories about how they came about how they met and became best friends.  Bonus points if the story includes your child.  It makes it even more fun for them.  You can even use people you see across the park, and make up a story about what they're doing or how they got there.
Most toddlers just get bored sitting still quickly and like to be entertained and engaged.  Obviously we can't always do that, so it's nice to pack a few things and have a few ideas of things handy to use if you need it.  And if these activities for toddlers still don't work, we go for a stroller walk to the playground, let her play and then take a short little stroller walk around the track and back home.  Usually the mention of the playground helps pep her up a bit.  We love our stroller walks together so I'm happy that she still loves riding in her stroller and being outdoors with me.  Before I know it, I'm sure she'll be running along beside me.  = )  Have you heard of the new
Quinny Zapp Flex Plus stroller
yet?  How do you entertain your toddler on long walks? What are some of your go-to activities for toddlers?
This post is sponsored by Quinny, but all opinions are 100% my own.