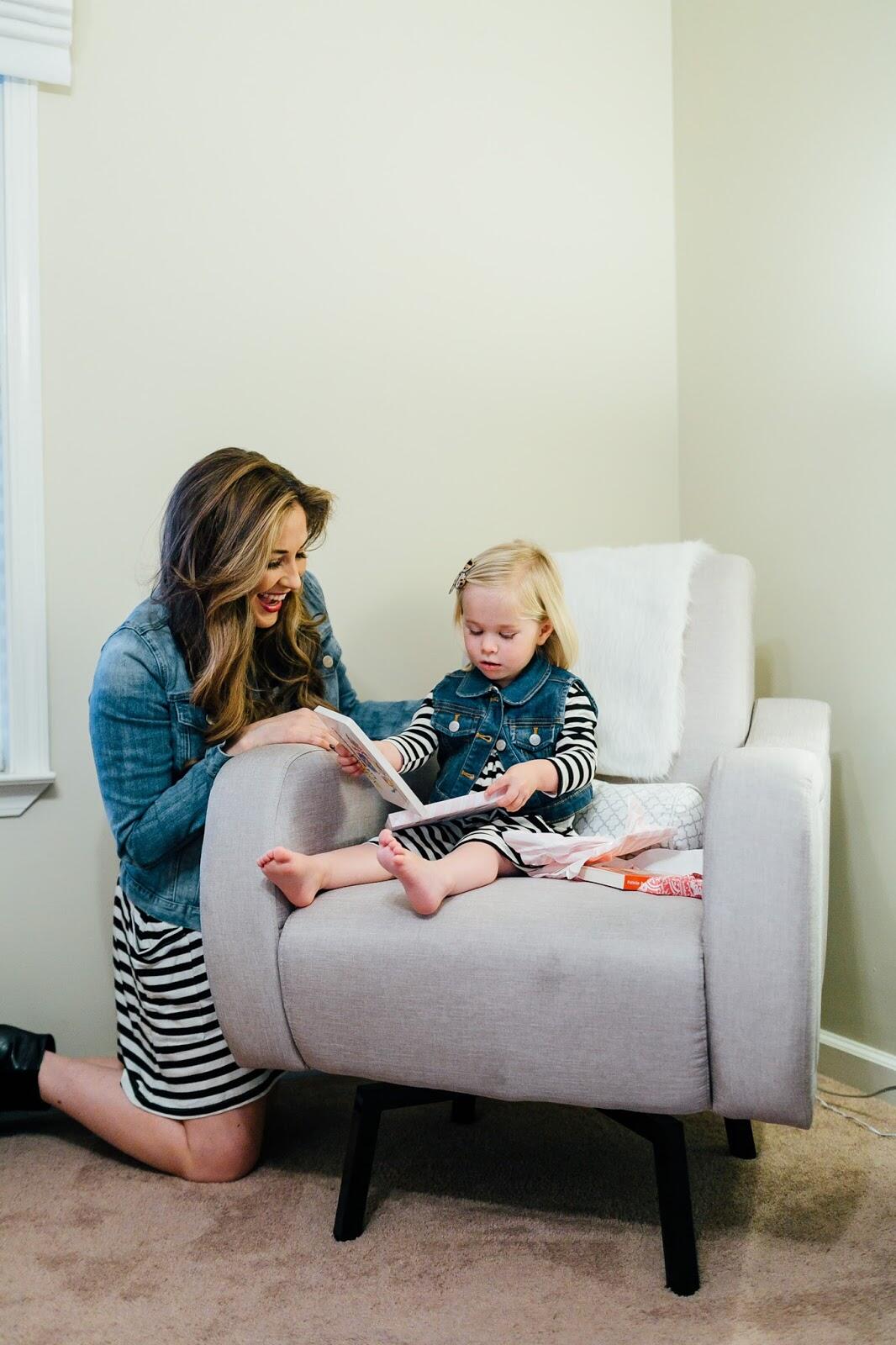 JavaScript is currently disabled in this browser. Reactivate it to view this content.
You've probably heard me talk about Bookroo before.  I have been using them for the last year when I first heard about them.  Now dozens of books later, they are still our absolute favorite way to shop for books for Leighton.  Leighton has gone through phases as she got older, but now that she has a big girl bed in her room and a huge bookcase near her bed, she absolutely LOVES when we read books to her before bed.  So, every single night we read her 2 books.  She even tries to trick us and have me read 2 and then Shane read 2 also.  Or she will try to have me read 2 and then read them again and again and again lol.  Needless to say she loves reading!  But it wasn't always that way.  There was a time where she didn't care for it, and we didn't always find the time.  Here are some things that have worked for us for reading to your children everyday.
1.  Designate a spot for reading to your children.  For us, it is Leighton's bed or in her canopy in the corner of her room.  Make sure it's nice, quiet and comfortable and away from distractions.  We look at it as nice wind down time.
2.  Save the reading for last and make it a nightly ritual.  So even if she is still wound up and doesn't want to read, she quickly changes her mind because she knows it is the only thing separating her from going to sleep.  That all of a sudden changes her tune, and she tries to make the reading last as long as she can!  = )  Now she looks forward to it every night.
3.  Have a big bookcase with lots of options near their reading spot.  This way they're easily accessible.
4.  Let them pick out their own books.  Even when we've read How Do Dinosaurs Go to Sleep 8 nights in a row, we still let her pick out whichever 2 books she wants to read.  = )
5.  Have books delivered right to your door.  It makes it so easy to always have new books on hand.
Bookroo
 is a monthly children's book subscription.  It is $17.99 a month plus $5 shipping, and you receive either 3 board books or 2 picture books.  The longer you subscribe, the cheaper the price is monthly.  It's so nice and convenient having books delivered straight to our door, and Leighton gets so excited to open them!  We have been collecting books for Leighton from the moment I found out I was pregnant, so honestly she has a HUGE book collection.  And what I love about Bookroo most is that we have never once received a duplicate book.  Bookroo does such a great job at finding fun and unique books that you don't see everyday.
We have got to the point where we have reread every book we have so many times, so I love constantly adding new books to Leighton's collection to mix it up.  It is so good to read to your children every night, and Bookroo just makes it even easier.  I am so excited to be teaming up with Bookroo to give away a one month subscription to one lucky reader!  To enter, just use the rafflecopter widget below and good luck!  If you won, would you choose the board books or picture books from
Bookroo
?  What is your child's favorite book? What is your ritual for reading to your children everyday?
This post is sponsored by Bookroo, and all opinions are 100% my own.