Thank you
JCPenney
for sponsoring this post. Visit JCPenney in-store or online to shop the new fashionable picks at an affordable price!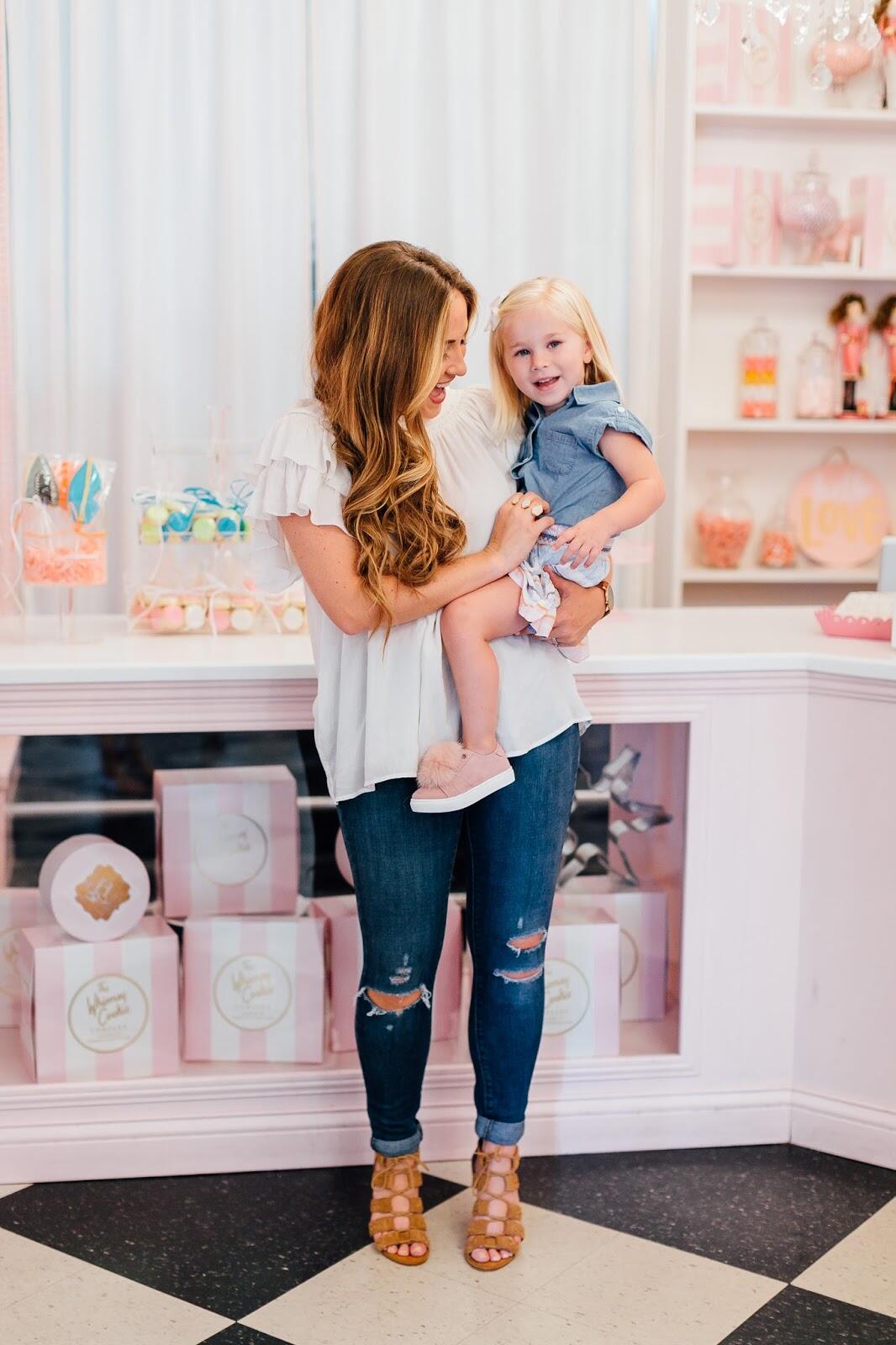 JavaScript is currently disabled in this browser. Reactivate it to view this content.
I cannot believe that school started back this week in the Memphis area.  Does anyone else feel like this summer just flew by?!  Now we're in that weird transitional period where we kind of have fall on our minds, yet it's still summer and hot and humid in most parts of the world.  So what do you wear this time of year?  And what do you do this time of year to entertain your little ones?  I'm teaming up with JCPenney today to share my favorite back to school trends to wear right now and the perfect after school activities you can do indoors to stay cool!
1.  Have a scavenger hunt with a different item in each room of your house.  Put down toilet paper, shoes, the vacuum cleaner.  Bonus, your child will help learn what everything is called and also where all the standard household items are stored (perfect for helping with chores one day.)  = )
2.  Volunteer with your child.  Sing at the nursing home, help serve lunch at your local shelter, or even pick up and recycle coke cans.  I used to do the latter with my grandpa growing up, and I still have such fond memories of it.  I loved helping, spending time with him and collecting my pennies.  = )
3.  Go see a drive-in movie together.  This is something we have been dying to do with LC for a while.  All the drive-ins are about an hour from our house, but we hope to make it out there soon!  I think she would just love it and would actually sit still.
4.  Go roller skating (or bowling for really young ones.)  We bought Leighton these adjustable little skates, and she absolutely loves it.  We are planning on taking her  bowling soon too.
5.  Go to the library together to pick out some books.  I am always picking out books for her myself, but I think checking out some at the library would be even more interesting, and there is such a huge number of them to choose from too.  Bonus if they have a story time as part of your local library's after school activities.
6.  Find your old VHS tapes of you as a child and watch them together.  I've been hounding my dad lately to find some of ours.  I think Leighton will think it is so cool to watch her parents as children.
7.  Finger paint.  Leighton loves to draw and paint.  We usually just use large foam board and let her go crazy.
8.  Play dressup together!  Leighton is going through a princess phase (I don't blame her lol!), so I have been letting her pick out an entire outfit and even try on my shoes.  She thinks it is so fun.
9.  Make an obstacle course together.  Use chairs, blankets, a tent, whatever you have.  This used to be one of my favorite after school activities as a child.  Let them really use their imagination!
10.  Cave in and realize they're only kids for so long, and then take them to your local cookie, cake or yogurt shop.  = )  We don't do this often, but I do want to treat her sometimes too.  We only live once.
No matter what your child's age,
JCPenney
has you covered for back to school clothes!  They carry some of my favorite brands and styles for the entire family from Nike to
my favorite Levi's jeans
to Leighton's
Arizona skirt
and
Carter's shirt
.  And did you check out 
her adorable little pom sneakers
?  I am in love with them!  They are suede, and the color, material and style is perfect for casual days at school.  And they will even carry you into the fall.
Some of my favorite trends for this year have been chambray, suede (year-round!) and color (even pastels in the fall and winter.)  I love that
JCPenney
has all these trends.  and the best thing is that they are a one stop shop for all the great trends for the entire family…at a great price too.  With a toddler, I am all about shopping at one store where I can pick up something for everyone without having to go to multiple stores.  What are your favorite after school activities to do with your child?  Have you done all your back to school shopping yet?  Have you checked out
JCPenney
?
I was selected for this opportunity as a member of CLEVER and the content and opinions expressed here are all my own.