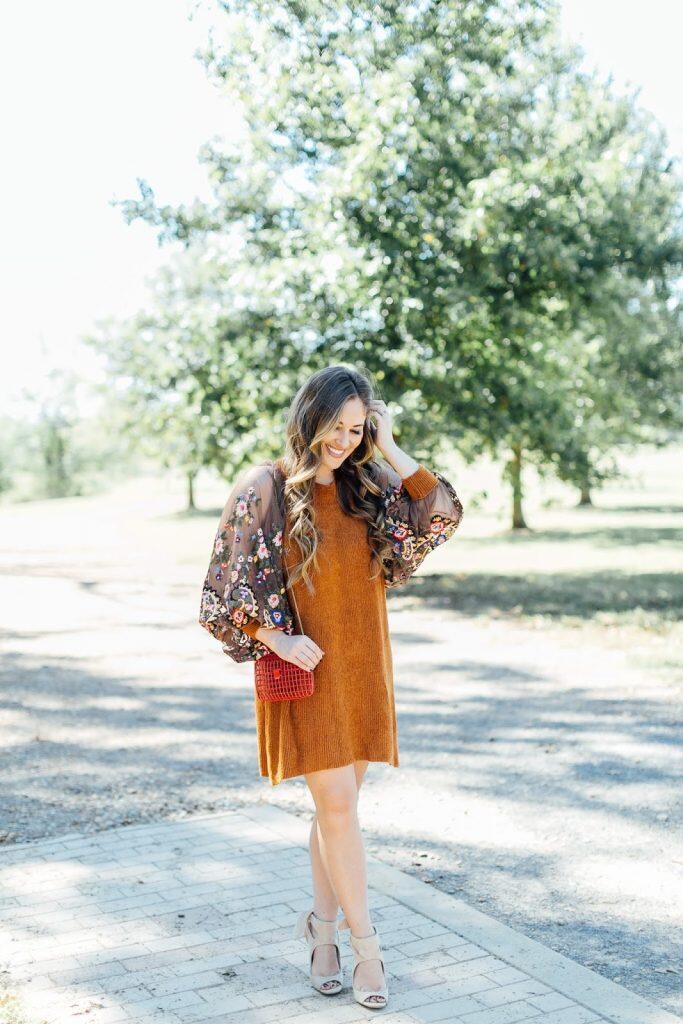 JavaScript is currently disabled in this browser. Reactivate it to view this content.
Last Friday night I had a Fall party to go to after work.  I know what you're thinking…yes a party.  What the heck is that?  Things were going through my mind like am I too old for a party?  What do people even do at parties these days?  Am I supposed to bring food or a gift?  And what the heck do I wear to a Fall party??  I feel like it's been almost a decade since I've been to a party, so these were all pretty fair questions.
Luckily, I spotted
this pretty dress
a few weeks ago and had it sitting in my closet for the perfect occasion, and I think this Fall party was it.  This dress was definitely more than I normally spend on clothing anymore these days, but with that super soft chenille fabric, puffy embroidered sleeves and perfect fit, I knew it would be worth it.  And it was.  I fell in love with it.  I'm already thinking I might wear it for some holiday celebrations this year since it's such a great statement piece and such pretty fall and winter shades.  I paired it with
the cutest little cage bag (and it's on sale!)
And for those wondering, yes I found out all the answers to my Fall party questions.  It is nice to bring a hostess gift or a food item.  I always err on the side of dressing up more than being underdressed.  And hopefully I wasn't too old for the party.  = )  What do you like to wear to parties and events this time of year?