This post is sponsored by Bona, but all opinions are 100% my own. Thanks for helping me to support the brands I love.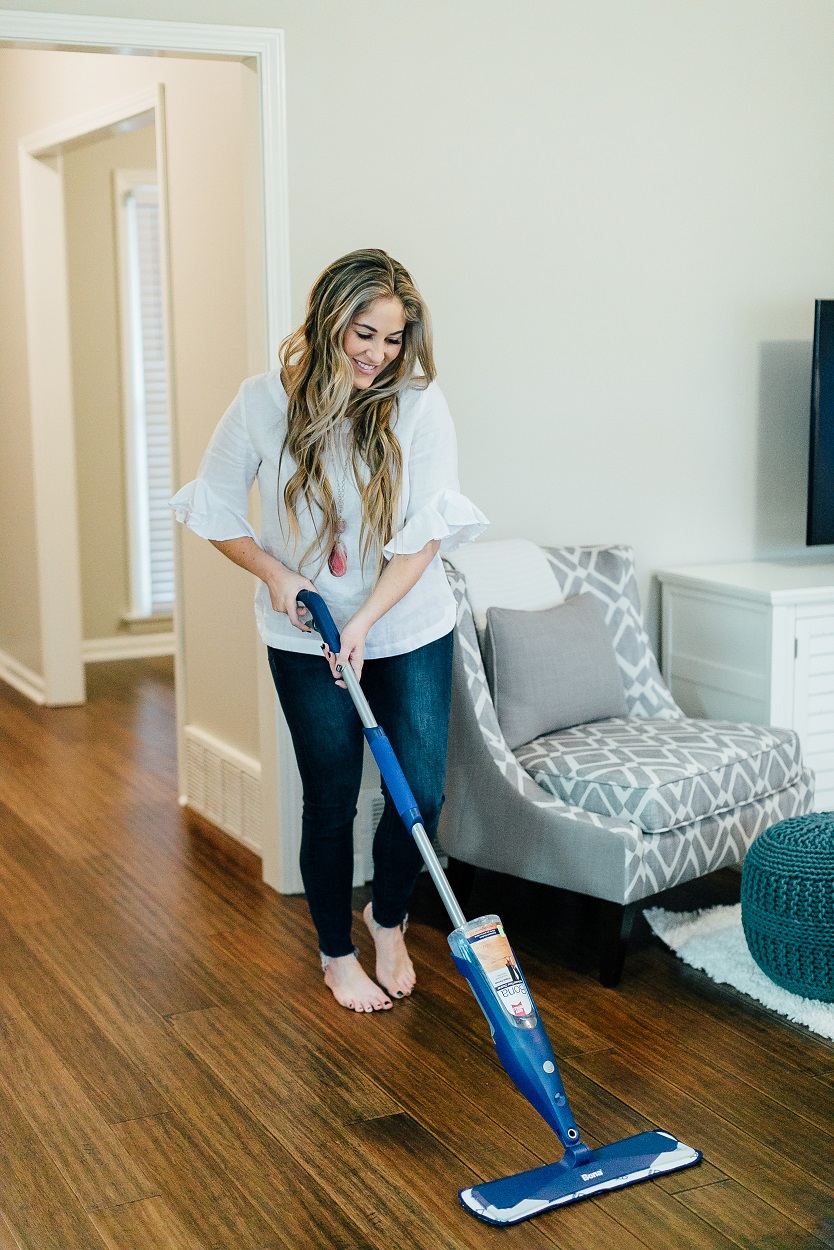 Y'all know we recently moved, and with every move, we are still adjusting, cleaning and decorating.  One of the first things that I fell in love with about the new house was that it had hardwood floors!  I have always loved hardwood floors, but it's been quite a few years since I've had a home with wooden floors.  In my opinion, they are SO much easier to deal with than carpet!  But they also take a little work of their own to clean and keep them polished!
THE EASIEST WAY TO CLEAN ALL TYPES OF FLOORS
The first thing I did was to ask one of my friends what she recommended I use on my hardwood floors, and she immediately recommended Bona.  If you haven't heard of Bona before, they are a family owned company that has been around for almost 100 years.  They offer professional cleaning services for your floors and they also sell consumer products for your hardwood, stone, tile or laminate floors. Yes ALL types of floors!
I have been using the Bona Premium Spray Mop for a couple months now, and I can't say enough good things about it.  It is lightweight but sturdy enough to hold and push to get a good deep clean.  It was easy to put together, and the cartridges are so easy to use.  The mop comes with a washable and reusable microfiber cleaning pad.  It goes on easily and comes off quickly so you can just throw it in the washing machine.  I love how quick and easy the spray mop is to use.  And even Leighton loves pushing it around (though I'm not sure how much cleaning she is actually doing.)  = )
I have both the Hardwood Cleaner and the Stone, Tile & Laminate Cleaner.  We have hardwood floors downstairs in the entryway, study, dining room and living room with tile floors in the 3 bathrooms, kitchen and laundry room.  The stone, tile and laminate cleaner has a degreaser in it to get even the toughest messes up.  The hardwood cleaner gets dirt, dust and grime up easily and both economically.  I keep my spray mop downstairs and reach for it almost every day.  I love how much easier (and lighter it is) to use than a vacuum, and it also does a much better job cleaning my hardwood and tile floors.  If you're looking for something that is specifically made for hardwood, stone, tile or laminate floors, you should definitely give Bona a try.
What types of floors do you have in your home?  What do you currently use to clean them?