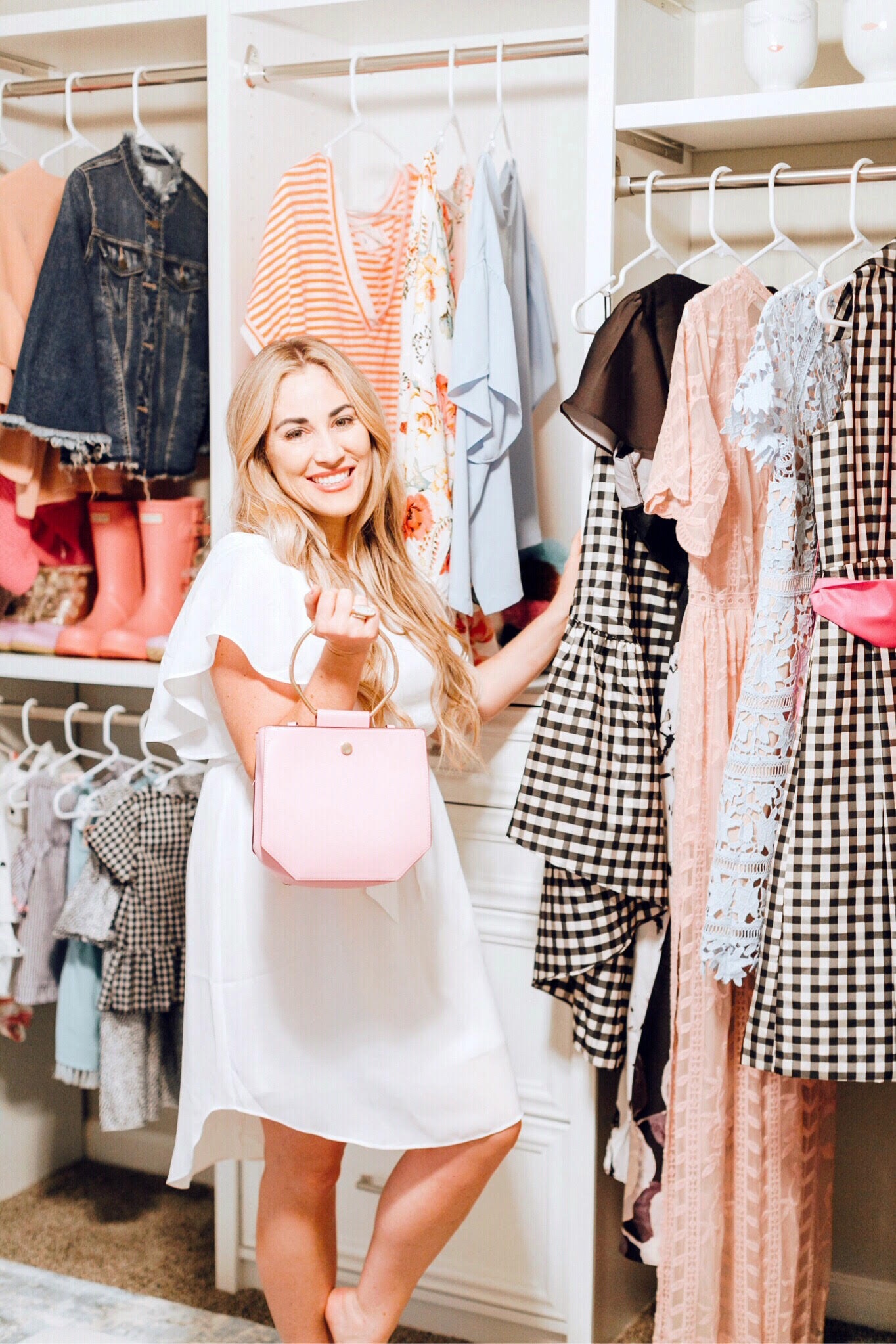 I am finally sharing my dressing room/closet final design today and am so excited!!  When I first started seeing people design dressing rooms, I thought it was crazy.  Yep, I was one of those people.  And now that I have one, yep I'm one of THOSE people.  So…after my racks in my closet fell down twice in 3 months, I decided it was time to do something different.  That is where ClosetMaid came in.
MY NEW DRESSING ROOM WITH CLOSETMAID
I had seen their beautiful closet and dressing room designs and knew that I desperately needed sturdier clothing racks, more storage room and better organization.  I started by selecting SpaceCreations Premier in the wood color I wanted and then I decided on the drawer pulls.  After that, it was time for the design.  The first thing to ask yourself is are you redoing your closet or are you turning a separate room into a dressing room or closet?  You need to know the space you want to create a closet in so you can know the dimensions and decide on the layout.  I immediately knew that I wanted to turn one of the spare rooms into my dressing room because I knew I needed more space than what was in my actual closet.
Since I had 2 walls that had no windows or doors, I thought an L shape design on the other 2 walls would be just perfect!  I knew I wanted plenty of room to hang up clothing, both dresses and tops and bottoms.  I opted for one section to hold dresses and long skirts, and the others hold tops, jeans, short skirts, shorts and anything else that isn't long.  I have much more of these pieces so I thought that would maximize my space the best.  I also do not have enough room in my actual closet for shoes, so I knew I wanted plenty of shoe racks!!  And I love having them on display and being able to see all my dress shoes at just one glance.
I did one entire of just shelves so I could store bags, plenty of shelves to display more shoes, bags and items and plenty of drawers where I could fold up clothing.  I also have my jewelry organized in one of the drawers.  And did I mention that they are soft shutting drawers??  That might be one of my favorite things!  Now if only I had them in the entire house!  Overall, I am SO happy with the design!  It was such an easy process from start to finish.  ClosetMaid sent me a pdf image of the design to make sure it was exactly what I had in mind, and then I approved it and they shipped the pieces out to me.  My dad was nice enough to come over and install it all for me, and he said it really wasn't that bad at all.  I would plan for a day to install everything.
I feel so much more organized, and I also have another rolling rack and a jewelry armoire in this room for even more storage space.  It has been the perfect place to plan out outfits for the blog, for work or even for girls' night out.  And I like having a place for everything!  If you're considering doing a closet or dressing room makeover, I promise it is worth it!