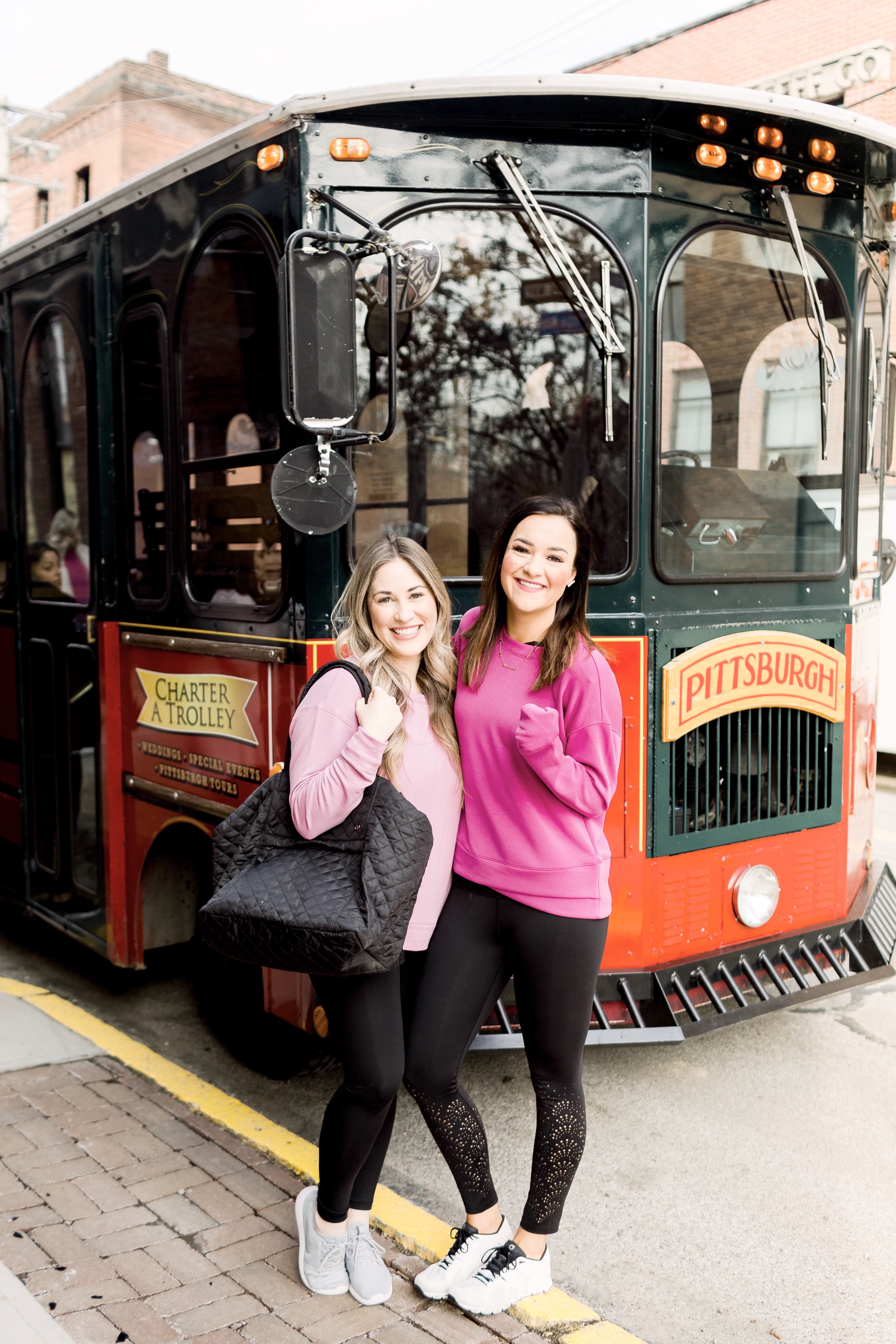 SHOP OUR CALIA BY CARRIE UNDERWOOD LOOKS:

You probably remember me talking last month (here, here, here and here) about something I have been so excited to announce this year…I'm a brand ambassador for Calia by Carrie Und erwood for 2020! I have been thrilled ever since I found out, and I'm so excited one of my good friends Heather is too! There are few companies that come along that have a message behind them that I feel like I really connect with…like REALLY connect with. And this brand is one of them.
Stay the path. Whatever your journey is, whatever your path is, find it and continue upon it. Do the best you can each day. And don't feel guilty about it. Don't feel guilty for making little time for you and your health. It is vital to you being your best you. You can't expect to take care of a husband a house full of children if you don't even take care of yourself. This message spoke to me SO much.
While I was there for a quick couple days in Pittsburgh for the Calia by Carrie Underwood Brand Ambassador Kickoff Event, I got to explore a little bit of the city too, and what a cool city it is! This was my very first time to go to Pittsburg, and I honestly want to go back again because they have SO many cool things to offer!
I'm sharing a few of my favorite pictures from the CALIA by Carrie Underwood event and from Pittsburgh along with my top 10 places to visit. Whether you're traveling with your hubby, your kiddos or the girls, there is definitely something to do for everyone!
1.) Visit the Andy Warhol Museum. This museum houses the largest collection of Warhol art in the world. It's a must visit!
2.) Grab a bite to eat downtown at The Original Oyster House. This restaurant has been around since 1870, and it's even a historic landmark now.
3.) Take a drive up (or sown) Canton Avenue, the steepest street in the U.S.
4.) Go for a walk around Point State Park.
5.) Take a trolley ride tour with Molly's Trolleys. You'll see a great view of all Pittsburg has to offer. And they'll give you the rundown all about the city.
6.) Take in the views at Grandview Park. It's a hidden little gem that is so pretty to visit, especially at night.
7.) If you brought the kiddos with you (or you yourself love McDonald's), get your fix at the Big Mac Museum.
8.) Head to Union Standard for lunch. You just have to try the warm potato bread!
9.) Grab dinner and a drink at Bar Marco. They even have really cool wine room inside!
10.) If you don't stay at Kimpton Hotel Monaco, at least grab a drink in the lobby and enjoy the beautiful, bright decor. This hotel is one of my favorites!
Have you been to Pittsburgh before? What were your favorite places to visit?