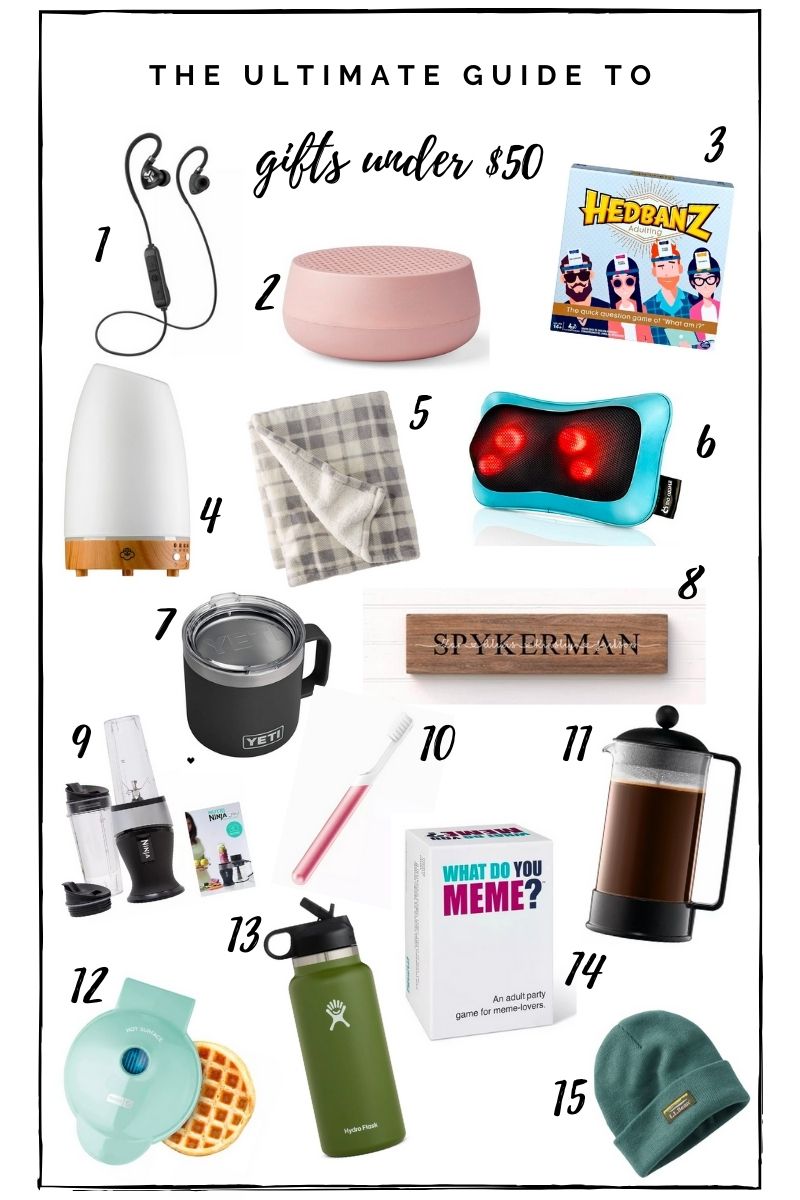 SHOP THE BEST GIFTS UNDER $50:
1. Bluetooth Headphones // 2. Bluetooth Speaker // 3. Hedbanz (Adulting) // 4. Essential Oil Diffuser // 5. Cozy Blanket // 6. Neck Massager // 7. Yeti Rambler Mug // 8. Personalized Sign // 9. Ninja Blender // 10. Quip Electric Toothbrush // 11. French Press Coffee Pot //12. Mini Waffle Maker // 13. Hydro Flask Water Bottle // 14. What Do You Meme? // 15. L.L.Bean Beanie
Can y'all believe that Christmas is next week? That seems so unbelievable to me and I can't say I feel entirely ready, honestly!
If you're feeling like me, maybe it's because you haven't quite finished decorating. Maybe you still have presents to buy and people to shop for. There are lots of reasons, especially this year, to feel like you're not really ready for Christmas.
Today, to help alleviate some of that last-minute stress, I've rounded up a list of some of the best gifts under $50 gifts that are perfect as last-minute Christmas gifts. The best part? These are all under $50 and you can find most of them at your local Target! Drive-up pick-up anyone?
Don't forget that tomorrow (December 15th) is the last day for UPS ground and FedEx ground shipping to ensure those items arrive before Christmas. For USPS, December 18th is the last day for first class mail to have items arrive on time.
SHOP THE BEST GIFTS UNDER $50