This post is sponsored by Vera Bradley, but all opinions are 100% my own. Thanks for helping me to support the brands I love.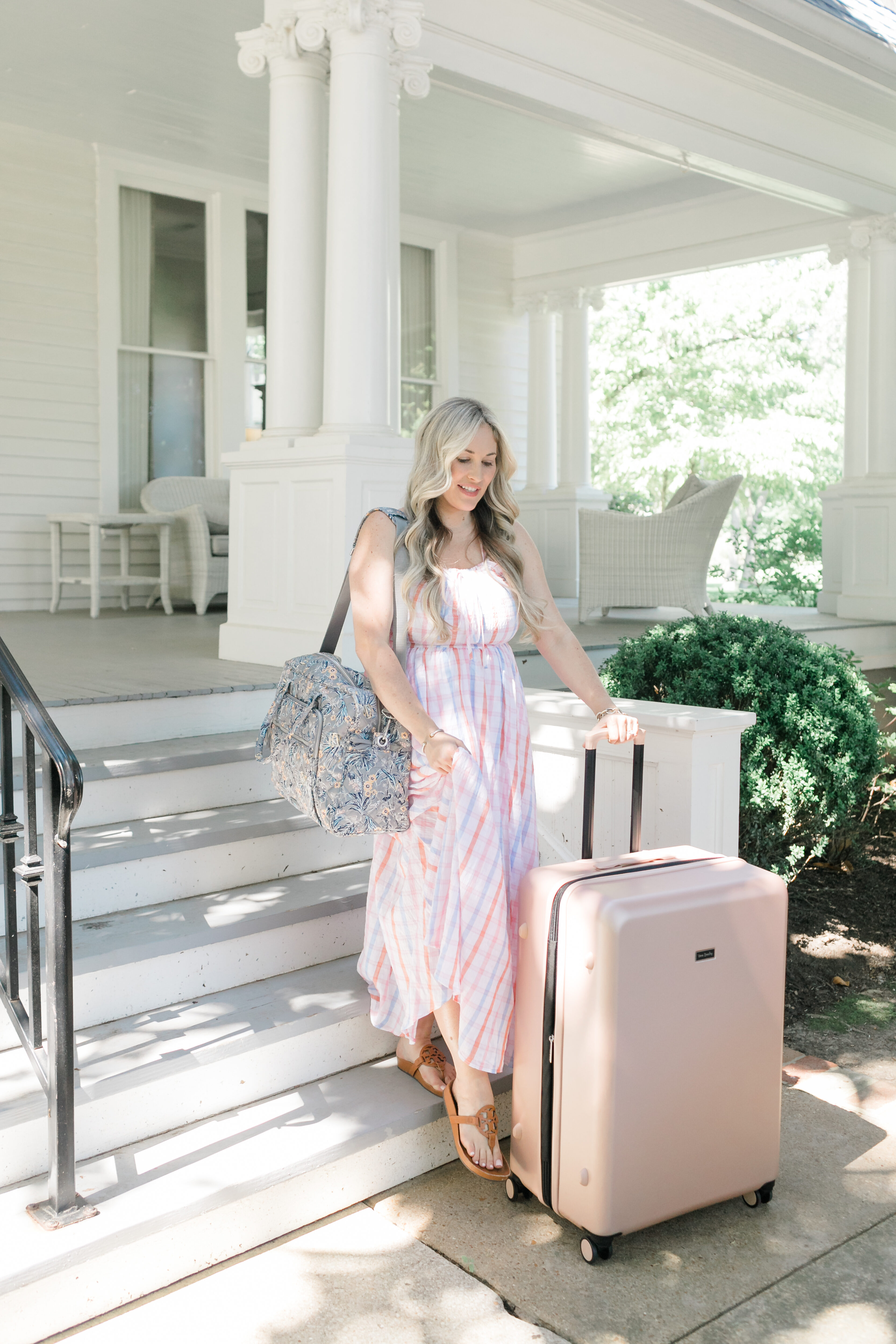 Y'all know how much I love traveling. Now that things are open, travel plans are more exciting than ever! I don't know about y'all but our family has some super fun trips planned all year long. From beach trips to work weekends with just the baby and I, we've got a few different things going on.
With different types of trips, sometimes you need different types of luggage. Today, I wanted to share some of my very favorite luggage pieces with you. These pieces are all perfect for different types of trips, and hopefully I can help you pick the perfect piece for whatever adventure you've got on the calendar!
The Vera Bradley Travel Collection Complete Review
(this is the one that's pictured above!)
A really high-quality piece of hardside luggage is a must-have in any traveler's essentials! It's no secret that luggage can often take a beating, so having something that can handle being bumped, tossed and who knows what else is important! You want to keep your items inside safe and dry, and a piece of hardside luggage can do that for you.
Something else that I think is essential for this particular type of luggage is the spinner wheels. There's nothing worse than having to drag your luggage awkwardly and inefficiently through the airport. Spinner wheels can make getting from security to your gate a breeze!
These larger pieces of luggage are my go-to for trips that are longer than 2 or 3 days. They're the perfect size for a good week-long trip. This luggage fits a lot inside so it's ideal for long trips!
Let's talk weekender bags for a minute. I don't know if y'all have noticed but weekender bags come in so many different shapes and sizes. Vera Bradley has a few different types of weekender bags (all of them are amazing!) that you could use for slightly different types of trips.
Weekender travel bag in performance twill – This is the bag you see pictured above and it's a personal favorite of mine to pair with the hardside luggage. The performance twill material is water-repellent, super durable and lightweight. It also comes in lots of beautiful patterns.
The one you see me carrying is carry-on compliant so it's the perfect plane companion! I love filling this up with all the things I know I'll want on a plane or in the car on a road trip. My laptop, a sweater, various toiletries, a change of clothes for our destination, snacks, a water bottle, etc.
This Grand Weekender is the perfect option for a long weekend. A quick trip that's just a few days long. It's a bit larger than the original weekender, but not so huge that it's bulky. It's got that same performance twill so it's really durable for whatever quick adventure you have in mind.
I personally love packing the Grand Weekender for those trips that are sort of last-minute and I'm not sure exactly what I need. It makes it easy for me to be able to pack nearly everything and anything for just a few short days and then some!
I love the material of this bag, y'all! The reactive material is made from recycled plastic bottles. It is water-repellent and wipeable, making it super easy to keep clean and looking fresh! Y'all know we love traveling to the mountains in the winter and this ReActive bag is the perfect addition to a ski trip. In the mountains where this is snow, mud, all kinds of mess…the ReActive bag is the perfect tag-along! If it gets dirty at all, you can just wipe it down and you're ready to keep going.
Which Vera Bradley Travel Collection bag will y'all choose for your next adventure? Let me know!