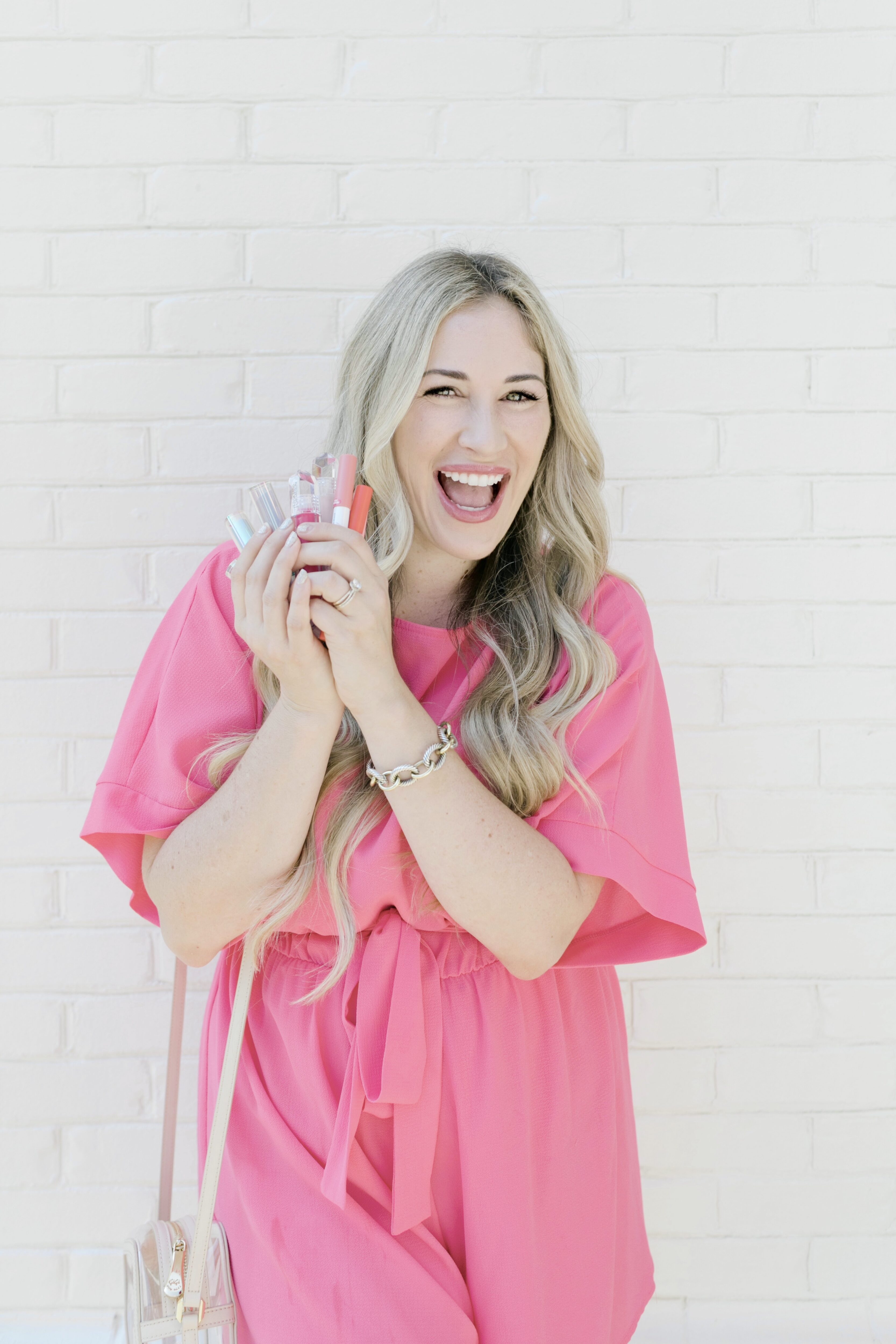 SHOP MY FAVORITE SUMMER LIPSTICK COLORS:

If you haven't already, it's time to upgrade your lipstick collection for summer!
I've been trying some fun new summer lipstick colors in pinks, oranges, glossy textures and even more of a matte texture. I'm rounding up 5 of my favorites today for this summer. Now let's just hope I can hold onto them long enough before Leighton gets her hands on them!
Top 5 Summer Lipstick Colors:
This is a pretty glossy bright pink color. It's actually the color I'm wearing in the picture above. It is a true lip gloss. I feel like it has just the right amount of pretty pink color. And I'm pretty sure this will be the one Leighton will "borrow" from me first.
This color is a fun orangey red. It honestly would be great in spring, summer and fall. It is vibrant and has the effect of a red without being quite so dark or bold.
This color is a great matte velvety darker neutral color. It is one of my go to colors year round honestly! It is one of those colors that always looks perfect. Though I'm all for color in the summer; you still have to have a few favorites neutrals to add into the mix.
This lip color comes in a pencil style, but it goes on creamy and a bit glossy. LOVE the texture of their glossy lip colors! The color is a glossy light pink, and it's perfect for when you're wanting just a little summery hint of pink.
This is another great neutral color. It does have some color too it, but it goes on oh so buttery and it has SPF15 in it. This one is one of my favorites too!
Don't be afraid to mix some lipstick colors too. If the Hot Lips color is too bold, tone it down a bit by pairing it with one of the neutrals over it. I am all for that when I want to ease into a new color trend.
I am so excited to be teaming up with Physicians Formula today to give away a fun little lip color gift set that I know you will love! It will be filled with some of their newest and best lip products and colors. To enter, just use the rafflecopter widget below and good luck! What is your favorite Physicians Formula product?
a Rafflecopter giveaway