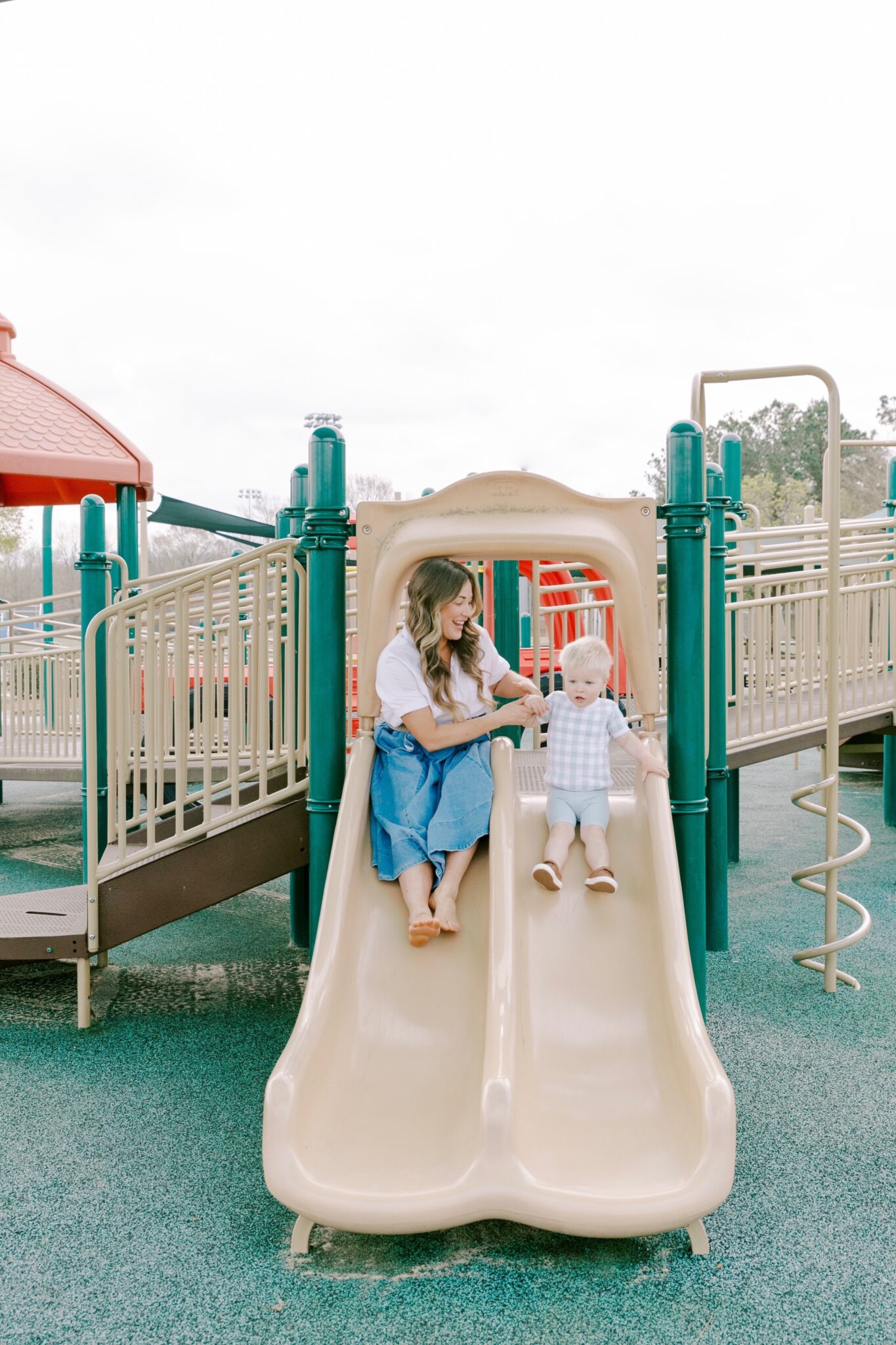 Our family loves being outdoors, and for this reason, we absolutely love going to the park! We are in Collierville, Tennessee, and we are lucky to have so many great parks in Memphis and in the surrounding area. If you're new to the area or looking for the best parks to take your kids and family, keep reading!
10 Parks in Memphis, Tennessee
Hinton Park – This one is our favorite hidden gem in Collierville! There is a paved walking or bike riding trail, frisbee golf, a lake with a bridge, and a playground area that includes climbing structures, slides, and a bunch of sand to play in. It is plenty big with some shaded areas in the trees and picnic tables and benches. It's the perfect spot for a walk, bike ride or picnic.
WC Johnson Park – This park is huge and has almost everything right here in Collierville. A splash pad, baseball fields, playgrounds, a lake, and tons of paved trails for walking and riding bikes. Most anything you're looking for, you can find right here. Just go early or on weekdays when it's not as crowded with visitors or traffic. This is the most popular park in Collierville!
Shelby Farms Park – If you're looking for the biggest park in the area that has everything, this one is it! Horseback riding, paddle boarding, paddle boats, a zipline course, a restaurant, bike walking and running trails, lakes, a dog park area, and much more! They also have an incredible playground with slides, ropes courses, sand, swings, and everything you can think of. Go early or on weekdays as the playground area itself gets crowded on weekends and after work hours. This is the biggest and best park in Memphis!
Riverdale Park – This park boats a fun tree house-type playground with slides and swings and so much more! This 20-acre park also contains a street hockey rink, a pavilion, picnic sites with tables, grills, a lighted softball field, a batting cage, a concession building, restrooms and 2 lighted tennis courts. This is a great park in Germantown!
Cameron Brown Park – This 55-acre park in Germantown is probably our favorite in Germantown because of its location. It has 1.5 miles of paved hiking trails and connects to the Greenway where we love to ride bikes! The park also contains 5 lighted baseball/softball fields, 1 lighted combination football/soccer field, a batting cage, 8 lighted outdoor pickleball courts, a large pavilion, a 3-acre lake, 2 playgrounds, 32 picnic sites with tables, grills, concession buildings, restrooms, and water fountains. This entire park is huge and is great to keep the entire family busy! 
Howard McVay Park – This 14-acre heavily-wooded park contains a pavilion, 2 playgrounds, picnic tables, grills, benches, a water fountain, and a lake with a walking trail. This one is in Germantown and is a favorite one in the area.
Suggs Park – This playground in Collierville never seems to be too crowded. It boasts a splash pad, baseball fields, a dog park, and a playground. It isn't too far off the square and is a good one to visit if you're walking from downtown Collierville.
Rainbow Lake Playground at Overton Park – While this park's playground is being updated right now and undergoing construction, it will be even more awesome when it is finished! It is part of Overton Park in Memphis, so it's in a great location! It's perfect to visit before or after a visit to the Memphis Zoo or the Brooks Museum of Art.
Poplar Estates Park – This park in Germantown is a 10-acre park at the north end of Poplar Estates Parkway that contains playground equipment, a half-court basketball court, picnic sites with tables, grills, 2 large open play areas, walking trails, a wooded area, and water fountains. This one is a great choice in Germantown! 
HW Cox Park – This is one of the parks we have started frequenting more often in Collierville. It has a playground area with slides, baseball fields, Greenway trail access, pavilions, picnic tables, soccer fields, tennis courts, and restrooms. The playground area itself has never been crowded when we have been which is a plus!
Have you been to any of these Memphis area parks? Which park is your favorite?