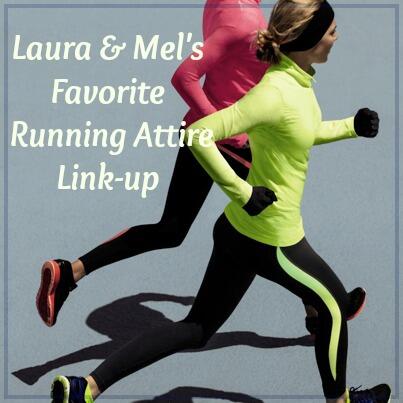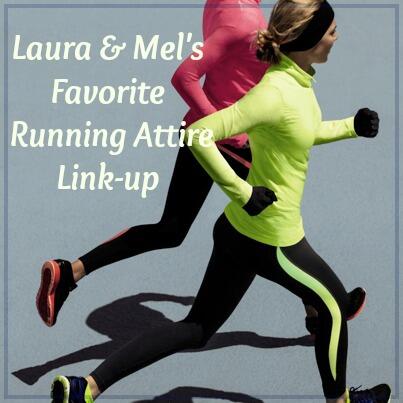 Good morning ladies!!  Today Mel and I are linking up to talk about our Favorite Running Gear!  I have a few brands that I love and trust, but only for specific items.  I can't stand Nike shoes because I feel like I'm wearing boats, so I always get New Balance.  When it comes to my running clothes though, Nike is what I wear the most.  I wear all of the clothes below for running, working out, biking, hiking or rock clocking.  I just try to make sure I have pretty form-fitting clothing for the most part so nothing baggy gets stuck on a jagged rock or in a bike chain.  Oh yeah, and don't forget to enter the giveaways this week here and here.  Last week's winner of the Loft Bracelet was Amanda Holley.  You have until through this Wednesday to email me to claim your bracelet before I draw a second name.  Thanks!
In the winter time, my favorite pants are the Nike Legend Tights.  $40.  When I bought them a couple of years ago, I think they were closer to $60.  They were a little more than I wanted to spend, but they were worth every penny.  Any time I run in weather lower than about 50 degrees, I wear them.  I've definitely got my money's worth, and they don't slide down when I run.  I also love the wide waistband on them so they don't dig into my stomach.  They hit just a little bit below my knees and are the perfect length so I don't get too hot or trip on them.  They also have this great seam on the butt that is really flattering and makes you look like you had a butt lift.  Also be sure to check and see if you have a Nike Outlet near you.  We have one here in Memphis, and I try to make a trip there every few months.  A lot of times they have sales on top of the already marked down prices, so be sure to call before you go to see.
The pink top in the first picture is the Under Armour Hotshot Heatgear Long Sleeve Top.  It is by far my new favorite long sleeve running top!  On Sale for $23.98.  I got this top a couple of years ago also, and I think it was $50.  Once again, it hurt handing the cashier that much money for a running top, but I did have a Sport's Authority coupon for $10 off a $50 purchase.  Make sure you check their weekly ad or website because they almost always offer coupons.  This top fits like a glove.  I think I actually had to size up to a medium because it ran pretty small.  Even though it's tight, it's pretty thick so it will really hold you in well and will definitely keep you warm.  Plus no one will miss you when you're running on the road in this hot pink top.  Trust me, it is MUCH brighter in person.  = )  I'm also wearing the Nike tights mentioned in that same picture.
The Nike Victory Jacket is my favorite running jacket.  Old, but they have one on eBay here for $24.99.  It is very stetchy but thick enough to keep you warm.  I love the pockets on this too.
Now onto the summer gear.  My summer running uniform usually consists of my Nike Tempo Shorts and a tank top.  On Sale for $20.99.  The Tempo shorts are the only ones I ever run in.  They are very comfortable and are the perfect length.  Also, they don't ride up or chaffe.  When it comes to tops, I usually either wear a cotton tank top or a moisture wicking short sleeve race shirt.  I've got dozens from the races I've done, so I wear those and don't buy any extra running shirts.  I don't mind wearing cotton shirts if they're sleeveless, but if they have sleeves, they've got to be moisture wicking.  I used to run in cotton t-shirts all the time, but now you couldn't pay me to.  I just get too hot, and they stick to me.
I also love these New Balance Shorts.  $24.  They have a thick waistband and have the perfect inseam at 3 inches.  I have these shorts, and I wear them to bike in and to run in.  If you're biking under about 30 miles, then these shorts are perfect to transition from running to biking.  If you're biking further, I definitely recommended getting padded bike shorts.  They really do make all the difference.
The only sports bra I ever buy anymore is the
Victoria's Secret VSX Supermodel Racerback Sports Bra
. On Clearance for $19.99.  I usually have a problem finding good, supportive sports bras that actually work.  I was the weirdo in high school who wore double sports bras.  Well not anymore, this one actually works no matter how much running I do.
I've also been dying to try the Victoria's Secret VSX Knockout Sports Bra.  On Clearance for $24.99.  It look a lot like the other VSX bra, but I believe this one has an underwire and it zips up the front.  I think it would be so nice to just be able to unzip it to take it off when you're all sweaty, so you don't have to pull it over your head.  Plus, I love that it reminds me of the 90's.  = )
Incase Armband for iPhone 5.  $32.04 at Amazon.  This is my favorite iPhone armband.  I had the same exact one for my iPhone 4s and gave it to Shane when he got his iPhone 4s  When I got my new 5, I bought the same exact armband.  It stays up pretty well and I've never had an issue with sweat going through the band.  It has a flap that goes over the phone too, so it feels secure.  I originally had a Belkin and I was constantly scared that the phone would fall out since I put mine in upside down so I can read the screen when I look over at my arm.  I even bought one for my SIL Lindsey for Christmas, so she'll have to give you her review on it too.  What's your favorite running gear?
I've mentioned before that I do at least 15 races per year.  Below is my race calendar through April of this year.  I also added it to my right sidebar and will update it throughout the year with my times too.  I've been slacking on putting races on my calendar for this year, but I finally sat down and did some of it.  I've ran every single one of these races anywhere between 1-5 times over the years with the exception of the Go St. Louis Half.  It will be my first time doing that one; can't wait Janessa, Lora, Lindsey, Mel and Holly!  Is anyone else making the trek to St. Louis to do this run?  Are any of my Memphis friends going to do some of these other Memphis area runs?
My Race Calendar for the First Quarter of 2013
1.  Valentine's Day 10K               2/09/13           9:00am
2.  Move it Memphis 5K               2/16/13          10:00am
3.  Chucalissa 5K                         3/02/13          9:00am
4.  Germantown 5K                      3/17/13          7:30am
5.  Go St. Louis Half Marathon    4/07/13           7:00am
6.  Rebel Run 5K                         4/21/13           9:00am
7.  Eyeopener 5K                         5/04/13           9:00am