Good morning…I mean afternoon ladies!! I'm so sorry that I'm behind today, but I was doing a guest post for my SIL Lindsey today. It's on spring colors and bikinis, so be sure to check it out here! Work and grad school have been kicking my butt lately. Only 98 more days until I'm out of school for the summer, but the heck's counting? Sometimes I don't have as much time as I want to really pick out a good, new, creative outfit to wear for the day. Somedays I just want to pick something up that I already know "works." Everyone has that go to outfit that they wear, and I'm no exception. Mine would definitely be a blouse, usually 3/4 sleeves, silk preferably, skinnies, 5 inch peep toe pumps, a couple bracelets and my favorite Coach bag. In the winter, I'll throw on a great infinity scarf too. In the summer, I'll change it up by pairing this with a cute pair of lace or scalloped silk shorts and sandals or flip flops. I think I just got a little excited just at the mention of the work FLIP FLOPS. They aren't fancy, but they sure do mean it's summertime, and that is reason enough to wear them all summer long. Do you have a go to look that has become your uniform?
Don't forget to enter the giveaway here for a month's worth of unlimited dress rentals from Lendperk! The giveaway runs through this Sunday at 7:00pm CST.
Parker Blue Silk Blouse. Sold out, but similar splurge
here
for $198 and steal
here
on sale for $12.50.
Banana Republic Nude Studded Belt. Old, but similar one on sale
here
for $20.66.
J. Crew Enamel Bracelet. Old, but similar one
here
for $88.
BCBG Nude Pump. Old, but very similar pair
here
for $62.99.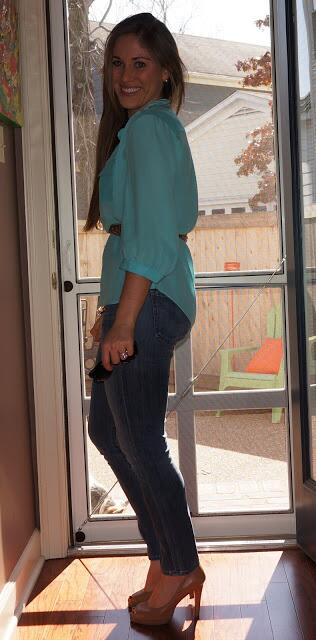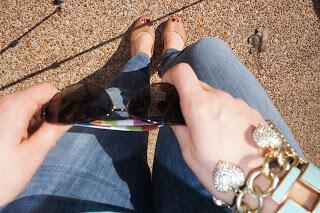 My friend Elisha and I. We went out for her husband's 30th birthday! Uh oh, that means mine will be here in 5 short months. Apparently we have the same favorite look – silky blouse and skinnies. = ) 
Remember the giveaway I had a couple of weeks ago for the Stella & Dot earrings? Well,
Rachel from Front Row Seat
won them. Doesn't she look gorgeous in them?! She is one of the first bloggers I met when I started a couple of months ago, and she lives in the Memphis area too. Please check out
her blog
when you get a chance.