It's the freakin' weekend and while I'm still in Vegas, Misty from Handbags and Handguns has been nice enough to guest post for me today! I met her a few weeks ago IRL at the Memphis Blogger Meetup. I love her sense of fasion, and I'm sure you will too! Don't forget to enter the giveaway for the Modcloth Pearl Stud Earrings here and the Oia Jules bracelet here, and follow me on Instagram for a bazillion pictures!

Hello, people! I'm Misty from Handbags & Handguns. I often blog about family, friends, celebrities, fashion, and my love of vampires. Today, I'm guest posting for the lovely Laura while she's away in Vegas. So jealous!
I recently got a new job. The dress code is much more casual than the last place I worked. Since I've been here, I've only worn heels once. Whereas, I used to wear them almost every day. My feet are definitely thanking me. Lately, I've been falling in love with flats all over again. Here are a few that I'm really digging.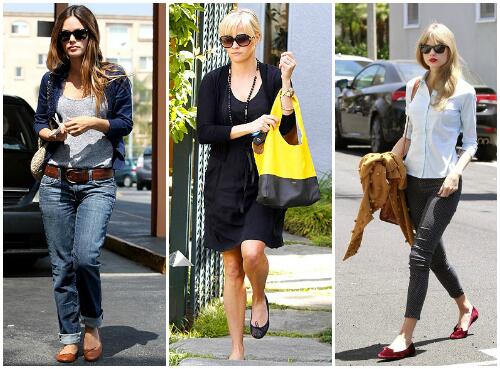 I don't know about y'all, but I'm ready for…
spring + bright colors + chic but comfy clothes + super cute flats!