Happy Giveaway Monday ladies!  We checked out of our hotel last night at 10:00 and got to the airport by 11:00pm.  Our flight left at 1:30 this morning, and we got in at 6:30.  I ended up getting home at 8:00 this morning and went straight to bed since the Dramamine was still in full effect.  It was a nice, smooth flight and I actually slept a couple hours.  They had a few extra seats, so they let me move to an emply row with three seats and I sprawled out, and it was the best flight I've had in a while.  No motion sickness either!  I just woke up, so I apologize for this late post, but it's still morning to me.  = )  We had a great time, and I'll post more pictures on Wednesday.  For now, I want to share our photos from the first two days of our trip and announce a new giveaway.  I'll break this post into 4 different ones so you can see everything we did on Thursday, Friday, Saturday and Sunday.  You can see my pictures from the first day
here
. 
Keep reading to see how to enter the giveaway today for a $25 Visa Card!!  And don't forget to enter the giveaway for the Modcloth Pearl Stud Earrings here
that ends today
and the Oia Jules bracelet here that ends tomorrow!
Follow my blog with Bloglovin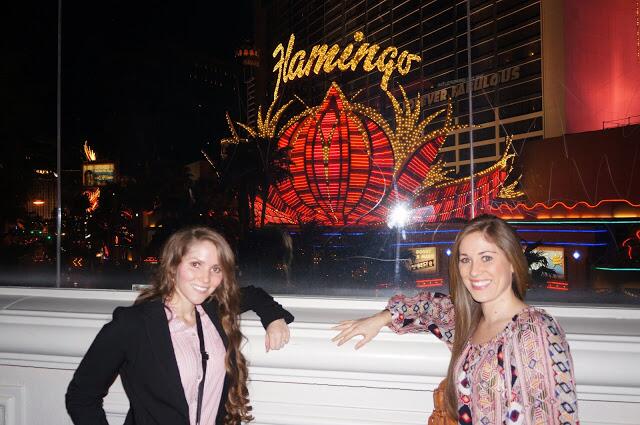 The first afternoon we arrived in Vegas, we checked into our hotel, Flamingo.  We lost our money gambled just a little bit and then got ready to go see "O" Cirque du Soleil at Bellagio.  My dad had already bought tickets for us to do a few things, and this was one of them.  We bought seats for the second row, and they were pricey at $150 per ticket, but if you can go, I highly, highly recommend it.  It made all the difference in the world.  We were in the dead center of the theater and we could see everyone's costumes, their facial expressions, everything.  I had never seen a Cirque du Soleil show before, so I was really excited.  It was amazing.  We ended up seeing another one a couple nights later, but this one was by far the best.  If you get the chance, definitely see this one and be sure to get good seats.  The only bad thing about this show is that every other show we went to during the week was just inferior.  Nothing even came close to comparing with this one.  No cameras are allowed in any of the theaters so I couldn't get pictures, but you can read more about the show here.  It involved water, ropes, trapezes, and so much more!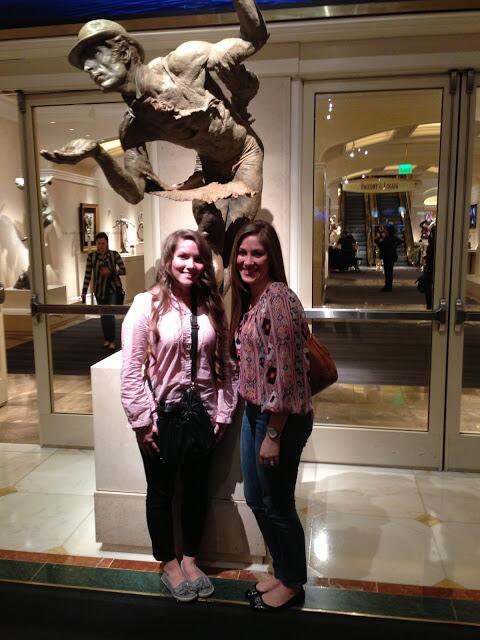 On Friday we shopped at the Premium Outlet Mall for a little bit, and then had to stop by the famous Vegas sign on the way back for a quick picture.  It ended up being in the 50's, rainy and really, really windy the first 3 days.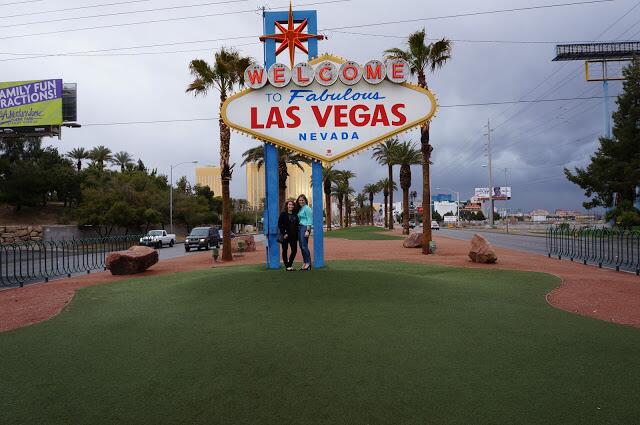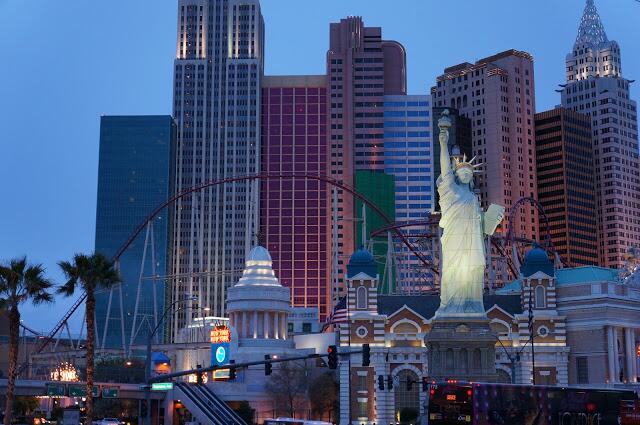 New York New York Casino.  See that awesome roller coaster?  My sister and I rode it last night.  It was awesome!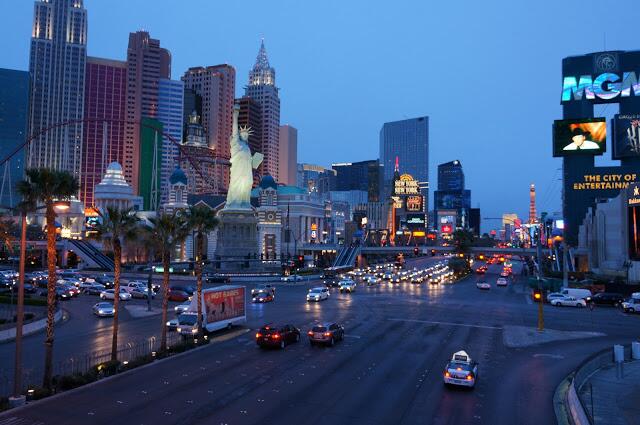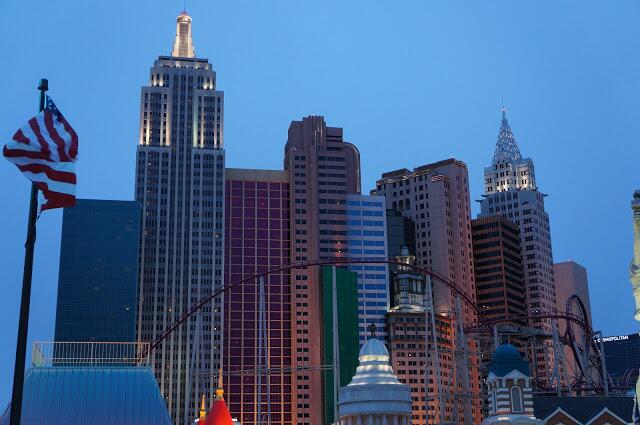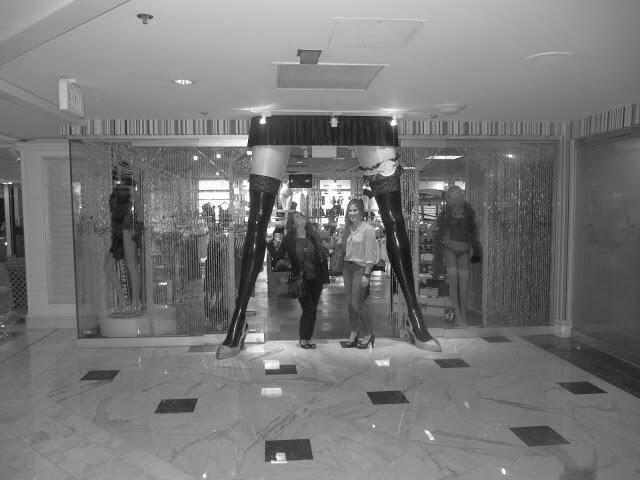 One of the shops in our hotel.  We just had to snap a quick picture.  Hey, everyone else was doing it!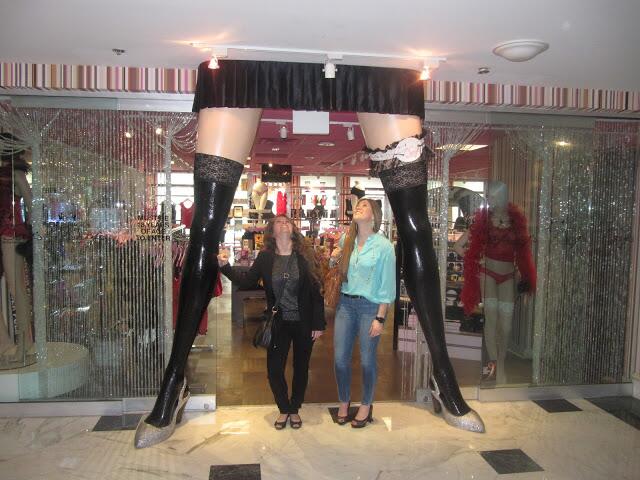 In True Vegas style, I'm doing a giveaway today for $25
cold, hard cash
in the form of a Visa Gift Card!!  The giveaway will end Saturday, March 16 at 7:00pm CST.
To enter the giveaway, all you need to do is:
1.)  Make sure you're following me via GFC.
2.)  Make sure you're following me via BlogLovin.
3.)  Leave me a comment telling me how you'd spend the $25.