Happy day before Friday! It is raining its butt off here,but I'd rather get get the rain out of the way now since we are having anoutdoor party on Saturday for Shane's 30th birthday.  We're going to be grilling out and playing volleyball across the street on the river.  Yep, and I still haven'tpicked out a gift for him either – womp, womp.  Despite the rain, thetemperature still feels wonderful outside, so of course I have spring fashionpieces on my mind.  Right now I'm craving pastels (including mint of course),polka dots, bows, chevron and some basic staples with a little pizzazz.  I'll be back tomorrow with an outfit post, but in the meantime, you can follow me on
Instragram
to see what I'm wearing.  And don't forget to enter the giveaways
here
and
here
!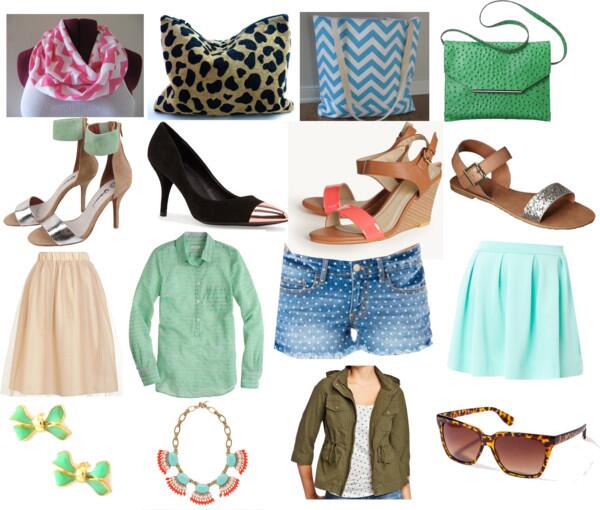 1.  Ooh Baby Infinity Pink Chevron Scarf.  $17.99.
2.  Leopard Print Clutch.  $45.
3.  Ooh Baby Infinity Large Turquoise Chevron Beach Bag.  $39.99.
4.  Target Ostrich Clutch.  $19.99.
5.  Jeffrey Campbell Ankle Strap Pumps.  $128.95.
6.  Mango Cap Toe Pumps.  On sale for $69.99.
7.  Shopruche Nude Coral Wedges.  $35.99.
8.  Target Sandals.  $16.99.
9.  Modcloth Tulle Skirt.  $37.99.
10.  J. Crew Mint Striped Popover.  On sale for $59.99.
11.  Shopsosie Polka Dot Denim Cutoff Shorts.  $40.
12.  Shopsosie Mint Skater Skirt.  $42.
13.  LuLuLe Bow Earrings.  $10.
14.  J. Crew Fan Fringe Necklace.  $148.
15.  Old Navy Hooded Canvas Jacket.  $29.70 with code ONSAVENOW.
16.  Forever 21 Tortoise Sunglasses.  $5.80.
Since I finally got onboard the infinity scarf trend this past winter, I'm now wanting some scarves to wear year-round, and I think this hot pink and white lightweight chevron one would be just perfect to brighten up any outfit. For the last couple months I've been searching high and low for a great leopard print clutch, and I think I've finally found the perfect sized one.  I'm hoping Shane and I will get a chance to make it to the beach this year, or at least the pool, so this turquoise chevron print beach bag is a must!  And you can never go wrong with an ostrich clutch for under $20.  All of these shoes are perfect for spring and summer – they're neutrals but will still make quite a statement.  A champagne colored tulle skirt will never go out of style and can really be worn year-round.  And you can't pass up a great mint striped top that is on sale at J. Crew!  Denim and polka dots – it doesn't get much better than that.  I've also been searching for the perfect mint colored skater skirt, and I can't wait to buy this one.  I can already see myself pairing it with a tee, chambray and lavendar.  After seeing all the adorable Kate Spade bow earrings, I just knew I had to find a cheaper version, and these fit the bill perfectly in a gorgeous mint color.  Do I even have to say why I love this gorgeous J. Crew statement necklace?  It has been on my mind for a while, and I think it is time to finally break down and buy it, or you could get a similar one here for 1/3 the price.  I've also been on the hunt for a great olive green canvas jacket, and this Old Navy one is just perfect with its drawstring waist, hood and cropped sleeves.  At only $5.80 these Forever 21 tortoise sunglasses will be perfect for wearing all summer long.  What spring items are you currently craving right now?  What are your go to stores for clothing?