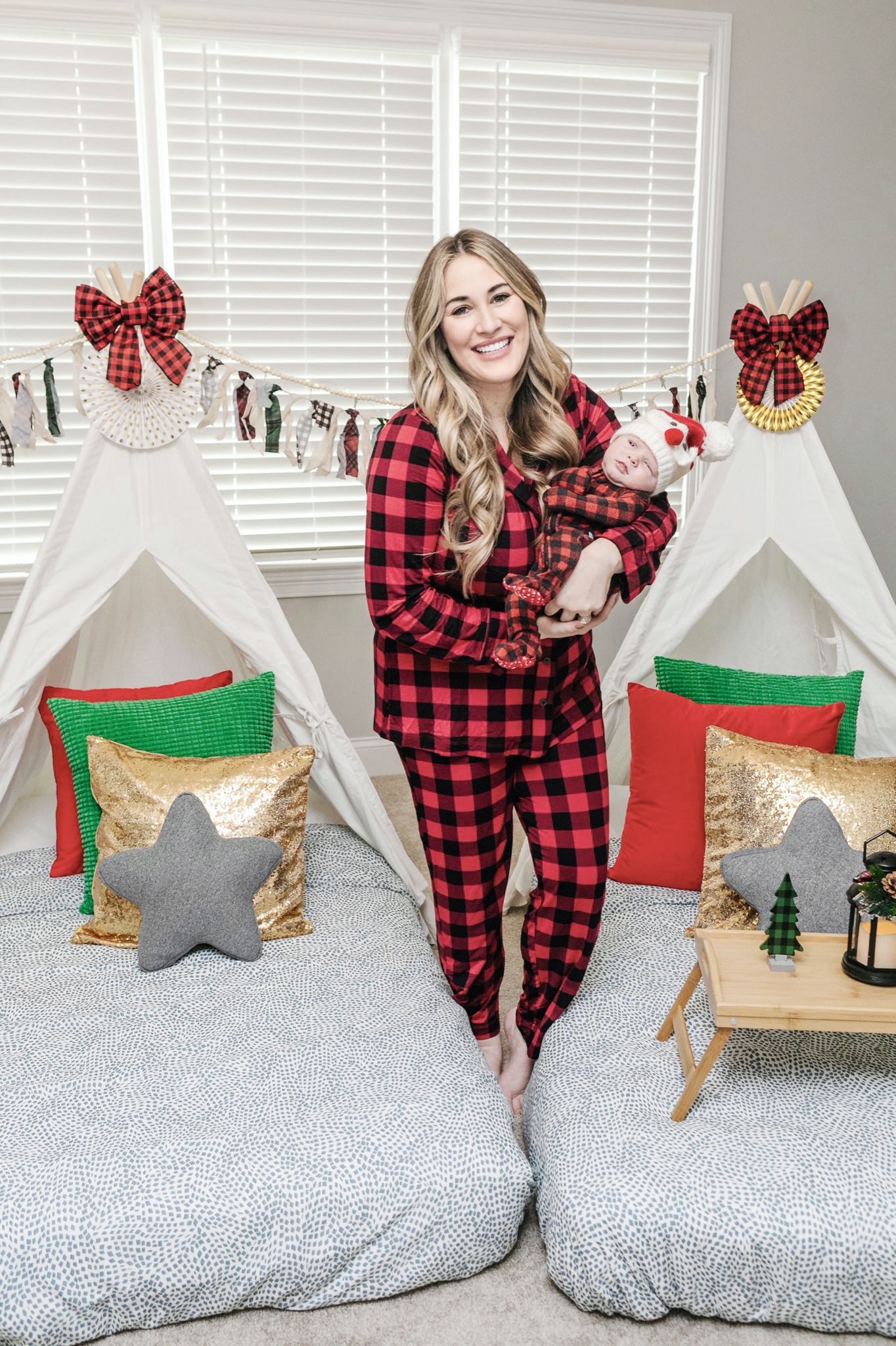 SHOP OUR WINTER LOOKS:

When colder temps start to hit, and snow starts falling, I'm sure I can vouch for most parents when I say that the last place you want to be is outside.
It can be hard to keep your kids entertained all the time when you're spending time inside. But today, I've rounded up some really fun and unique indoor winter activities for keeping your kids busy all winter long!
5 Fun Indoor Winter Activities for your Family:
Set up an indoor "glamp"site
Our friends at Glamping901 helped us set up the most adorable glamping site in our living room for the kids. They set up Christmas-themed teepees, mattresses with pillows and cute little trays for snacks and drinks. Leighton was SO surprised to come home to this adorable little Christmas-y wonderland. We made indoor s'mores, snacked on popcorn and had a little movie marathon while this was all set up.
Set up an obstacle course
Use masking tape, string, paper plates…anything you have around the house and set up a little indoor obstacle course. Have your littles crawl under string, climb over and through masking tape like a secret agent, tell them the floor is lava and they can only walk on couch pillows and cushions. My siblings and I used to love doing things like this on snow days when we were little!
Make snow-cream
Growing up, whenever it snowed, my mom used to make us snow ice cream, and we thought it was the coolest thing ever! It's super simple to make too. All you need is sugar, a little salt, vanilla extract and milk. I've linked a great recipe for y'all right here.
Make winter decorations together
Use paper and scissors to create snowflakes, make a winter wreath or even a snow globe.
Go on a scavenger hunt
These are super easy to do just around the house. Think of some objects you know you have at home that your kids can gather up. Things like rubber bands, small toys, and other odds and ends