Happy 30th birthday Shane!!!  We started dating when we were 21, and I look forward to seeing what the next decade has in store for the two of us.  You starting new ventures with your business, me finishing grad school and hopefully a little Shane and a little Laura.  = )  And for everyone else, happy Friday!!!  = )  We're supposed to have a weekend full of gorgeous weather here in Memphis, and I couldn't be happier!    Perfect for volleyball this weekend!  If you follow me on Instagram, you saw a sneak peek of this outfit yesterday, but I wanted to give yall the full details.  Yep, I wore Gap Skinny Mini Khakis two days in a row.  They are the perfect length for a 5'2 girl, I can wear them to work and I love the bright colors and fun designs they come in!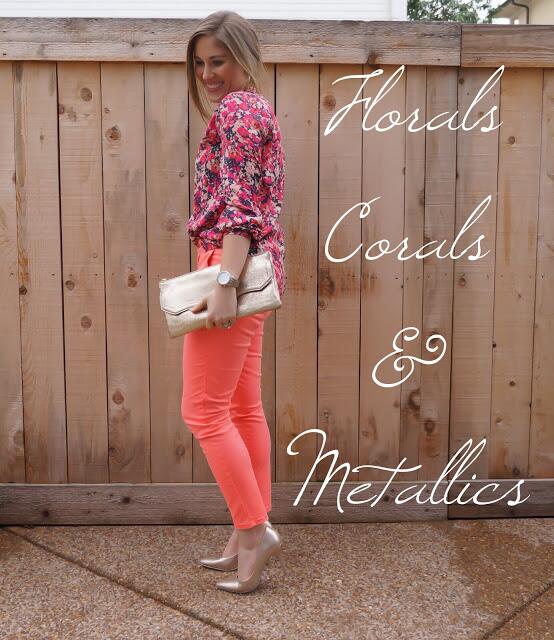 Loft Floral Blouse
.  $59.50.
Gap Skinny Mini Khakis
.  $27.99 with code GAPSHOP.
ShopSosie Voyance Necklace
.  $36.
H&M Metallic Pumps.  Similar
here
for $27.80.
Tahari Gold Leather Clutch via Marshalls.  Similar one
here
for $27.97 with code GAPSHOP.
Michael Kors Ritz Two Tone Watch
.  $250.  Similar one
here
for $65.
Crystal Bracelet via Poshmark.
So I finally got around to creating a Facebook page yesterday for the blog, and you can like it here. Don't forget to enter the giveaways here and here.
And while you're out and about on the internet, take a minute to check out my new sponsor Brandi from Brooklyn State of Mind.  Brandi is mommy to an adorable little girl BK and loves to blog about her everyday life and her family.  She also mixes in a little fashion and some recipes too, so you'll be sure to find something you like!  Stop by and say hello when you get a chance.  = )