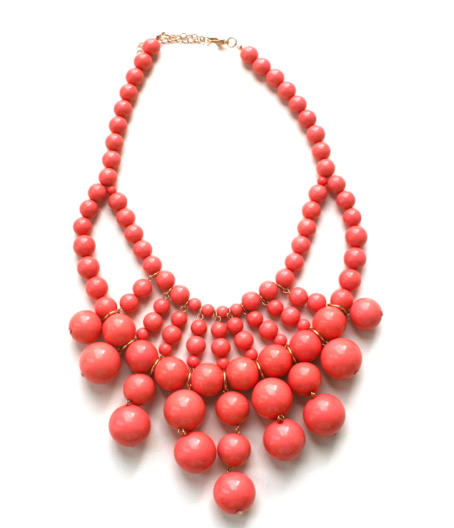 Hello lovelies!  I'm in Vegas this week for work.  I got in 4 hours at the pool on Saturday and am
burned
tan.  My skin wasn't sure what the sun was since it's been so long.  It's been 90 degrees here and is gorgeous!!  Today I had a 5 hour review class, and then I went shopping at the outlet mall for a few hours.  It was only about 5 minutes from the hotel, and was all outdoors.  It was nice, and it had a J. Crew Outlet store.  Enough said.  = )  Tomorrow will start the 8 hour classes, but I plan on being poolside during the lunchbreaks.  Who needs food anyways?  I'll be back tomorrow for an outfit post and some Vegas pictures, so until then you can follow me on
Instagram
for some more pictures, and make sure to enter for today's giveaway!  Thank yall so, so much for stopping by and reading.  I really appreciate it!
Gemmy Junky
is a newly opened shop that sells gorgeous jewelry at amazing prices!  If you haven't checked them out yet, you're definitely missing out.  Tara from
Gemmy Junky
 is partnering with me to give away not one, but two pieces today to two different readers!!  They are giving away the pretty and trendy 
Chained in Love Bracelet
 set and the gorgeous
Pectoral Pretty Necklace
 that are pictured above.  This necklace is definitely a head turner.  It is coral, and will look great to dress up most any outfit!  The giveaway will run through Sunday, May 26 at 7:00pm CST.  To enter the giveaway all you need to do is:
2.  Follow Gemmy Junky on
Instagram
or
Facebook
.  For an additional entry, follow them on both, and leave a separate comment for each letting me know.
The winner of the pink Samsung camera is Cheyenne Clark.
The winners of the $50 Amazon gift cards are Katie Murray and Jessica Pease.
The winner of the Stella & Dot $40 credit is Cece.
The winner of the $15 Target gift is Emily Bernal.
You can find out the winner of the Hobo handbag by going
here
.
Congratulations and please email me for details.