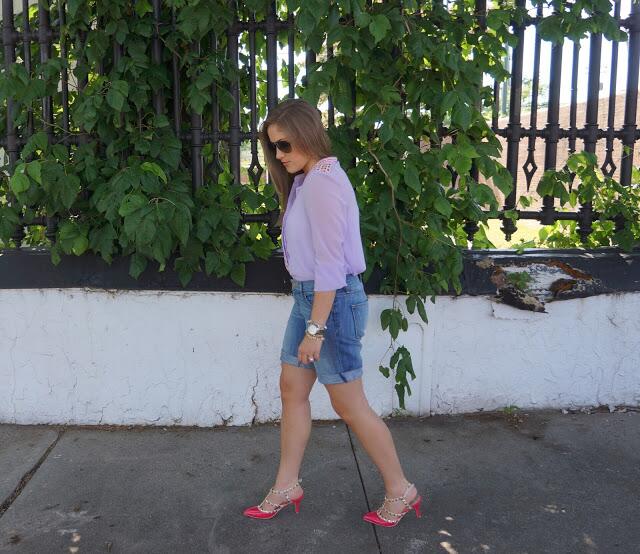 Piace Boutique Blouse
c/o // Loft Boyfriend Shorts (
save
,
save
) //
Torrid Pumps
// 
DKNY Aviators
 c/o //
Michael Kors Watch
(
save
) //
Monogram Necklace
gifted //
Bows to Toes Bow Bangles
c/o //
Sage K & Co Pink Enamel Bracelet
c/o //
ONecklace Monogram Bracelet
c/o // 
Apple of My Eye Spike Bracelets
c/o
Happy 4th of July everyone!  I got my red, white and blue in on Tuesday's post for the Trend Spin Linkup, so today I'm doing a pastel and neon outfit that I wore a few days ago.  It seems I can't go for more than a couple days without wearing neon.  I'm still not 100% sure what I think of these shorts with my big legs.  Maybe I need to try a darker wash?  I do know that I love the pumps and the blouse though!  I mentioned not too long ago that I had been really wanting some lavender, and I found
a couple pieces
that I wore recently, but I still wanted another lavender blouse.  I fell in love with
this Piace Boutique top
when I saw it was lavender.  What makes it even better is that it also has neon details down the front and on the shoulders.  Speaking of neon, do you remember
these cute neon peep toe wedges
I wore last week?  I have partnered with
LeBunny Bleu
today to giveaway the exact same pair to one lucky reader.  To enter just use the Rafflecopter widget below.
I'm off work until next Monday, and Shane and I are driving to Little Rock, AR this morning for my birthday celebration.  We are hiking all day today and then going to a waterpark in Hot Springs, AR tomorrow.  This will be both of our first times in Hot Springs, so we're really looking forward to it.  We usually go hiking up Pinnacle Mountain every year, so it'll be fun to be back again (and I sure could use the workout!)  What are your 4th of July plans this weekend?