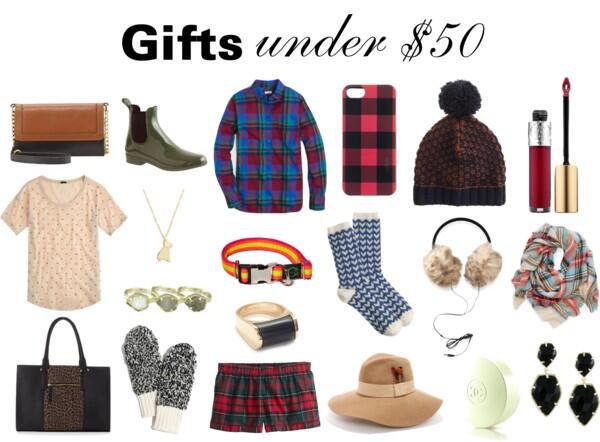 Saffiano Colorblock Chain Wallet
//
J.Crew Rain Booties
//
J.Crew Factory Plaid Flannel Shirt
//
J.Crew iPhone Case
//
J.Crew Pom Pom Beanie
//
YSL Lip Gloss
//
J.Crew Jeweled Tee
//
C. Wonder Dog Pendant Necklace
//
Kendra Scott Ring Set
//
C. Wonder Neon Dog Collar
//
J. Crew Ring
//
J. Crew Socks
//
Aeropostale Earmuff Earbuds
//
Aerie Blanket Scarf
//
Neiman Marcus Leopard Print Bag
//
Madewell Mittens
//
J. Crew Plaid Sleep Shorts
//
LuLu*s Hat
//
Chanel Chance Eau Fraiche Body Cream
//
Kendra Scott Earrings
I'm sure we all know how expensive the holidays can get.  There are so many friends, coworkers and family members to buy for.  Then with all the ads we constantly see online, in stores, on tv and in magazines, you usually can't help but want to buy a few things for yourself too.  Add that to having a new baby, and I am having to hold myself back from buying every toy and outfit I see for Leighton.  Christmas gifts can definitely add up quickly, so it's important to try to find ways to save during the holidays.
The first way I like to save during the holidays is to look for sales.  I even keep an eye on what prices were because sometimes the sale at the holidays might not even be as good as they were earlier or later in the year, so you have to keep an eye on them.  Secondly, I always look for coupons to use before purchasing something.  I am one of those people who really hate to pay full price, and I rarely do unless it is an item that doesn't ever go on sale and that I will get a lot of use out of.  And one of the most important ways to save is to make sure that it is something that you actually really want need or will use.  It is so easy to get caught up in all the shopping and just buy stuff because they are a really good deal.  If it is something you will never end up wearing or using, that entire purchase was a waste, and you really weren't saving money at all.  If it's a clothing item, make sure you can think of at least 3 outfits you already have that you can wear the new item with.  I bought a new scarf on Black Friday, and I knew it would go with my red shirtdress I already have, my hot pink blouse and faux leather skinnies and my red tunic and leggings.  This helps to at least make sure you don't buy something that will just sit in your closet and collect dust.  And lastly, enter 
The Good Stuff 2014 Holiday Sweepstakes
for your chance to win up to $500!
To help you save even more this holiday season, I've rounded up my favorite Christmas gifts $50 and under and listed them above.  Don't forget to enter 
The Good Stuff 2014 Holiday Sweepstakes
to have a chance at saving even more mulah.  There will be one $100 winner each week and a $500 grand prize winner!  Good luck!  What is your favorite item?  How do you save during the holidays?