Thank you Family Dollar for sponsoring this post.  All opinions remain my own.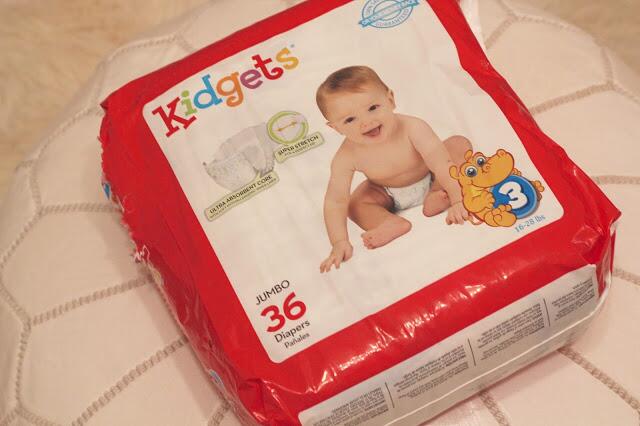 Everyone always tells you how expensive diapers are before you have kids, but I never really understood it until I had Leighton.  Babies go through diapers like I would go through Starbucks hot chocolate (if I could afford it 10 times a day!)  = )  I remember wanting to buy all the cute and fun things for Leighton when she was born, but I quickly realized that what I really needed to stock up on was diapers.  Diapers can really get expensive, especially through the first few months when you are changing diapers sometimes every hour on the hour.  They are definitely a necessity though, so I am always looking for ways to save money on them.
A new
Family Dollar
just recently opened right down the street from my house so I stopped in a couple of months ago to stock up on some new baby items after our move. 
Family Dollar
carries Kidgets brand diapers which we I never tried before.  I left with a pack of size 3 of their diapers and was looking forward to trying a new brand of diapers that was actually affordable.  They were a much better value and more budget friendly than other brands of diapers I've tried.  One of the things I liked most when buying the diapers is that they are also 100% satisfaction guaranteed or your money back.
We have been using 
Family Dollar's
Kidgets diapers now for the last few weeks, and not only do I love the price point of the diapers, I love how soft they are!  The outer cover of the diapers actually feel more like cloth and are so much softer against Leighton's skin than other diaper brands we've used.  We haven't had any issues at all with blowouts or leaking either so I feel like I got a quality product at a fraction of the cost.  Have you ever shopped at Family Dollar?  What is most important to you when selecting a diaper brand?  Have you tried Kidgets diapers?
This is a sponsored post created by me on behalf of Family Dollar, but all opinions are my own.