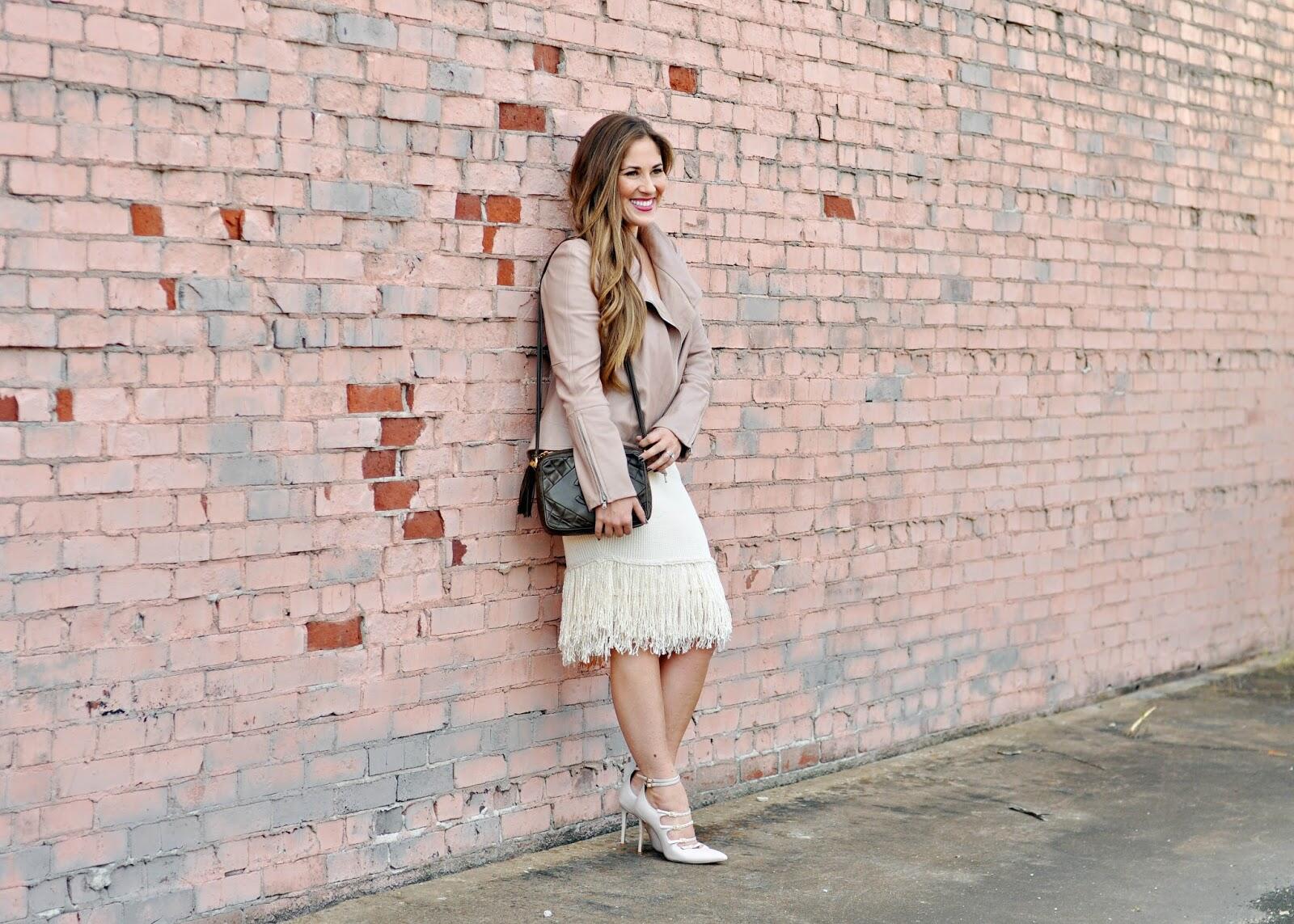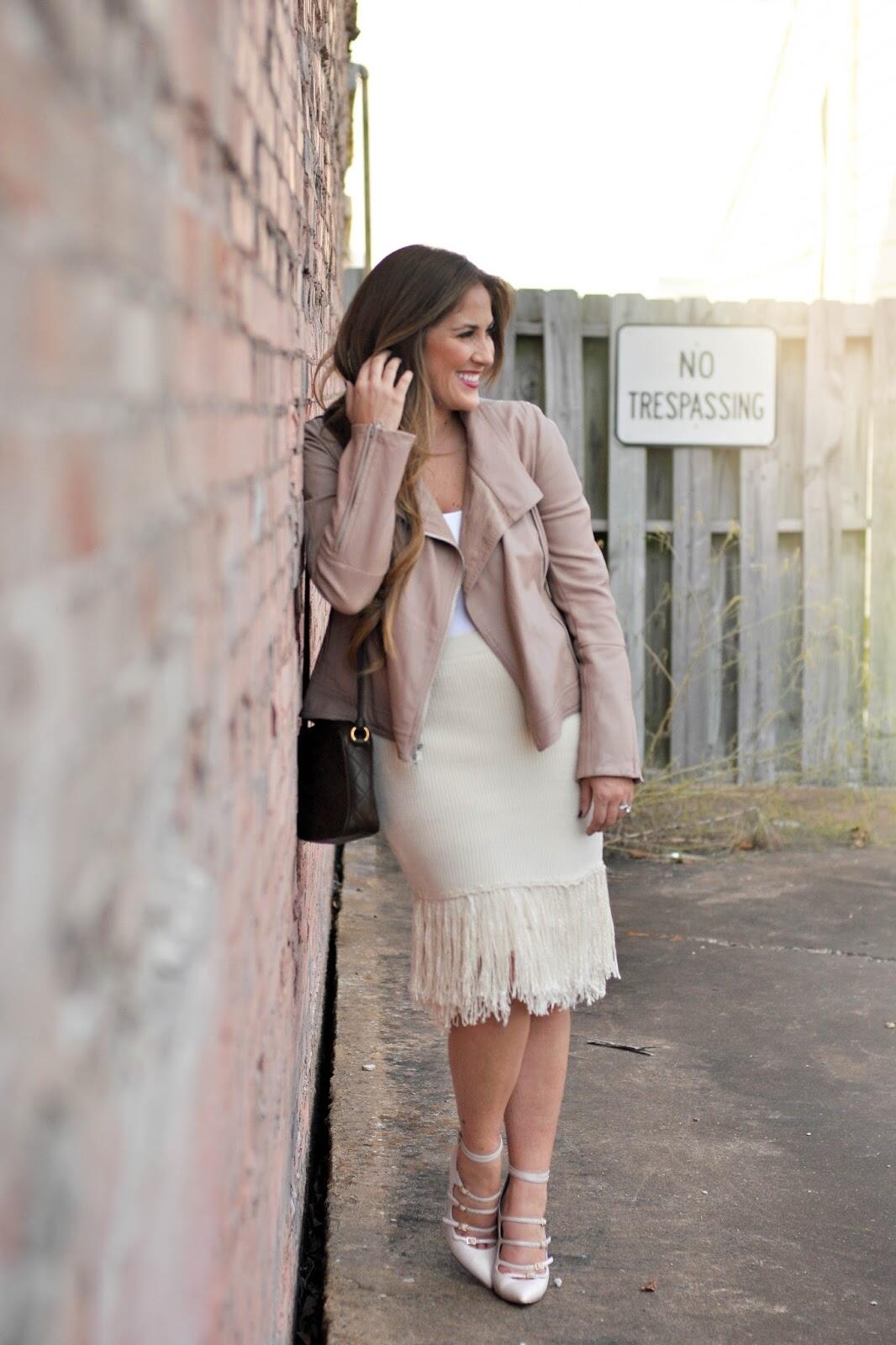 Today I am wearing 3 of my favorite outfits from Sugar Plum. How gorgeous is this knit fringe skirt with the leather jacket?! This is the perfect look for a date night. And since I'm a mom, outfit 2 is something you will see me in most days – skinny jeans, OTK boots and a poncho. And lastly, the perfect look for this upcoming holiday season – a beautiful fur coat. Think you can't afford a designer fur (or designer anything for that matter??) Think again. Sugar Plum has furs that start at only $99. That's less than most any faux fur coat or vest I own.
3. Be flexible. You may be dying for black, but if the real deal comes along in brown or gray, it might be worth going for it rather than waiting. This would also give you the opportunity to own a unique bag that stands out.
4. Compare prices. You can easily make an impulse buy if your not prepared. Take the time to compare prices. Know what the bag originally cost and if it ever went on sale or if it will go on sale.
5. Have reasonable expectations. You and I expect a lot from the things we buy and we should. When shopping secondhand merchandise, though, it's best to remember that if you find the bag you want at half its original retail price, it will probably have a scuffed corner or a hardware scratch or two.
6. Don't be afraid of a good deal. See a designer bag that you've been coveting but it has a little tear in it or is missing the zipper pull. Those are usually pretty easy fixes. You can easily take them to a cobbler or tailor and get small things like that fixed.
7. Get alerts. You will only find a discounted designer bag that you really love, if you're at the right place at the right time. Sign up for email notifications of new arrivals and follow Sugar Plum Consignments on social media. The good items go quickly, so staying on top of the site's latest additions is key to snagging your dream bag.
8. Shop often. That dream bag may be here today and gone tomorrow, and you definitely will be kicking yourself if you miss it The key to scoring a great bag is to be on the hunt and check out the new selection as often as you can.
9. Be in the know. Ask the store what days they get most their items in. And know what days the big sales are usually on.
10. Try before you buy. Ask to see the bag and walk around the store with it. See how much you can fit in it, how it feels on your shoulder, how the strap drop feels. Is it big enough? Comfortable enough? Sturdy enough? Slouchy enough? Whatever you're looking for in a bag, make sure it meets those criteria. The last thing you want to do is drop a lot of money to realize that the bag isn't big enough for you and you never end up using it.
Now for the fun part! Sugar Plum Consignments is my favorite consignment boutique in Memphis, and today I'm excited to be teaming up with them to give away a $100 gift certificate to their shop. To enter, just use the rafflecopter widget below. The giveaway is open to anyone in the Memphis and surrounding area who can come shop the store. = ) Good luck! What designer bag is on your wish list?