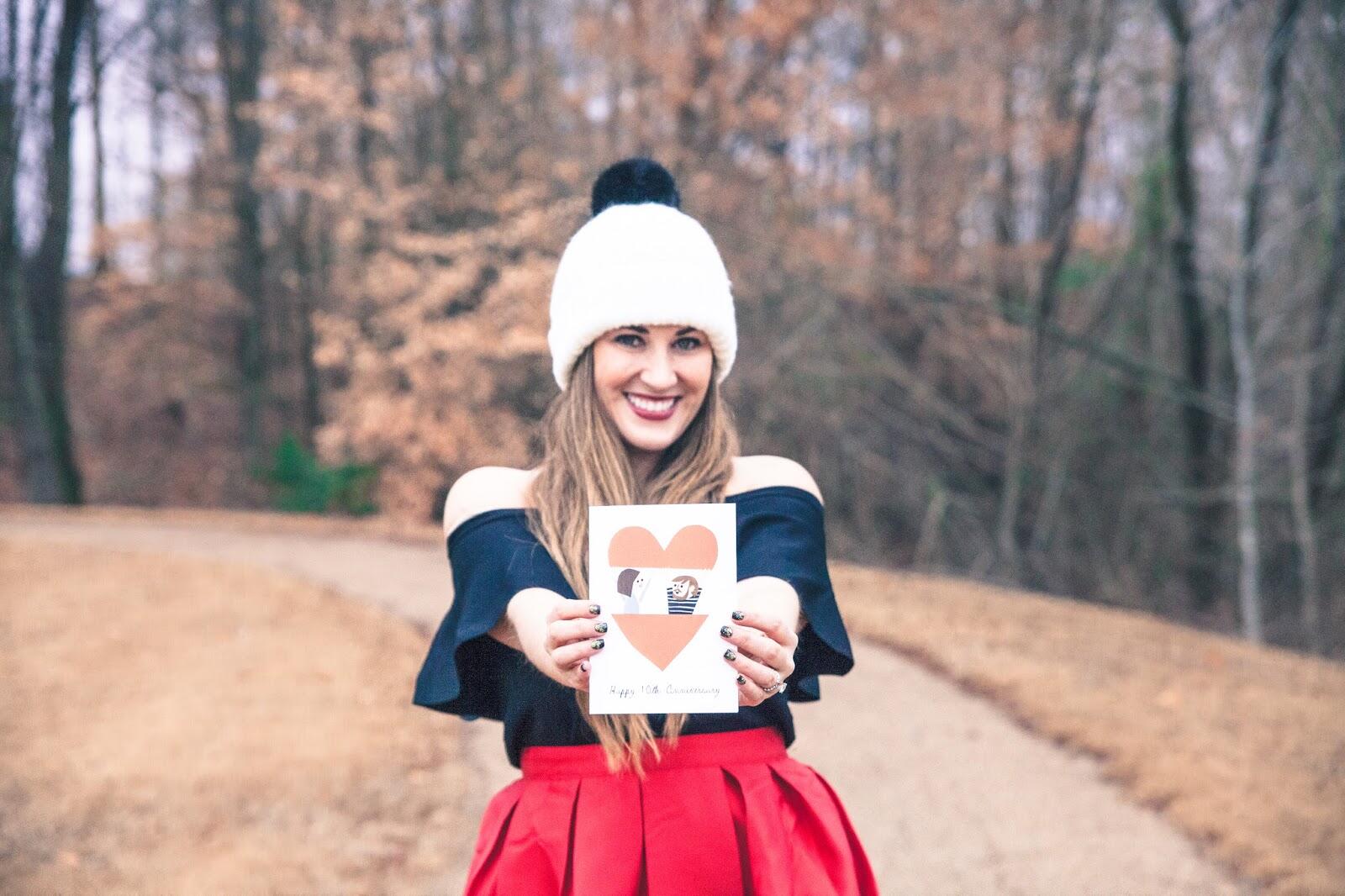 1.6.17. Today is mine and Shane's 10 year anniversary! In some ways it feels longer, and in others it feels shorter. I feel like we have done so much, changed so much and grown so much since we got married 10 years ago. Shane and I started dated at 21 and got married 2 years later when we were 23. Every time pictures pop up on my timehop on Facebook, I think who are those babies smiling and hugging in those pictures? Since Christmas just recently passed, we decided not to buy each other anything for our anniversary except for a card. No matter how tight budgets are and how short we are on time, I always try to make sure I at least buy a card because I think sometimes they are more special than an actual gift.
I picked out
this cute and quirky card
from
Paperless Post
and bought it to give to Shane this weekend on our anniversary date. Paperless Post has a huge selection of online and paper cards. From birthday cards to
baby shower invites
, they have such a great selection that even includes some designer collections. For our 10 year anniversary, I still prefer a paper card, but for invitations and other cards, I love sending online invitations. And just because they're online invitations doesn't mean they have to be boring. They should be just as pretty and unique as paper cards. I'm teaming up with Paperless Post today to give away 1,000 coins to purchase online cards so keep reading to see how to enter. Next week I'll be sharing 10 things I've learned after 10 years of marriage, but today I want to share some fun (and unique!) date ideas for your anniversary. Some we've done, some we are going to do, and some are on our list to hopefully cross off over the years.
1. Spark some old memories by either visiting the spot of your first date or the place where you got engaged. Mine and Shane's first date was pretty normal. We were 21, so it wasn't anything fancy, but it was just perfect that night. We went to Flying Saucer and had dinner and a drink and then just walked around downtown together. He proposed to me a year later on a rooftop, so I think visiting the rooftop would be a great date idea one night. And who doesn't love rooftops?!
2. Whether you have a staycation at a bed and breakfast 15 miles from your house or you can sneak away for a short weekend trip, get out of the house. Set down the laundry and dishes. Get out of your comfort zone. And do something special. Even if it's just for the night. The great thing about having a staycation is that it takes you out of your house and forces you to just focus on only you and your spouse for that night. No dogs barking or toddlers crying. Leighton and I recently had a girls' staycation
here
, and now Shane and I plan to go in a couple weeks after I get back in town from Dallas to celebrate our (belated) anniversary.
3. Go on a
dinner cruise
. We have a couple boats in Memphis that do dinner cruises and we also have some at the casinos about an hour from our house that do dinner cruises, so we have a few different options. We have actually been saying we were going to do this for YEARS! Probably almost 10 years to be exact. So it is definitely time!
4. Have a spa day together. This is another one we have added to our list and actually plan to do this year! Spas aren't only for the ladies. I don't know about your husband, but Shane loves massages. And though he may not act like it around his friends, he would be 100% thrilled to get pampered for a day as most guys would (and I'm sure he could certainly use a pedicure too.) ☺ Most spas these days even have special services listed just for men.
5. Go to a concert together. Remember when you first got together and couldn't take your hands off each other. Hugging and holding hands the entire time during the Darius Rucker concert. Well, an anniversary is the perfect time to get tickets to a concert or event that you feel like you never have the time or money to go to anymore.
6. Go to a drive-in movie. Shane and I have done this quite a few times, but it's been years now. I would love to do this again. It's perfect because you can bring your own food if you want, and you still are in the comfort of your own vehicle instead of trying to see over the tall guy sitting in the row in front of you. I cannot wait to take Leighton to a drive-in movie too!
7. Take a cooking class together. Shane and I have had this on our list for about 10 years too. You know, since we both got married and realized that neither one of us knew how to cook. ☺
8. Volunteer together. This is something Shane and I have done, but it's been a while. There is NOTHING more rewarding than volunteering to help whether it be at a hospital, at a shelter or even at a nursing home. It is such a good feeling, and you leave feeling so happy that you got to help something, but you also leave having learned something. It is even better when you share that moment with someone you love.
9. Take a painting class together. Usually reserved for women, but I think it would be just as much fun going with your spouse. Shane is so artistic and talented, and I am not. I would love to go to a painting class with him just because I would love him to help and inspire me. Plus there is nothing like seeing your spouse doing a hobby they truly love.
10. Try something new together. Whether it be a new restaurant, a new meal, skydiving or a hot air balloon, try something together you have never done before. Shane and I have been skydiving and parasailing together before, but a hot air balloon ride is still on our list!
Now that you have anniversary date ideas, card ideas and outfit ideas, check out
this post
for some great gift ideas too.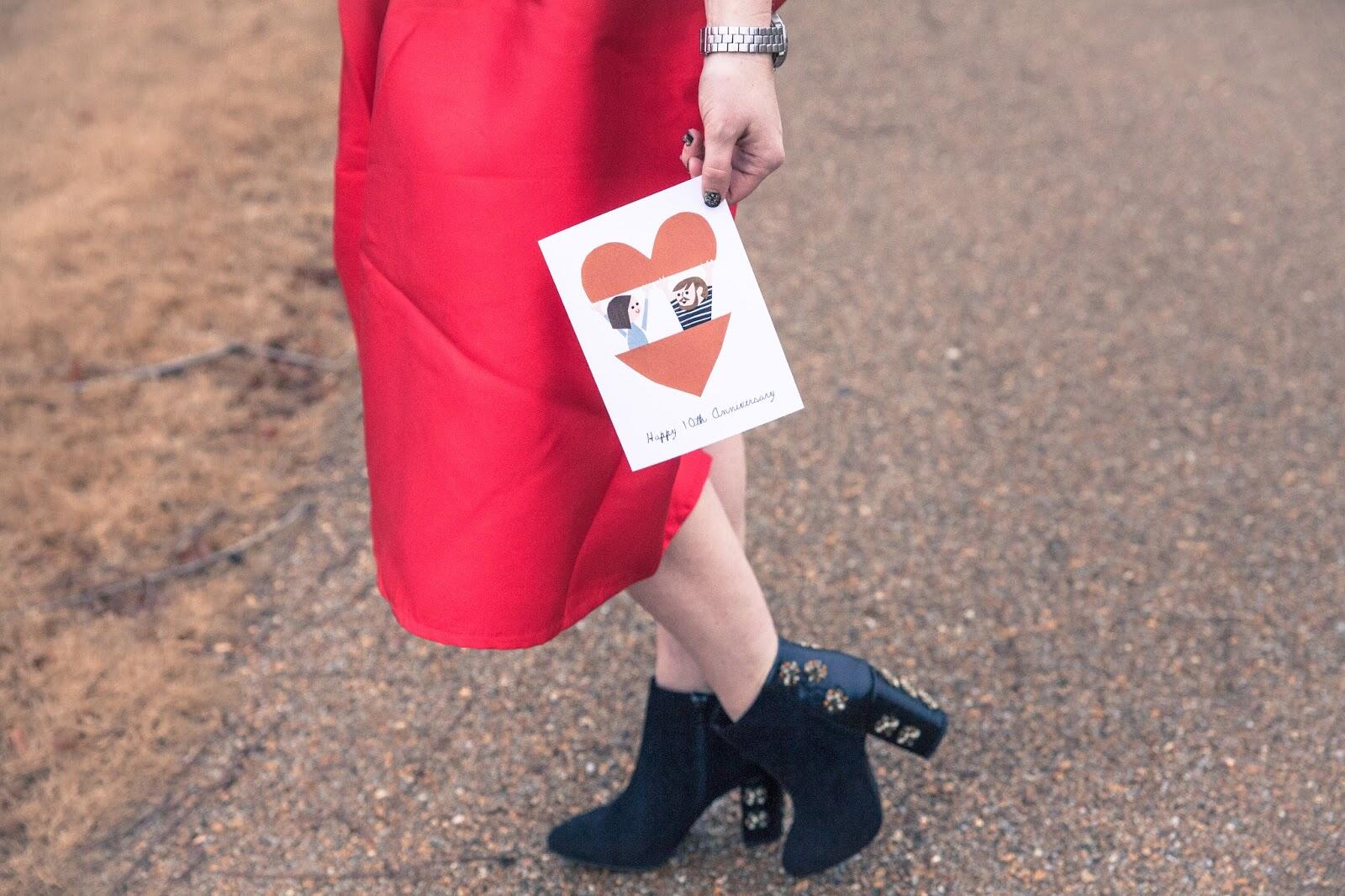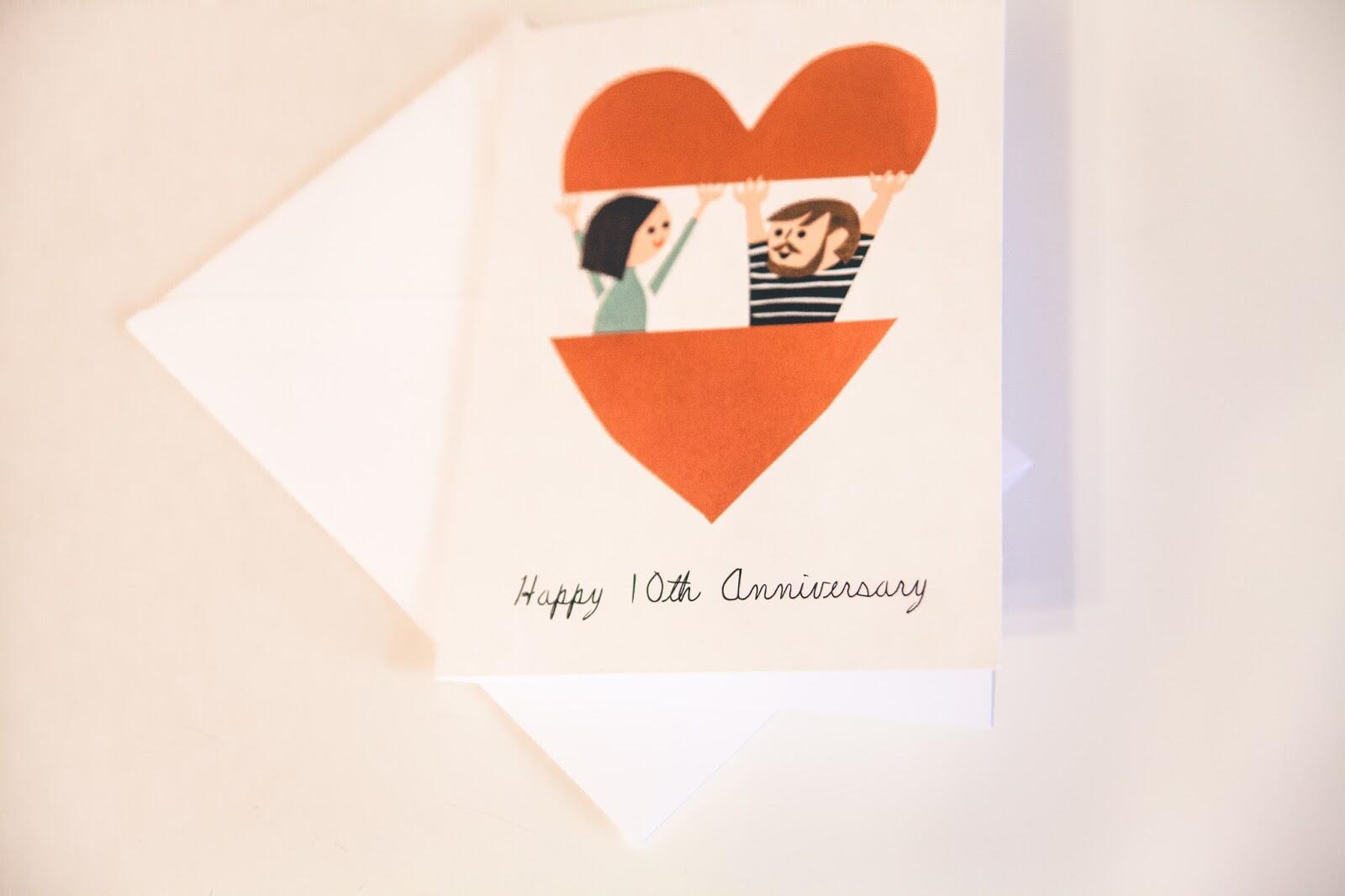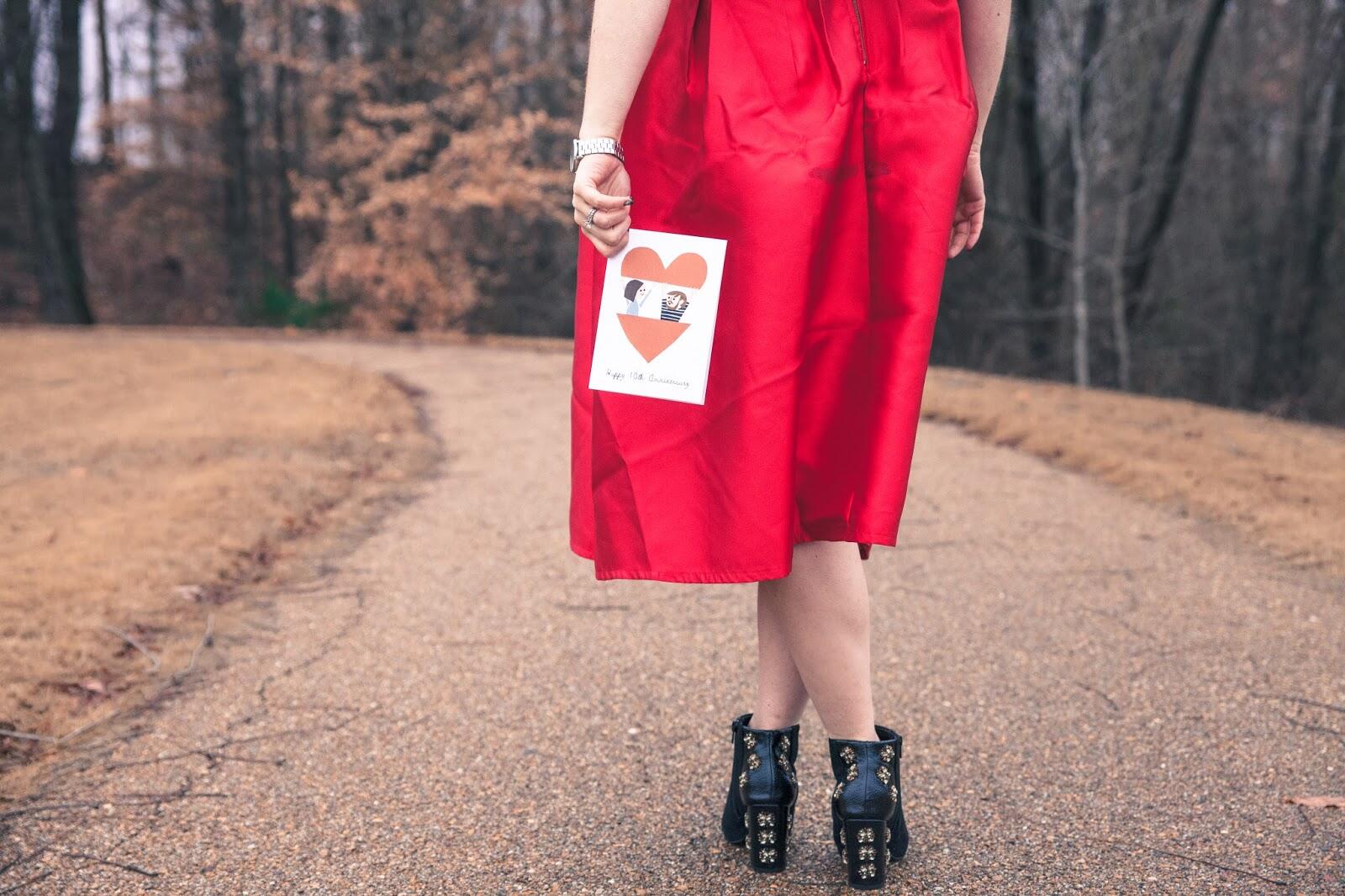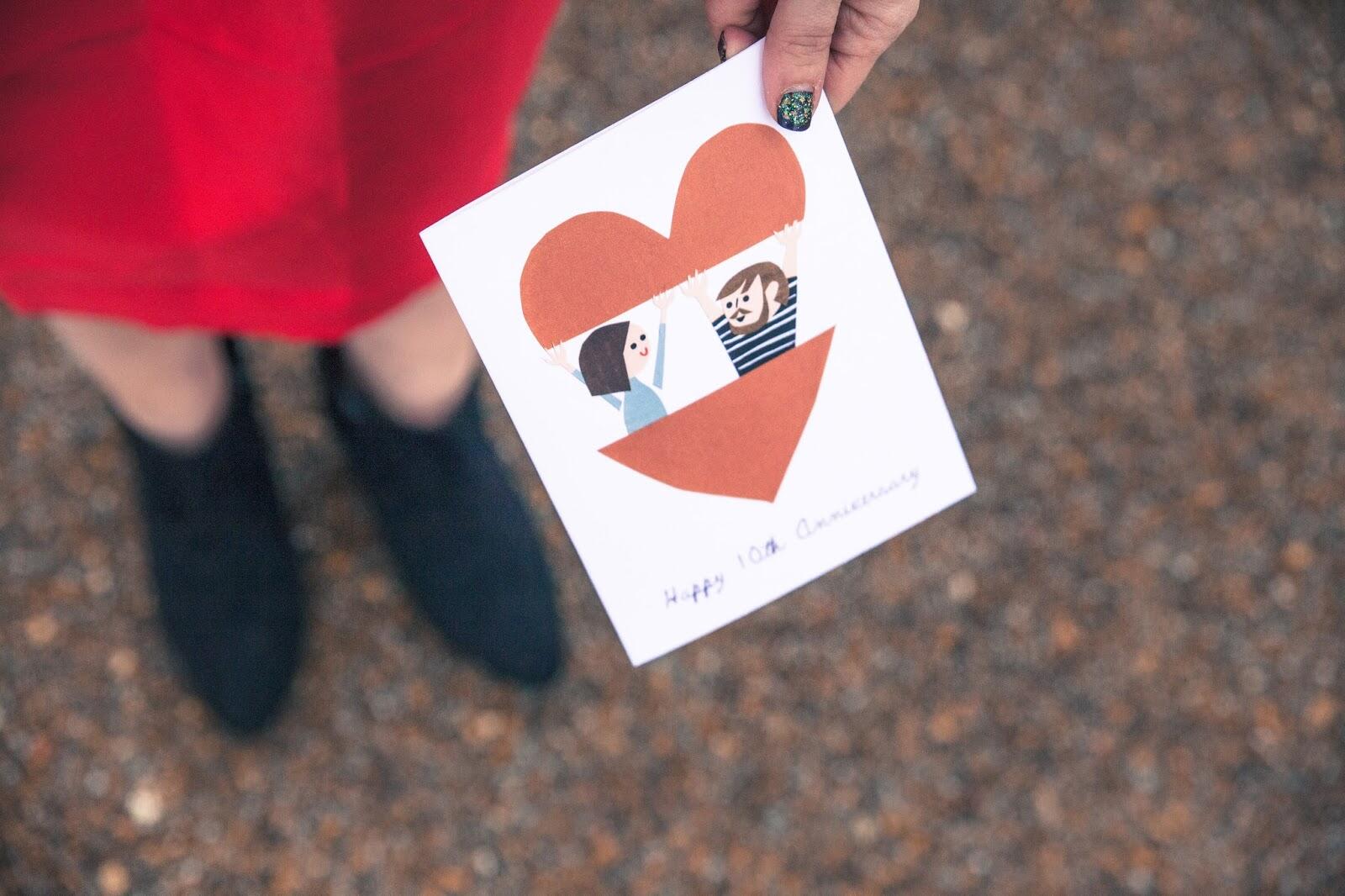 This post is in collaboration with Nakturnal. Thank you for supporting the brands that support Walking in Memphis in High Heels.