This toddler bedroom ideas post is sponsored by Hunter, but all opinions are 100% my own. Thanks for helping me to support the brands I love.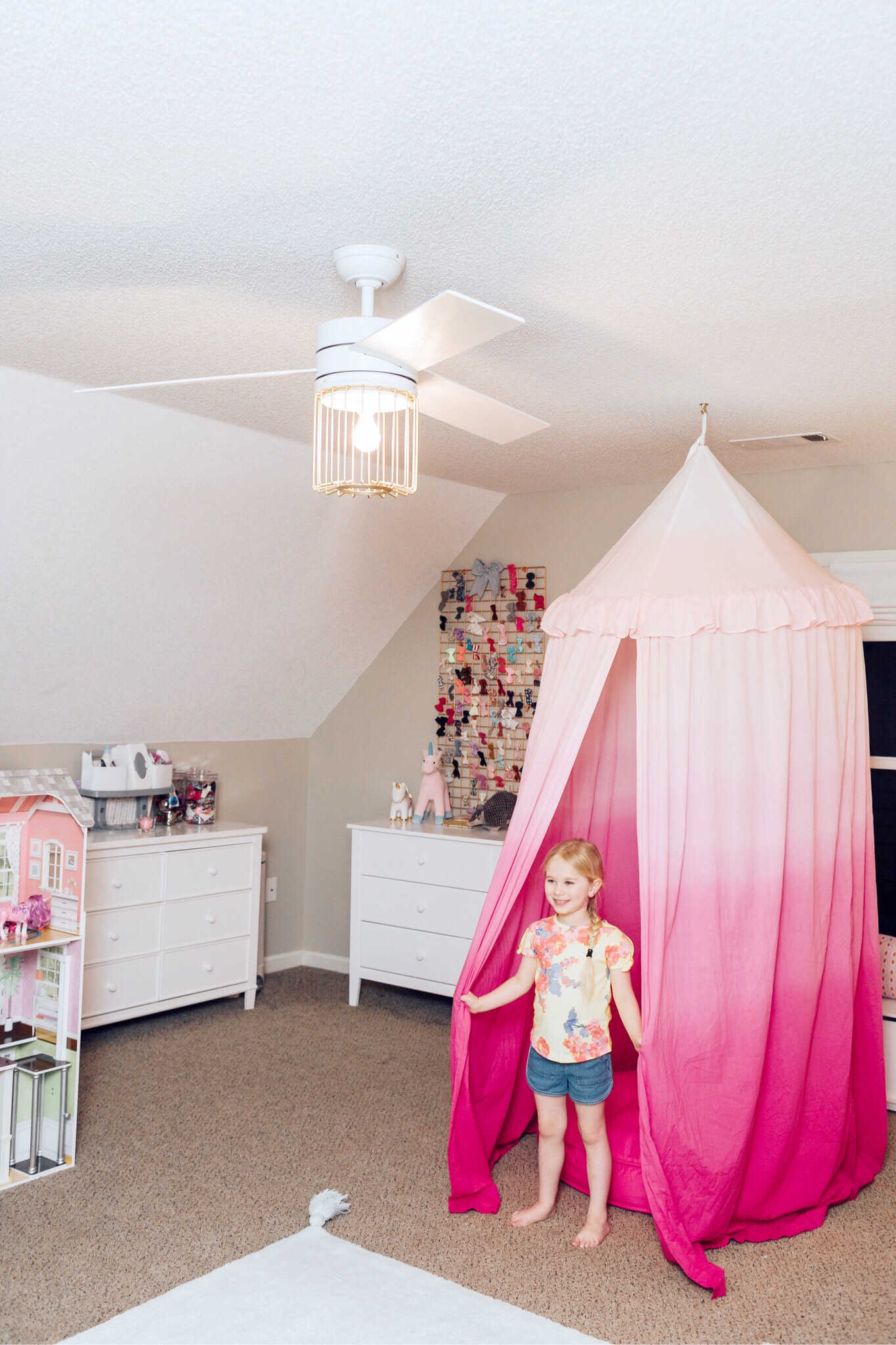 As Leighton gets older, she starts to become more and more opinionated. That's a toddler for you! She has been asking me for the last few months to redecorate her room, so I finally gave in. = ) She doesn't have a lot of free space in her room, and I didn't want to spend a ton of money, so we made just a few small changes that I think made a really big impact, scroll down for the results!
CUTE & AFFORDABLE TODDLER BEDROOM IDEAS :
Look for Small Home Decor Items and Pillows to Make a Statement.
We added some small new decor items to help tie into the theme in her room – unicorns. One of the easiest ways to update any room is to add some new pillows. I fell in love with this pretty Baby Aspen unicorn pillow and then spotted this matching unicorn piggy bank and just had to get it since she needed a new one!
Upgrade their Bed.
Leighton has been asking for a different bed for a while now, and I fell in love with this pretty limestone color of this Delta Farmhouse Toddler Bed, and it's the perfect size for your toddler when you don't have a bunch of extra room! And since Lieghton got a new bed, we upgraded her mattress while we were at at with the Serta Perfect Nature Mattress. It is so comfy, and you can't beat the price either!
Get New Bedding.
When your toddler decides she knows exactly what she wants (like mine!), it's time to let her have a little say in her bedroom decor and that included Leighton picking out this Beddy's Mini Blush Set. I love the pretty pink ruffles, and this bedding set is a lifesaver with it's zip up design that makes making the bed the easiest part of cleaning up after a toddler.
Add a New Ceiling Fan with a Gorgeous Light on it.
The Ronan with LED Light is just that. This ceiling fan is the first and last thing I notice in Leighton's room now. It comes in 2 different colors, but I went with white to brighten up Leighton's room. It features a gorgeous brass cage light fixture and comes with a remote control to adjust the fan speed with the touch of a button.
I am in LOVE with this fan! And honestly, I'm not sure that she will outgrow it. I think it will look great in her room for years, and if she ever gets tired of it, I have the perfect spot for it in my dressing room, office or study. = ) Next up is the matte black version too.
If you're looking to update your toddler's room (or any room in your house!) make sure you check out Hunter's great selection of ceiling fans.
What about you? What changes to do you make to update a room in your house?