This post is sponsored by Sears, but all opinions are 100% my own.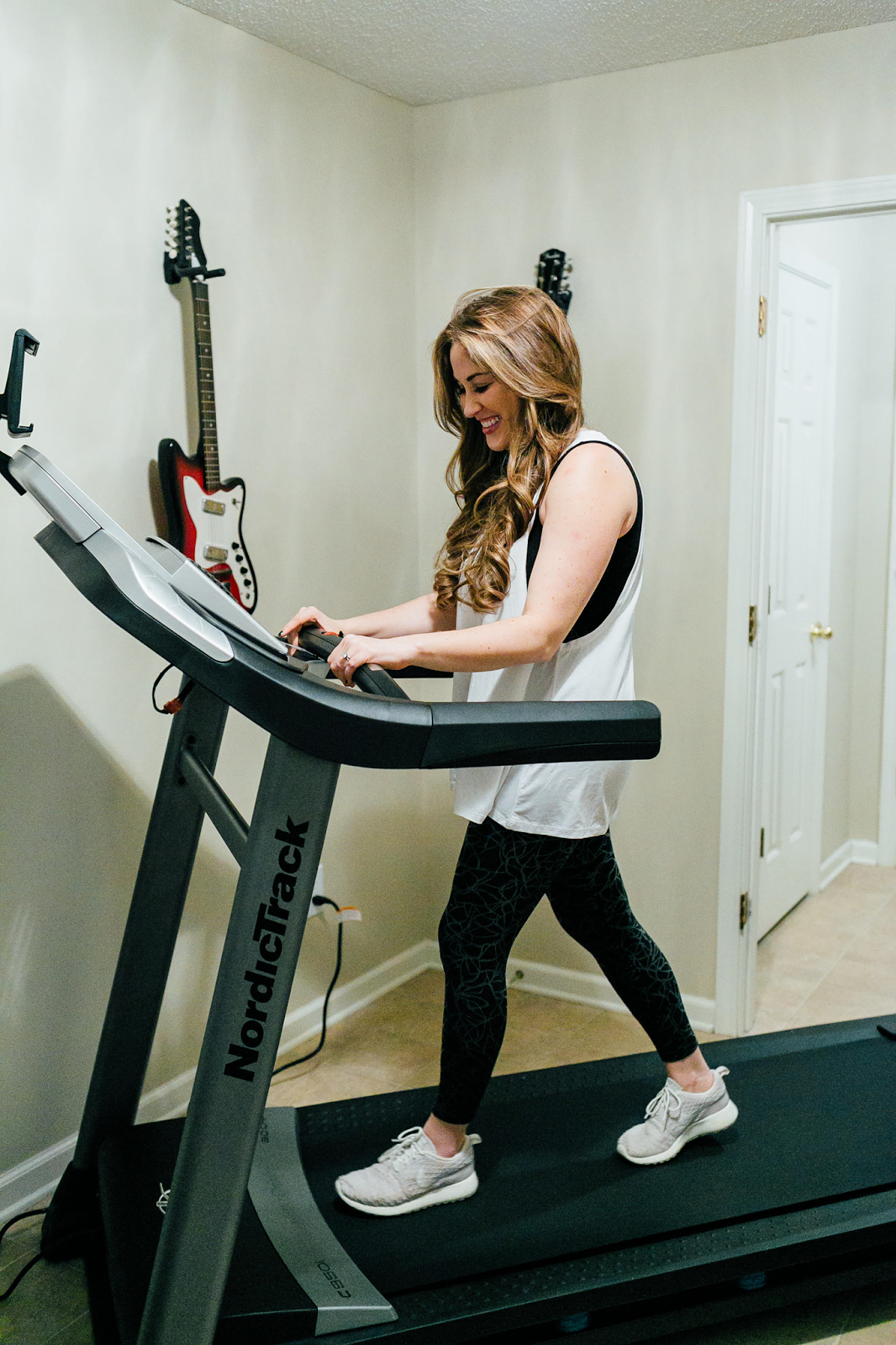 Making time for exercise can be hard, and sometimes it is even harder to force ourselves to workout once we get home.  There are so many things to get in our way – a comfy couch or bed, a toddler, TV, laundry, dishes.  The list goes on and on.  Since getting a treadmill from Sears recently, it has honestly opened up a whole new world for us, and I finally feel like I have been able to squeeze in so many more workouts.  So, today I want to share 5 tips that to make time for exercise that have helped me so far! 
1.  Have a designated space to exercise.  If you have room for an in-home gym, that is your best option.  But if you don't, use a spot in the corner of the living room, in your office or even your garage.  You need a place that reminds you that it's time to workout so you won't be tempted to do other things. 
2.  Put your workout clothing on first thing.  I usually work out at home in the mornings or at night.  So, if you workout in the morning, change into your workout clothing immediately.  If you workout at night, change into your workout clothing before you leave the office.  I do that sometimes, and it helps me make sure I don't lose my motivation.  I even do that on my lunch break sometimes because if I don't end up working out, it forces me to have to look at the clothing I'm wearing my entire lunch break and then shamefully change back into my work clothing at the end of my lunch break, knowing I didn't even work out.  I promise, it really helps to keep you motivated! 
3.  Find a workout buddy.  Husband, neighbor, kids??  Or maybe even friends on social media (like the #bloggerpaleochallenge I'm doing.)  Enlist as many friends as you can.  The more people you involve, the harder it is to back out.  Plus, working out is always better with a friend. 
4.  Put your workout on your calendar.  Why not?  You put everything else on your calendar.  Seeing it on your calendar will remind you to workout and then help to hold you accountable just by seeing that lingering item on your to-do list each day.  Might as well get it done and cross it off your list! 
5.  Find a way to spice it up.  Search for some new playlists to listen to while running on the treadmill or maybe even a new book to read while you're walking with an incline on your treadmill.  This will make it more interesting and it will also help pass the time a little more quickly. 
We have had our new NordicTrak C950 i treadmill for a couple weeks now, and I absolutely love it.  I honestly can't believe I didn't think of a home gym sooner!  I have ended up loving it so much, I actually have decided that when I buy my next home, I will definitely be looking for 4 bedrooms with a bonus room to make into a large home gym.  It definitely comes in handy for busy professionals, students, parents or anyone else who has time fitting a workout into their schedule! 
Have you checked out the NordicTrak treadmill selection at Sears?  When do you workout?  How do you make time for exercise?  P.S.  Make sure you stop by My Life Well Loved to read about her one bowl kale salad and Happily Hughes to check out her glutes workout!