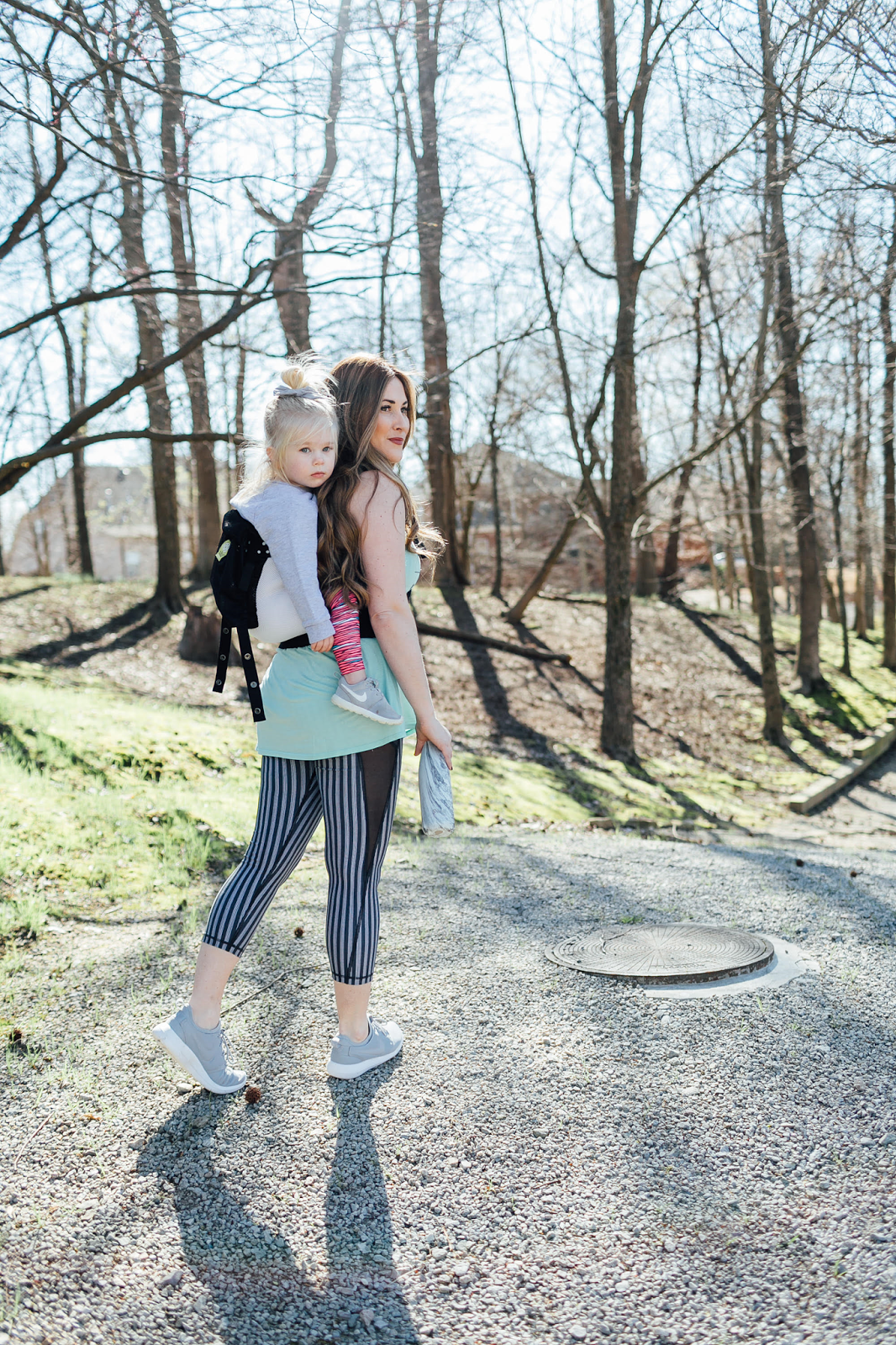 On Me:
Leggings
c/o //
Bra
c/o //
Tank Top
c/o //
Shoes
//
Water Bottle
c/o
Happy Wednesday! We're on day 15 of our month long paleo challenge! How is everyone doing on eating and working out? I'm so excited to say that I am still doing great and haven't cheated once. I've also been working out at least 3 days per week. And I'm down 10 lbs! Today I want to share one of my favorite ways to workout with kids. Babywearing. Toting this 31 lb LC cutie is so much better than carrying around weights. We are fortunate to have some great parks and trails near our house, so we drove over to one of our favorites last week for a little hike. The trail wraps around the lake and is fairly hilly. It was the perfect place to do a little babywearing for a workout.
You might think she doesn't like being worn by her expressions in these pictures, but I promise it's just her dislike for the camera haha! When I pulled the carrier out of my Tahoe, she starting jumping up and down and clapping. Her reaction to babywearing makes me so happy every time! I am so excited to finally be testing out the new LILLEbaby toddler carryon from
Cute As a Button Baby Boutique
. LILLEbaby recently updated their carryon, and I've been dying to try it since then! This toddler carrier has a range of 20-60lbs, it has a wider and taller torso for those longer toddlers wearing at least a 2T in pants, there is more lumbar support, and it has shorter straps. It is SO comfy y'all. Seriously. I have had quite a few LILLEbaby carriers over the years, and this toddler carrier has been the most comfortable by far.
I was first introduced to
Cute As a Button Baby Boutique
a couple years ago and have been a frequent customer ever since. They are an online children's boutique that literally carries almost everything you could ever want for a baby, toddler or mom. They also recently opened their first brick and mortar location in Wilsonville, Oregon if you're near the area.
Cute As a Button Baby Boutique
carries everything from Dockatot, Nuna, LILLEbaby, ThinkBaby, Ju-Ju-Be and more. They honestly have one of the best selections I've ever seen as far as brands and products at an online baby product store.
Unless it is really hot outside, this is my usually workout attire – tank top and leggings. I love to run in leggings so much better than shorts just because they help when running so they stay put and don't slide up or rub your legs.
These adorable striped leggings
with a mesh panel are from
Wear it to Heart
. I chose a pretty neutral looking pair, but they have plenty of fun, bright styles and patterns on their site. And I am pretty sure these are the softest running leggings I've ever owned. They are made from a 4-way stretch fabric that ensures each pair will stretch and move with you, but not stretch out. Make sure you check out instagram tonight, because I'll be giving away $50 to Wear it to Heart! And make sure you check out
My Life Well Loved
too to see more details on her Wear it to Heart fitness look and
Happily Hughes
to read about her favorite ab workouts.
I am so excited to be teaming up with my favorite baby store, Cute As a Button Baby Boutique, today to give one lucky reader a LILLEbaby carrier of their choice! They have such a huge selection of baby carriers, and you're bound to find quite a few things you need and could use from their online shop. To enter the giveaway, just use the widget below and good luck! Which LILLEbaby carrier is your favorite from
Cute As a Button Baby Boutique
?