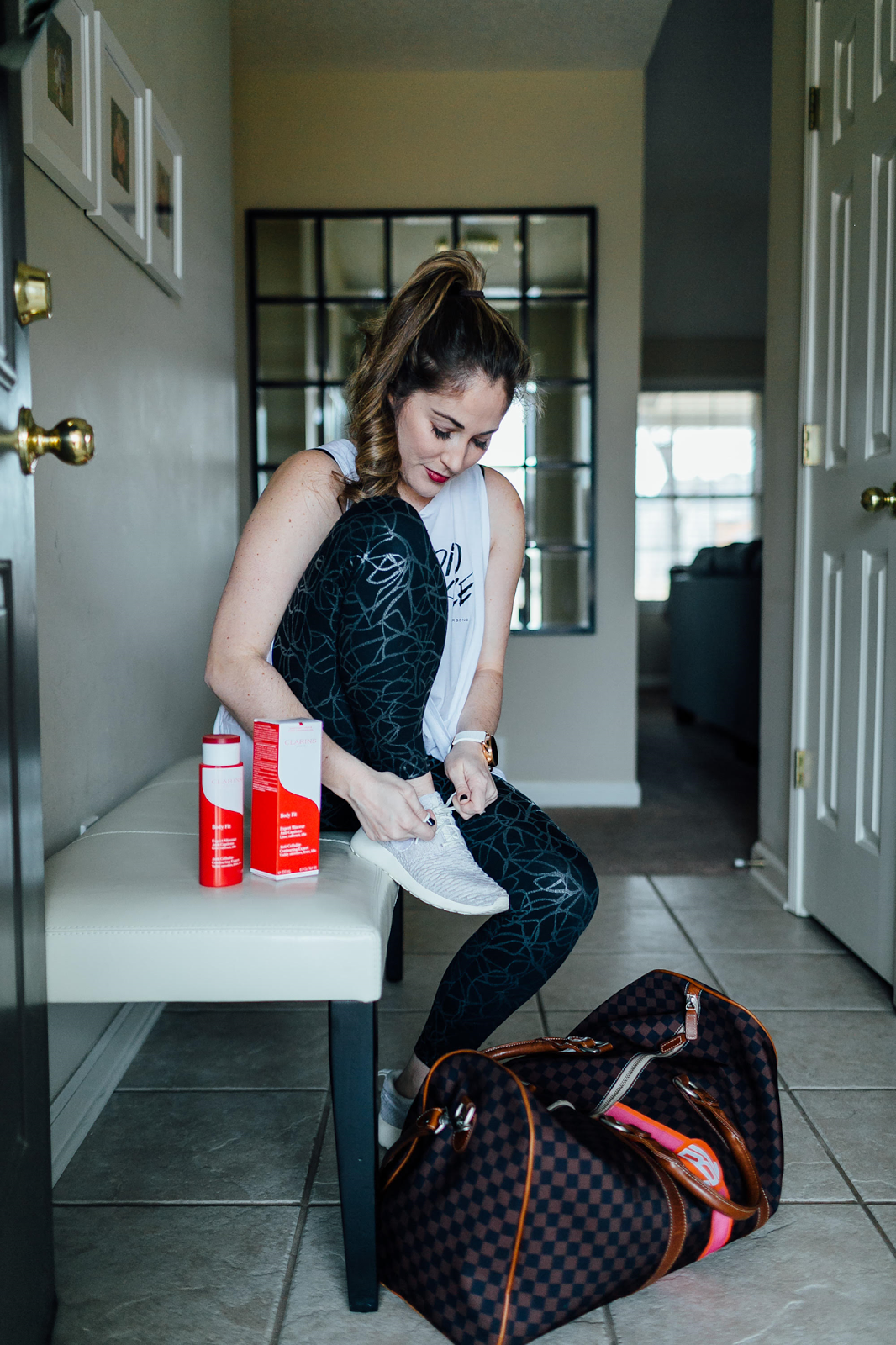 Top // Leggings c/o // Bra c/o // Shoes // Watch c/o // Duffle Bag c/o
It has finally started to warm up a little in Memphis for some nice outdoor runs.  For me, a run starts out feeling nice, and then I feel like my legs just can't go on, I can barely breathe, and I'm sweating like crazy.  But then when I am almost finished running, I am so glad I did it.  It feels so good.  But…I look like a sweaty mess.  Sometimes I run after work once I get home or on the weekends, but most of my runs happen on my lunch break.  So, today I want to share the 5 things I keep in my gym bag for my post workout routine… because you definitely don't want me going back to work looking like a hot mess.
1.  Antiperspirant.  This is the first thing I reach for in my gym bag.  I have my own office at work, but I don't want my coworkers complaining.  This antiperspirant is a spray and seriously lasts all day to keep you dry and odor free.
2.  A good hair brush.  Brushing your hair after a good workout or run helps to disperse the oil from the roots of your hair to the ends, where they need it more.  I love this brush with copper bristles, and it helps stop buildup in hair over time too.
3.  Face cleansing pads.  I absolutely have to clean my face as part of my post workout routine! Every time I try to wash it, I always get more hair wet, so I prefer to just use some type of cleaning pads.  They are so much quicker and easier too!
4.  Dry shampoo.  After I brush my hair, the next thing I do is use some dry shampoo in the roots to help dry up the oil from a good workout.  I seriously couldn't make it without dry shampoo.
5.  An anti-cellulite cream. 
Clarins new  Body Fit
is a cream-gel formula that helps visibly reduce cellulite.  You know the places I'm talking about.  The ones that won't go away no matter how many miles you run.  Yep, I have those on my legs, and I started using
Clarins Body Fit
 a couple weeks ago.  It has quince leaf extract, baccharis, green coffee and water mint in it to help visibly reduce the look of cellulite by its unique ability to smooth, firm and lift.  I've only been using it for just a couple weeks, but I can already notice a difference on the side and back of my legs.  With my continued healthy eating and working out, I can't wait to notice even more of a difference.  P.S. Make sure you check out
My Life Well Loved
to read about her daily healthy routine and
Happily Hughes
to check out her arm workout.  What are you post workout beauty routine must-haves?  Have you tried the new
Clarins Body Fit
?
JavaScript is currently disabled in this browser. Reactivate it to view this content.