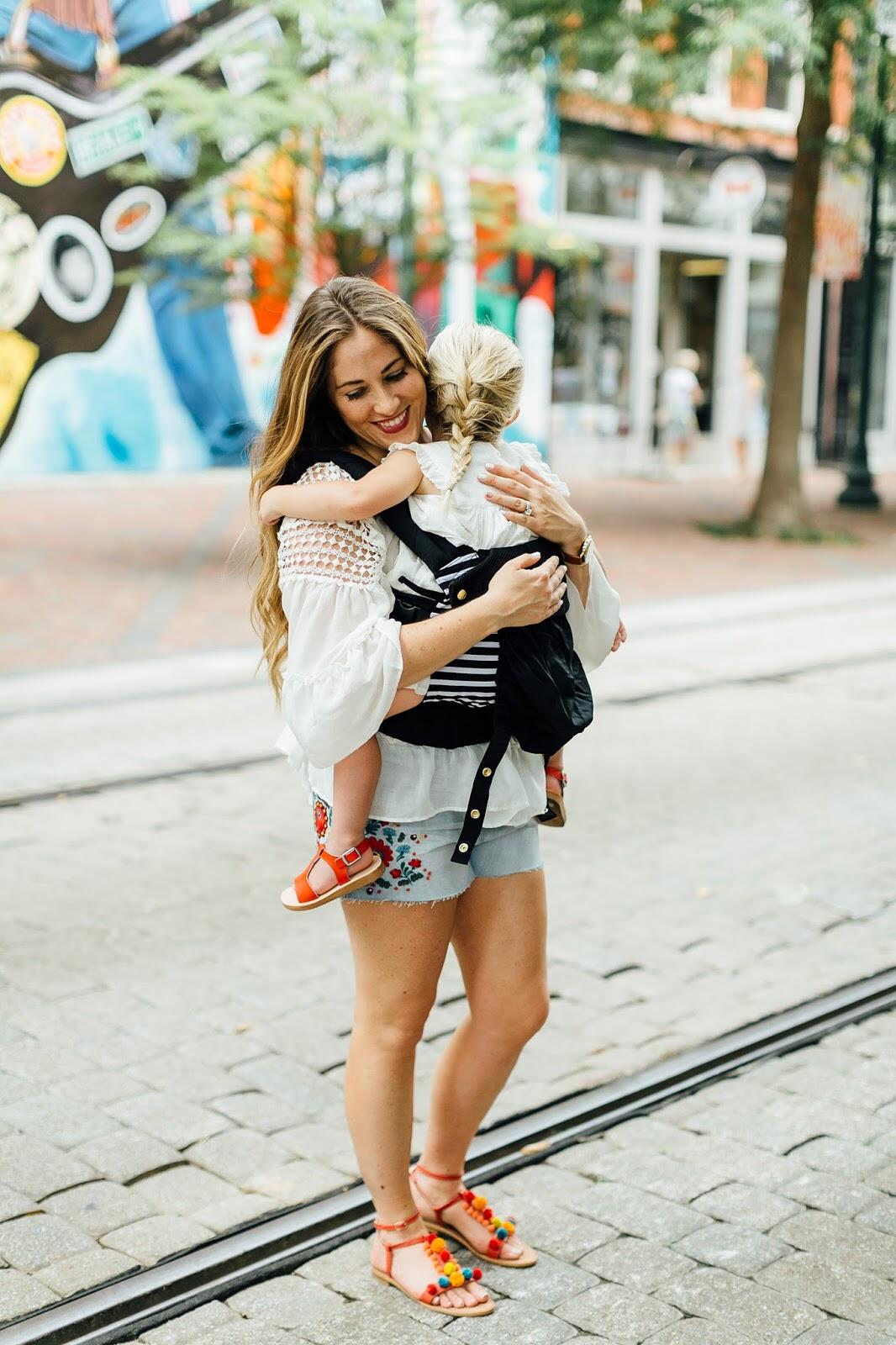 JavaScript is currently disabled in this browser. Reactivate it to view this content.
A couple weeks ago Leighton and I spent the day together hanging out in downtown Memphis in kid friendly places. I knew I would be on vacation soon and then traveling for work, so I wanted to get in all the snuggle time I could. So what did I do? I pulled out my LILLEbaby Complete Carrier, and Leighton went crazy to get in it. She definitely wanted to go up! She might be almost 3, but that definitely doesn't stop us from babywearing. I usually wear her on my back, but she wanted to do a front face in carry, and it seriously melted my heart. She kept laying on my shoulder and then hugging me, and I was just eating it up! Do you blame me?! We spent the day in downtown Memphis going to some of our favorite kid friendly places so I thought I would share with you some of my favorite kid-friendly places downtown to visit with your kiddos.
1. Mud Island River Park. They have a monorail, paddle boats and an exact replica of the river your kids can walk through and splash around in. Leighton had a ball playing in the water!
2. Aldo's Pizza. Our favorite pizza place in downtown Memphis hands down, and they have a patio so it's perfect to sit outside with a rowdy toddler. = )
3. The Arcade Restaurant. They have sweet potato pancakes, milkshakes and more. I know Leighton is already ready to go back!
4. Bass Pro. From bowling to eating to shopping to looking out over the city, Leighton loves when we go to Bass Pro. She also loves looking at the aquariums and the alligators inside!
5. Watch a Show or Game at the Orpheum or FedEx Forum. We took Leighton to see Frozen on Ice at the Forum a couple years ago, and we are taking her to see Peppa Pig at the Orpheum this October. Can't wait!
I'm so excited to be teaming up with LILLEbaby today to give one lucky reader a
LILLEbaby Complete Carrier
like the one we are using. To enter, just use the rafflecopter widget below and good luck! What is your favorite
LILLEbaby carrier
? What are your kid friendly places in your home town?!