This Holiday boots post is sponsored by Shoe Carnival, but all opinions are 100% my own. Thanks for helping me to support the brands I love.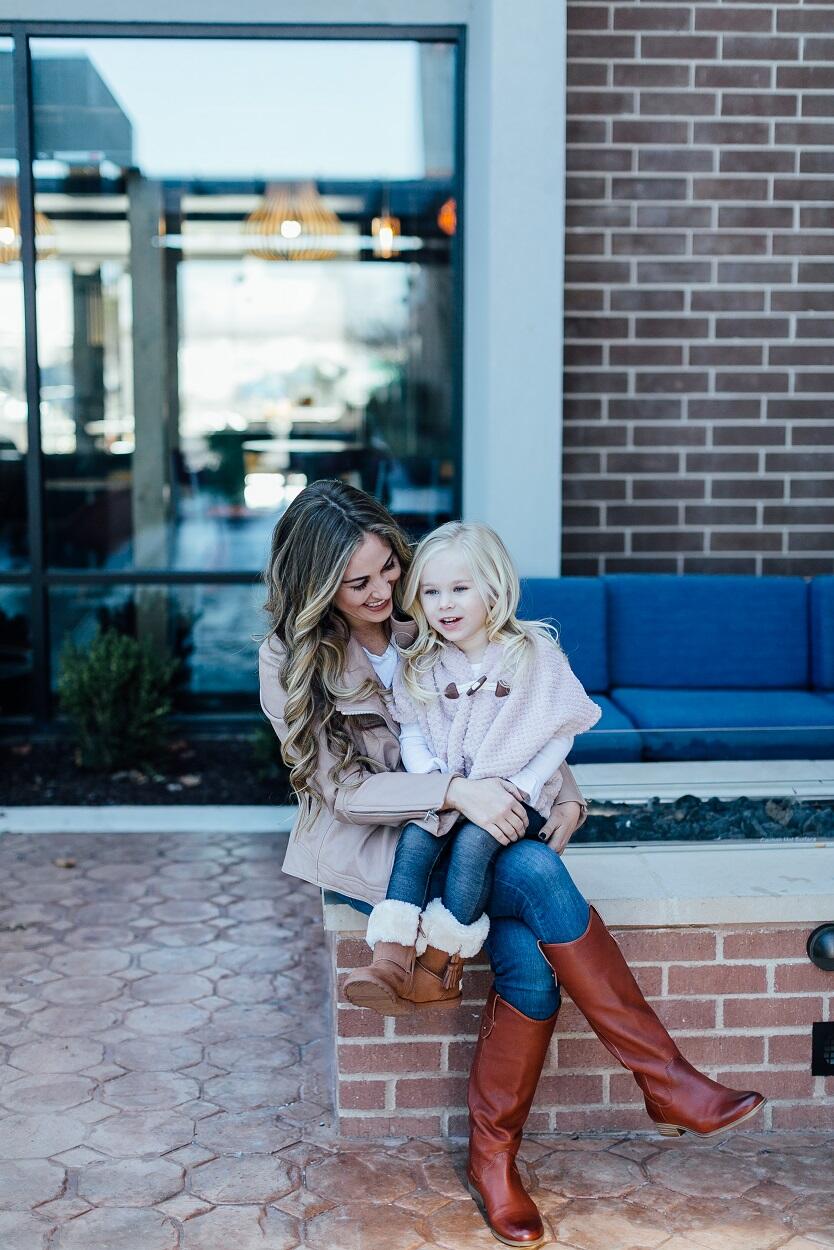 I can't believe it's Christmas Eve today, and the next time we look up, it will be 2018 next week! December is my absolute favorite time of year. Christmas, boot season, an excuse to drink hot chocolate every day! = ) Since the temperatures have drastically dropped this week, I've started stocking up on some great Holiday boots from Shoe Carnival for both me and Leighton to wear this season. Since Leighton is at preschool during the week, I wanted something that was durable and practical but would keep her warm at recess. These adorable little fur-lined Makula Iceland boots are just perfect! And they are just as cute worn on Christmas Eve with her little poncho.
I have been needing a new pair of knee high holiday boots for a while now. I love the pretty and rich brown color of the Frye & Co. Tania riding boots.  They are perfect dressed up with jeans and a sweater or blouse or even dressed down with leggings and a tunic. And don't even get me started on how comfy they are. Sometimes a girl has to wear a pair of shoes that aren't heels!! With all the running around and buying last minute Christmas gifts and visiting family this week, I am glad to be wearing these pretty holiday boots to keep me warm and comfy.
I figured with all the gifts we would be opening this week, there is no harm in opening a little gift for Leighton (and myself!) early. Shoe Carnival has the best selection of brands and styles to get you and your little one ready for anything whether it be school, the holiday season or a special occasion. They are perfect for those little feet that quickly outgrow their shoes each season.
I love that Shoe Carnival has so many locations so you can easily shop in store or online! The sales associates at my local Shoe Carnival are always so nice and helpful. I have quite a few locations in the Memphis area, so I visited a couple to find some favorite styles.
I even picked up a cute pair of velvet booties. The Frye & Co. Holly booties are so cute and comfy! The low block heel is the perfect mix of comfort & style. This color is so versatile and matches so many things in my closet—I love how the neutral shoe contrasts with this fun blue skirt. I think it's so important to remember to put yourself on your Christmas list and snag something special for yourself.
If you don't get what you want this holiday season under the tree, make sure visit Shoe Carnival and stock up on all your favorite pair of Holiday boots for the entire family—and don't forget to treat yourself! ; )