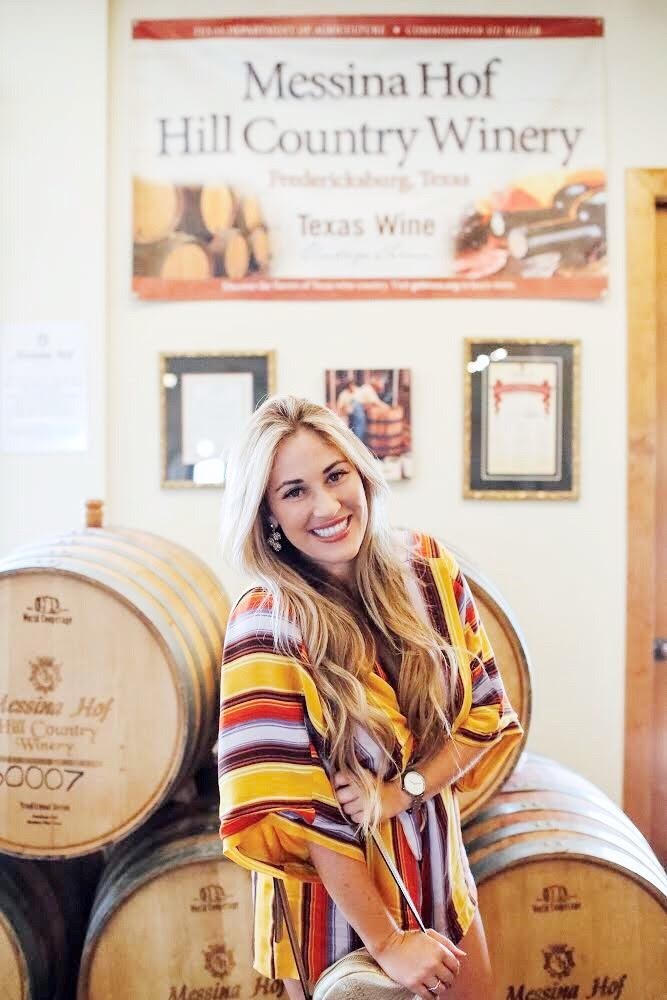 I've been dying to spend a weekend in Fredericksburg, TX ever since one of my friends mentioned it last year…and I'm so glad we finally got to go! Fredericksburg really is the cutest little town. They have such a great square with wine tasting rooms, jewelry stores, clothing boutiques, home décor stores, ice cream shops and SO much more!
They also have wildflower farms, lavender farms and tons of peach stands. I brought back a huge box of peaches, peach cobbler and peach preserves for friends and family. Fredericksburg seriously has so much to offer, and if you're planning a short little weekend trip, you're going to want to keep reading along because I'm sharing my must visit places while in town!
5 Places to Visit for your Next Weekend in Fredericksburg, TX
1.) Java Ranch. Their pumpkin spice latte and kolaches were life, yum! It's right on the square, and is the perfect little spot to meet friends, work on your laptop or just grab a drink or snack to fuel your day.
2.) Messina Hof Vineyard. This is the second location I've visited, and it was just gorgeous! I got to tour their vineyards and winery and was so impressed. It was so much fun walking around and looking at the grapes. Make sure you do the wine tasting and try the cream cheese and pepper jelly tray with your wine. = )
3.) Fredericksburg Inn & Suites. The rooms were so spacious at the hotel. I had a suite with a separate living room and a good sized bathroom. The hotel also had 2 pools, one with a slide and one with a volleyball net. They had an outdoor fireplace, tv, gazebo area and hot tub. It was perfect for sitting outdoors and relaxing whether you're with friends or you have the kids with you. Breakfast was included, and they have such a big variety each morning. It was also just right down the street from the square where there is plenty of shopping and dining options.
4.) Cabernet Grill. Oh my goodness, I could go on and on about this restaurant! They have such an extensive Texas wine menu and so many amazing dishes. They have an indoor and outdoor seating area with so much charm. My favorites were definitely the crab cakes and the Mexican street corn. Next time I go to Cabernet Grill, you can bet that I will come hungry!
5.) James Avery. They are definitely in my top 10 list of jewelry stores. They are family owned, and they originated in Texas. Fredericksburg is home to one of their manufacturing plants, but they also have a retail shop on the square. Most of their jewelry is sterling silver, but they also make jewelry in yellow and white gold. All of their jewelry is crafted by artisans in the Texas Hill Country, and I feel like their designs are so unique and ornate.
Have you been to Fredericksburg? What were your favorite places to visit there? Let me know in a comment below!
Loving this weekend in Frederickburg, TX feature? Click here now to see more of my fun travels!!