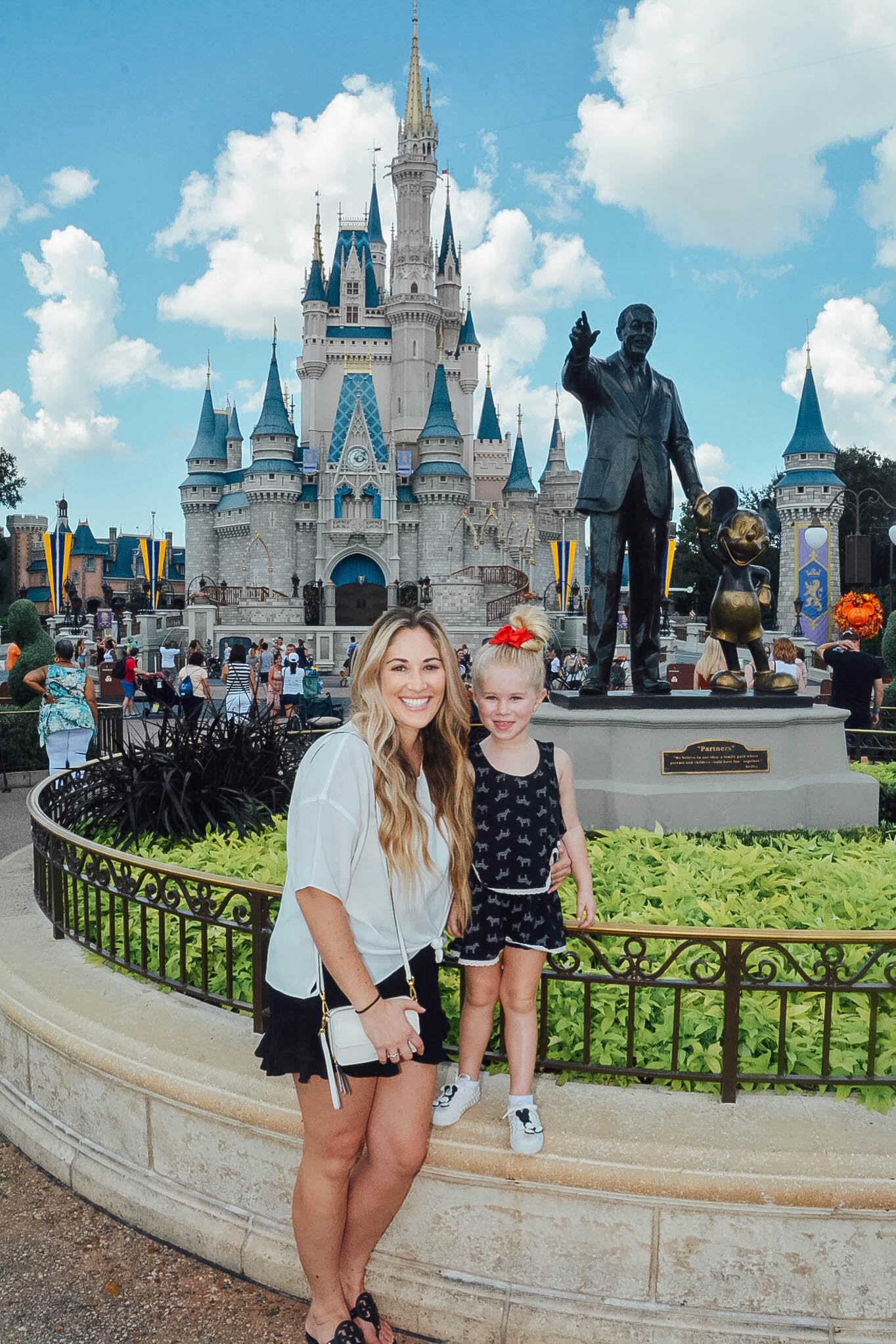 The Complete Guide for Planning a Trip to Disney World for your Family
I had been planning to take Leighton to Disney for 2 years, so this year I finally said why not?!  And I booked our trip to Disney knowing absolutely nothing at all about it.  I had been twice but the last time was 12 years ago and was booked by my parents.  It's a lot different going at 23 and then going at 35 with your own child.  I feel like I will even be more prepared next year and be seasoned Disney pros.  Keep reading below to check out my best tips on how to prepare for Disney from the beginning of your planning to the actual day of.
How and when should you tell them?
Personally I wouldn't tell them until the day of.  If I tell Leighton we're going to the beach in a month, she will tell me she wants to go that day and then ask me for a month straight when we're going.  = )  So…I would just surprise them.  Since Leighton was only 3, it was easy to surprise her.  I just told her we were going on vacation.  She didn't know where, but she was still excited.  She didn't even know where we were when we got there, so I surprised her at Magic Kingdom telling her where we were.  And make sure you record their reaction or get some pictures.  = )  If they're older, you could get away with telling them sooner and them not constantly asking you if the day has come yet.
Where should you stay?
1.)  At an official Walt Disney World Hotel.  We stayed at Wyndham Lake Buena Vista and had the best experience.  First of all, it is an official Disney hotel.  They have a shuttle each day that goes to the 4 parks and Disney Springs.  It is located just right across from Disney Springs where there is plenty of shopping and things to do to entertain the kids like Aerophile, water taxi tours and even Planet Hollywood.  Our view from our room overlooked Disney Springs, and Leighton loved looking at it, the park and the fireworks from the room after we got back each night.  And the hotel was so close to the parks that it made it so convenient and saved us so much time.  We even got the Extra Magic Hours, so we had an extra hour at the park that morning before it was crowded.  Guests also get 60-Day Advance FastPass+ and at an unbeatable rate in either the high-end Wyndham Lake Buena Vista Tower or value-minded Wyndham LBV Garden as the resort features two distinct hotel offerings and so many shared amenities.
Lakeview Restaurant in the Wyndham Lake Buena Vista has character breakfasts 3 days out of the week, and they have Goofy and Pluto there.  Leighton got to meet Goofy, and I think she was on cloud 9.  It was so sweet to watch them talking and hugging!  The breakfast selection was huge, but Goofy definitely was the icing on the cake.  They also had one of the best pools for kids I've seen at a hotel.  It was huge.  There were 2 of them, and they even had some splash pad water features like a bridge that kids could climb on and around.  She honestly probably had just as much fun at the pool as Disney!
I love how family friendly Wyndham Lake Buena Vista was too.  On top of the shuttles, everyone there was no nice and helpful.  They had a Disney shop inside the hotel so you could do a little shopping and get ready for your big day at the parks.  You can even buy your park tickets there at the hotel.  They had a huge lobby with lots of seating, an ice cream shop and plenty of other food options to keep those hungry toddlers full and in a good mood.  They also had a kids area just right off the lobby.  It had little chairs, a table with chairs, books and games and a TV tuned to the Disney channel.  Leighton and I sat down there for a while, and she loved it.
What parks should you visit?
1.)  It depends on the age of your child(ren) and what they're into.  Leighton absolutely loves the princesses, Minnie and Mickey and all movies about any of them and animals.  So, we decided to go to Magic Kingdom and Animal Kingdom.  There was a special Halloween event the night we were at Magic Kingdom so we decided to go early to the park that morning at 8:00am and just stay there all day until about 5:00pm.  Then we ended at Animal Kingdom.  Next time, we would probably just stay at one park.  The lines were so long once we got to Animal Kingdom, and I think we were all tired, hot and hungry by the time we got there.  But…I should also mention that Leighton's hands down favorite ride was at Animal Kingdom too.  I think we would just either spend more time there or none at all to really make it worth it.  Leighton loved the Kali River Rapids at Animal Kingdom.  Honestly, it was my favorite too even though I got soaked.  She was giggling the whole time.
I would check out the Disney website to see what all rides are at each park to see which would interests your kids the most.  Once you decide which parks have the most amount of rides and attractions that your kids would love, I would purchase a park hopper ticket for the amount of days you want to go.  In my opinion, you can easily devote an entire day to most of the parks.  So next year if we decide to do 2 parks, we would probably go for at least 2 days to devote an entire day to each park.
Next you will want to create a Disney Account.  There you can link your tickets, your hotel reservation, any dining reservations at Disney and choose your 3 rides for your FastPass.  If you're going to Magic Kingdom and have young children, I would definitely recommend getting a FastPass for the rides that typically have the longest waits like a character meet and greet (we did the Meet Aerial at her Grotto), Peter Pan's Flight and Seven Dwarfs Mine Train.  Some of Leighton's other favorites were Dumbo the Flying Elephant, It's a Small World (a classic!), Little Mermaid Undersea Adventure and the meet and greet with Cinderella and Tinkerbell.
After you decide what parks you want to visit, how many days you'll be going and what rides you want to ride, I would plan for approximately an hour each ride and plan out your entire day like that.  Then you'll have a realistic picture of how much you can get done in each day.  Remember, you will most likely ride less rides and have less time than you thought.  Travel time to the park, constant bathroom breaks, food breaks and then the heat will just slow you down, so set a realistic goal but don't get upset if you get off course.  Remember, you're really there so your child can have fun!  Let them pick out what they want to do too even if you had your heart set on Space Mountain for yourself.  = )
What should you pack?
1.)  A stroller!  Even though Leighton is almost 4 and some people said she was too old for a stroller, yep I packed it anyways.  And I am SO happy I did.  We did SO MUCH walking.  Even when we were just waiting in line to ride the rides, she would get hot and tired and ask my mom or me to carry her.  Having her stroller with us was so worth it, and there were so many places to park your stroller outside of most of the restaurants and rides.  Plus it gave us a place to store some of our drinks and purchases throughout the day by putting them in the stroller basket instead of lugging it all around.  The only downfall to the stroller was riding the shuttle to and from Disney World with a toddler.  They don't have any place on the shuttle buses to store strollers, so you have to quickly unload objects from the stroller basket and your toddler, fold it up, try to maneuver it onto an off of the shuttle bus all while trying not to hit anyone's ankles on the bus and get on and off quickly with tons of other people waiting in line behind you.  But even with that frustrating issue, the stroller was still worth it!!  In addition to bringing your own, you can even rent one offsite or rent one at Disney.  I prefer to bring my own from home since I know it is a good one that I trust and love, and it also comes in handy at the airport if you have a long walk to the gate.  I also recommend a stroller with a really good sun canopy on it and a cup holder, because that Florida heat is brutal depending on what month you go.
2.)  Skip the pack n play if you're flying; most all hotels will provide them these days.  Leighton slept just fine at the one in the hotel.  We just took her pillow and blanket so she had some of her own favorites in the pack n play with her.
3.)  Pack appropriate clothing.  No matter when you go, it will most likely be hot.  Take some clothes that you won't sweat in, put your hair in a ponytail or braid.  I wore sandals, and they were comfortable, but I know so many people prefer tennis shoes.  I put Leighton in some little slip on shoes that were comfortable for her to walk in (even though she was mainly pushed in a stroller.)  The last thing you want is a grumpy, hot, tired toddler.
4.)  Pack snacks and drinks.  You can bring them into the park, so you might as well be prepared and save some money.  We went through so much water.  I wish we would have packed more, but also remember anything you pack, you will have to carry around.
We had such a great time at Disney and are already planning our trip for next year!  I cannot wait and hope to even get to ride some thrill rides next year.  This year though…it was all about Leighton and whatever she wanted to do, and she definitely loved it!  Have you been to Disney?  What are your best tips to prepare with a toddler?  What are your favorite rides?
Hope these tips for planning a trip to Disney World help you with your next vacation!
Click here now for more of my fun travels!