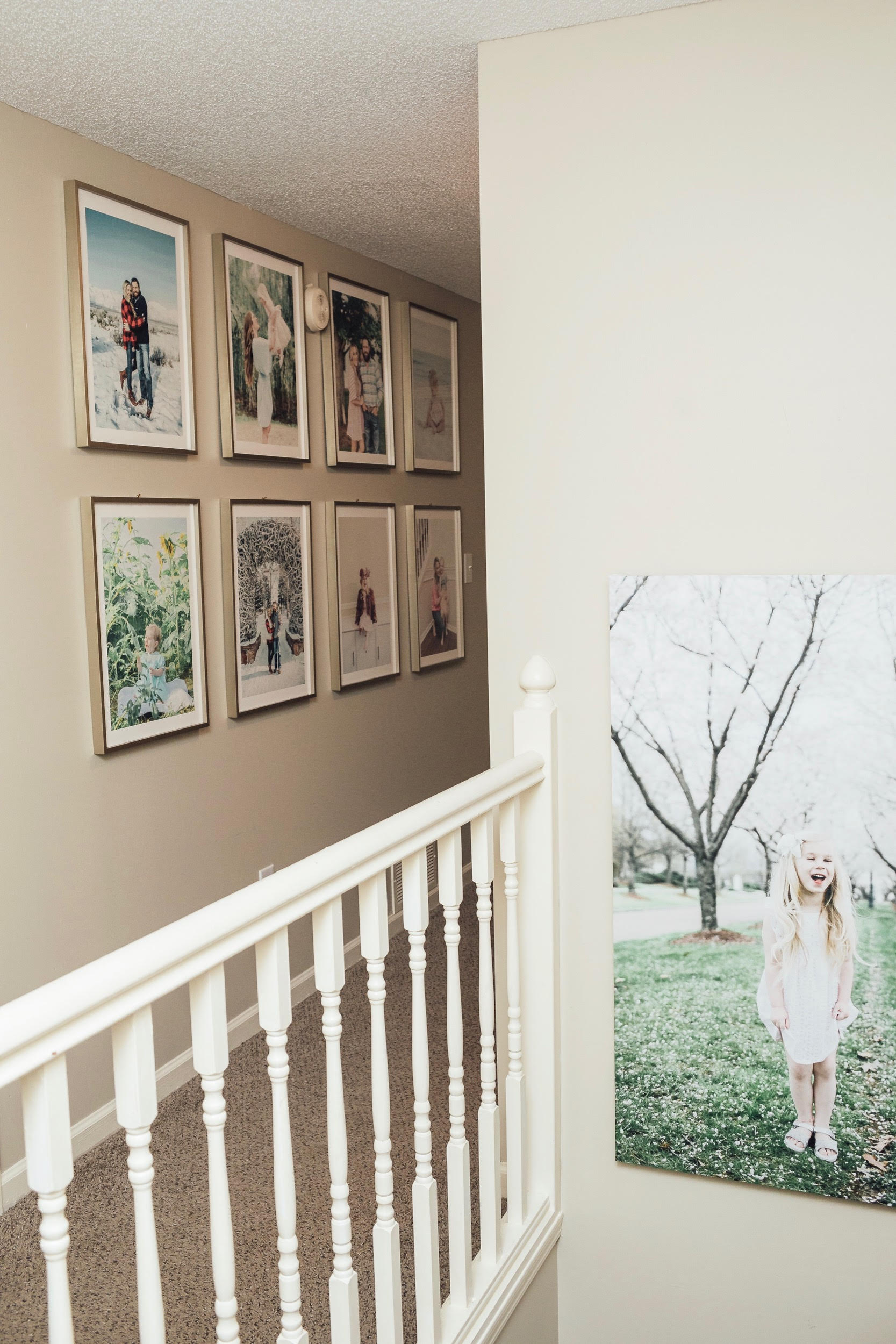 SHOP THESE GALLERY WALL ESSENTIALS:

I finally got all my new framed pictures in for my gallery wall and love them! I ordered these frames in 18 x 24 and decided to go with 8 total based on the size of my wall. I plan to order 4 more soon and put 2 rows of 2 on an adjacent wall. I had this huge wall upstairs, and it was just completely blank. I immediately knew I wanted a gallery wall when I moved in back in 2017, and I'm finally getting around to it!
I thought a gallery wall would be perfect with this large space, though the light switches, outlets and smoke detector proved to be a little challenging. = ) I love mixing different types and sizes of prints, so I also ordered this pretty 32×48 canvas from Collage.com to hang on a wall beside the gallery wall. I think they look so good together and keep the gallery wall from looking to matchy matchy or perfect.
Gallery Wall Tips:
1.) Decide What you Want your Gallery Wall to Look Like.
Do you want them to be hung one above the other, all symmetrical or hung assymetrical? I decided to go with a symmetrical look with 2 rows of 4 pictures.
2.) Lay your Pictures all Out on the Ground.
This is usually the easiest way to visually get an idea of what your gallery wall will look like. You want to make sure you like how it looks before you put 327 holes in the wall from not knowing where you want to hang them. = )
3.) Use Newspaper to Cut Out the Shapes of your Frames
This is up to preference, but if you're doing a really difficult gallery wall with lots of pictures in different sizes, I recommend using newspaper to cut out the shapes of the frames. Then pin them on the wall and get your gallery wall shape perfect.
4.) Hang Them
Once you know where they are each going, it's time to hang them. Don't forget to get out the tape measure and level. No matter how many times I have hung a gallery wall (at least 6 times), it is still a little trial and error for me mixed with a little bit of eyeballing. = )
Loving these gallery wall tips? Click here now to see the gallery wall I did for my home office!