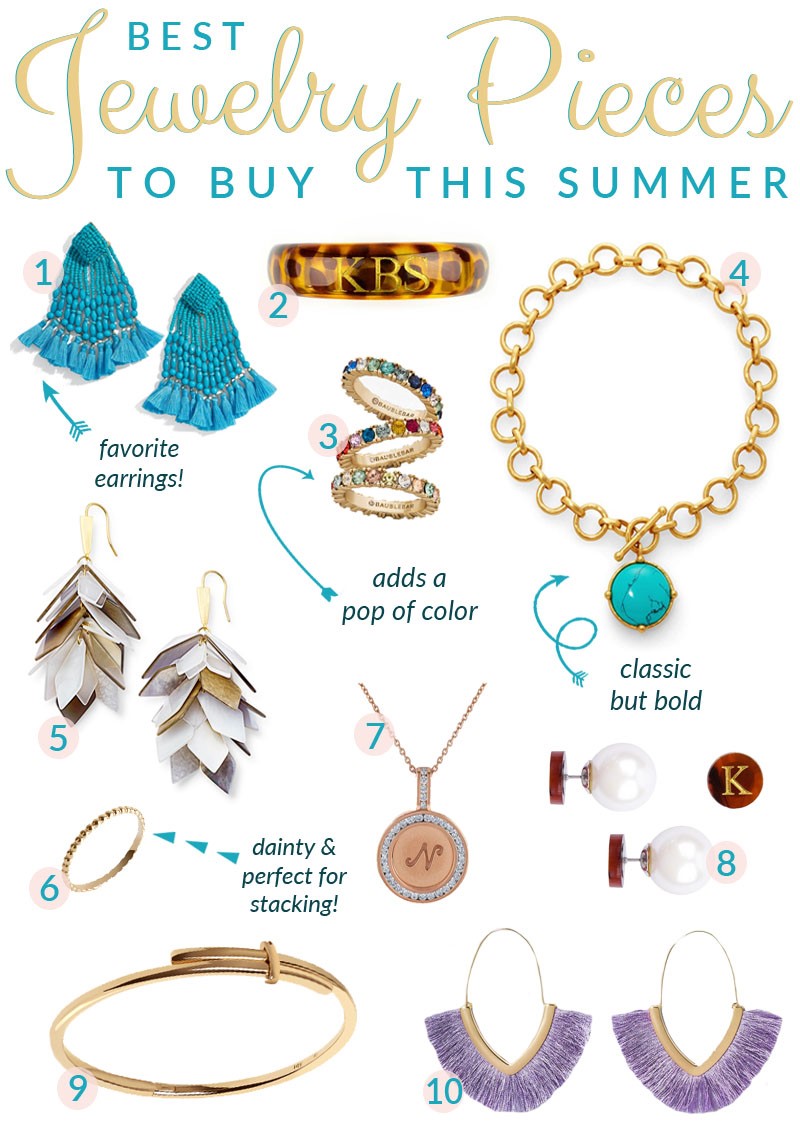 SHOP THESE JEWELRY TRENDS:

Hello summer and hello fun new jewelry for the season! There is something about the changing of seasons that always makes me want to swap out my closet, including accessories like jewelry. I can't help but reach for bold colorful statement pieces, and its exact opposite, dainty classic pieces. I feel like they are both always in style! Whether you're looking for fine or fun fashion jewelry, I'm sharing the jewelry trends of 2019 and my favorite pieces.
FAVORITE JEWELRY TRENDS FOR THE SUMMER:
Some of the biggest jewelry trends this summer will be enamel and acrylic, bold colors, hoops, links and charms and florals. Let's start with my favorite fine jewelry pieces first because they are great investment pieces that you will wear for years to come! Some of my favorite fine jewelry pieces like this dainty ring will look with about any outfit. I also love this fun crossover bangle, this chain link bracelet and this pretty custom letter necklace (they also have a coin style which is really big this year!)
From these bold and colorful tassel earrings to these fan earrings that add the perfect touch to any outfit, they really make a statement. I love this pretty tortoise acrylic bracelet and think it is such a classic piece. These fun and colorful rings are such a great way to add color. Add one or stack them for more of a statement look.
These earrings are perfect for the floral trend and create a pretty 3D almost petal like look, but I've also seen many pretty floral earrings that are smaller or flat and have a floral design or detail painted on them. Florals will be really big this summer! Just like the bangle, these pearl and acrylic earrings are a classic for those girls who just have to have their pearls but want a special touch like your initial on the back.
What about you? Do you like to buy new jewelry for the seasons? What are your favorite jewelry trends of the year? Do you prefer bold statement pieces or dainty pieces of jewelry? Let me know in a comment below!