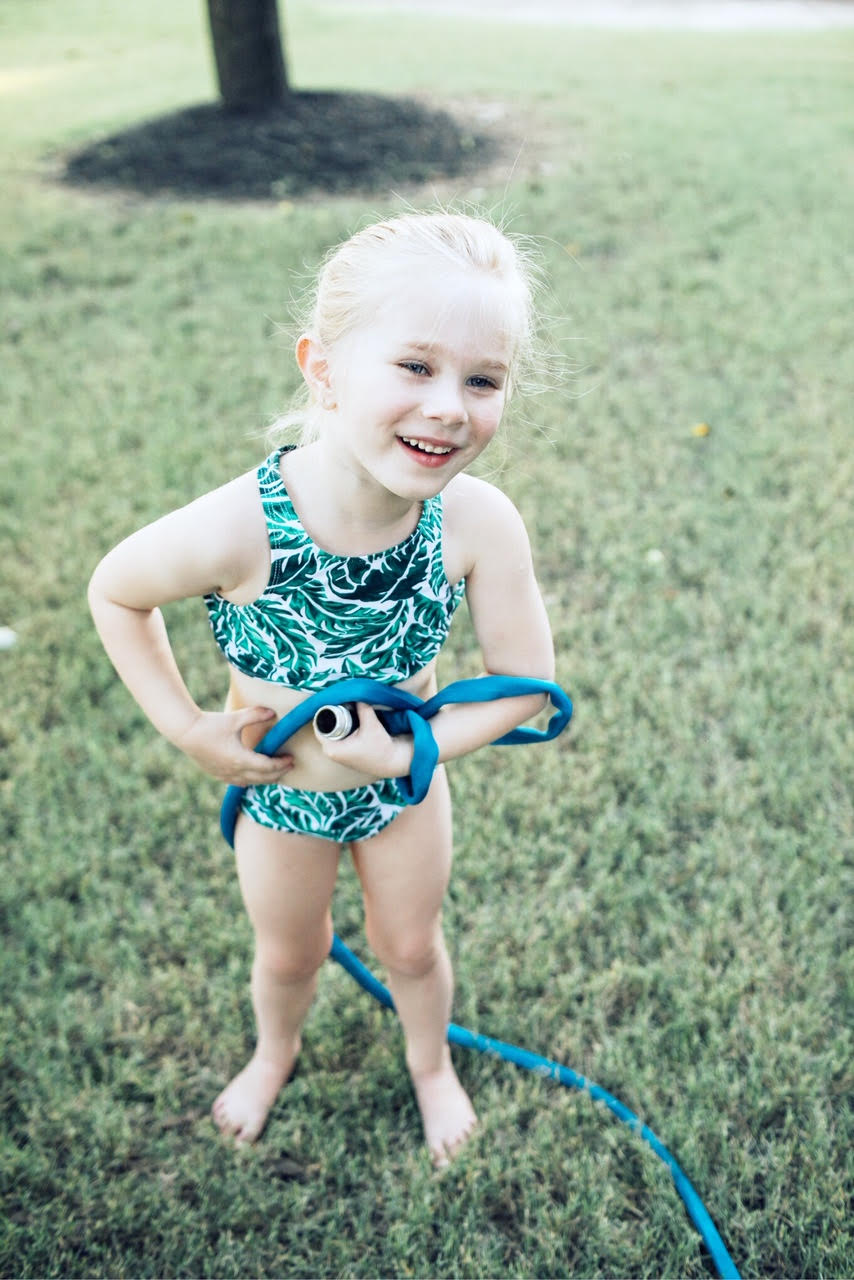 There are only a couple more months left of summer, but school starts back for most kids next month. Is it me or does it feel like summer just started?! If you're feeling like time is running out like I am, then you'll want to check out my best summer bucket list activities below. Leighton and I have done most of them, and they are some of my fondest memories from my childhood too…so let's make summer fun!
1.) Go outside and play in the water hose or sprinklers. We have done this several times. It always starts with Leighton "helping" water the flowers and ends up with her in a swimsuit soaking wet. = )
2.) Go get some ice cream, popsicles or a snow cone. We crossed this off our list in Branson, and Leighton absolutely loved the cotton candy snow cone!
3.) Have a picnic outside. Pack up your and their favorite foods and head to the backyard, to the park anywhere. Just go outside and make it special and different than every other mealtime. = )
4.) Head to the park (and don't forget to take the kite!) This is on our list for the next windy weekend!
5.) Go camping in the backyard. Us this opportunity for a little stargazing too. Kids love to learn! I've got to go tent shopping, and then we're crossing this one off our list.
6.) Visit a waterpark or amusement park. These are a couple of our favorites that are under a 5 hour drive! We will be back at a waterpark this weekend, and Leighton is already counting down!
7.) Take the kids to the library. Bonus – They usually have some great summer reading series at most local libraries. So it's educational and fun!
8.) Explore at a local museum. There are so many amazing museums near us like the Children's Museum of Memphis, but we also love the Museum of Discovery that is less than 3 hours away.
9.) Plan a trip to the beach (or at least the lake or pool.) = ) We didn't get to make it to the beach this year, but we did visit the lake and pool several times, and the beach is back on our list for next year! And while you're there, make sure to collect seashells and build sandcastles. Those are always Leighton's favorite things to do. You should have seen her "seashell" collection last time. It was quite the collection of rocks. = )
10.) Visit the zoo. Memphis has such a great zoo that we usually go several times throughout the year. We went back in the spring, and even though it was pouring down raining all day, Leighton loved it!
11.) Play miniature golf. We did this in Branson a couple weeks ago too, and Leighton loved it. She actually did pretty well too!
12.) Go fishing. We haven't done this one yet, but we are going to start planning it. I think Leighton would love it, and maybe it will at least teach her patience lol! = )
Have you done any of the activities on this list? Which is your favorite?