This post is sponsored by Kindi Kids, but all opinions are 100% my own. Thanks for helping me to support the brands I love.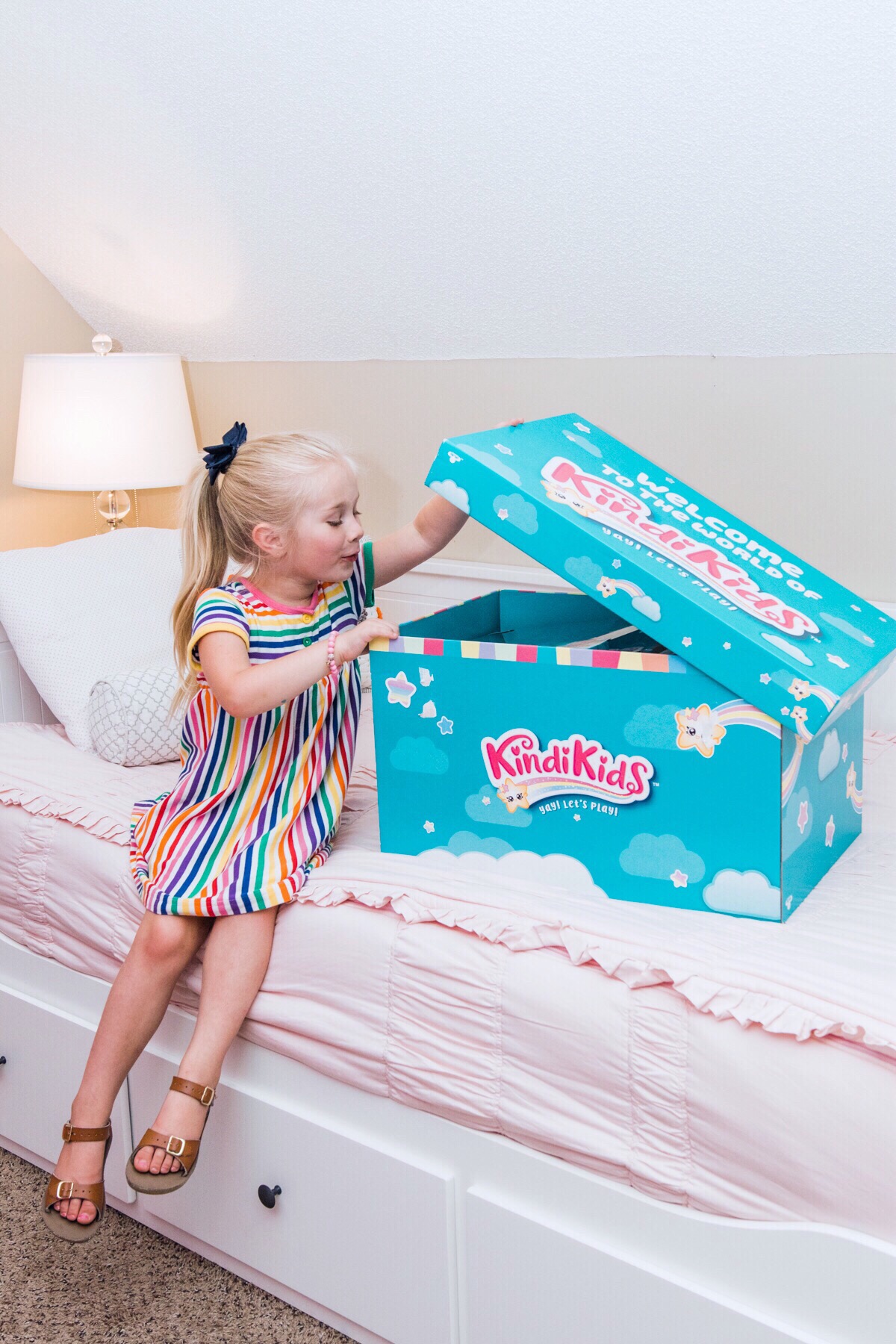 How many of y'all have kiddos that are headed back to school? More specifically, how many of y'all have little ones headed to Kindergarten? Kindergarten is such an exciting time, but I know it can be a super emotional time for both kids and parents alike! For kids, while it's an exciting time and one full of exploring and fun, it's also scary because for many, it is the first time they are exploring something new without their parents.
We recently heard about the coolest essential for back to school that can help calm those nerves for your little one and help your mama heart as you send your kiddos off to school for the first time – Kindi Kids. Though we have one more year before Leighton starts Kindergarten (thank goodness!), she is in preschool, and I knew these toys would be just perfect for her!
Kindi Kids are a light-hearted and unique way to send your little one to school knowing that they will be comforted by this little BFF while going through this transition into the world of learning and exploring on their own. Your child's Kindi Kid will be there to hold their hand the whole way and help guide them through the ups and downs! Leighton still insists on taking her stuffed animal and blanket to school each day, so I think Kind Kids will be perfect to help her transition to "big school."
Kindi Kids are unique and collectable dolls, and it is sure to be a challenge for your kiddo to pick just one!
Each Kindi Kids doll has their own sense of style, look, feel and a special set of interactive accessories that are made just for them! I know Leighton is only 4 (almost 5), but goodness does she love accessorizing! I guess the apple doesn't fall far from the tree. She just loves girly things, dolls, dressing them up and fixing their hair too. And don't get me started on their adorable interactive playsets. These dolls live in Rainbow Kindi, a world full of imagination and happiness. Their playsets, such as the Kitty Supermarket, live there too!
Leighton loves her Kindi Kids!
She has been playing with them non-stop since they showed up. And I just can't help but think they are so adorable! I love their glittery eyes and bright colored, girly outfits. They are perfect at catching little girls' attentions, and Leighton was immediately drawn to them and wanted to fix their hair and change their clothes. I can't wait to see how much she continues to love them over the next year.
I feel like this age is such a hard age to find toys for, so I'm glad these Kindi Kids are so great for kids Leighton's age!
Will you be getting a Kindi Kid? How old is your little one?