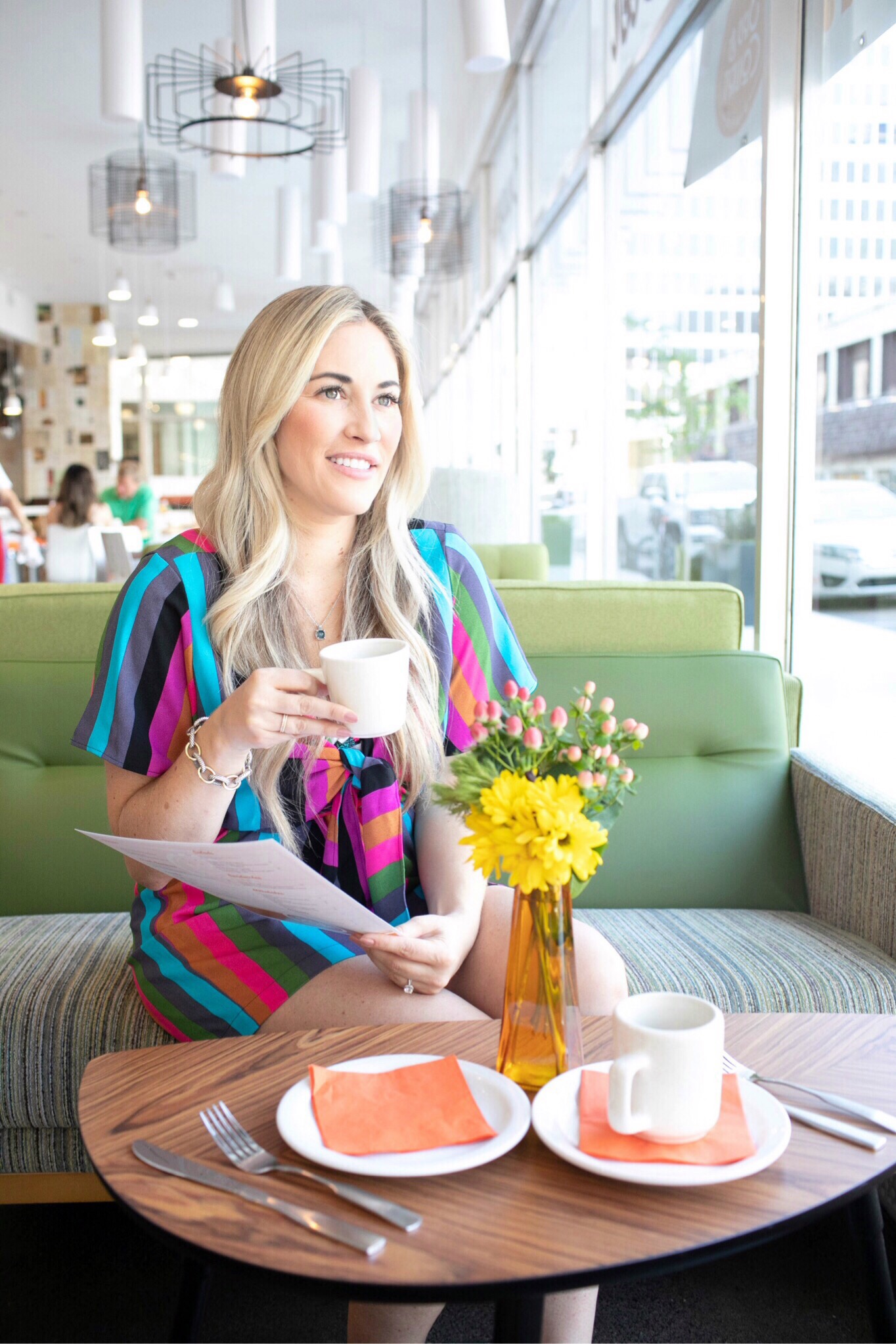 SHOP MY WEEKEND LOOKS:

I had a fun little weekend staycation in my own city at Hotel Indigo a few weeks ago! The hotel is super retro, yet modern and chic. It's such a fun mesh and comes together beautifully! They have fun little touches throughout like a jukebox. You can't walk into this hotel without feeling like you're in Memphis!
This is the cutest little diner in downtown Memphis with the tastiest food! This diner has all the modern touches with all the classic food you expect at a diner! From milkshakes and burgers to the yummiest breakfast you've ever had, you're going to find something you love here and it's sure to be your new favorite spot downtown! I had an omelet with pesto sauce on it, and it was one of the best omelets I've ever had!
There's no better place to get scenic views of the Mississippi river than in downtown Memphis! This trail loops around and brings you right into downtown Memphis! It's a gorgeous trail on a nice day to get views of the river, some of the gorgeous little communities in Memphis and much more! Matt and I loved walking around South Bluffs on a pretty Saturday morning.
From April to October, all the local farmers of Memphis come together to share their hard work with the city. There are so many amazing vendors, selling all types of beautiful, fresh produce, flowers and loads of other goodies! I fell in love with all the pretty flowers, and there were so many veggies that looked amazing. They even have food trucks with some amazing cuisine.
Situated just above BB Kings Blues Club, Itta Bena is a total score! This hidden gem offers some notable Southern dishes like shrimp and grits and the yummiest steak. It was such a cool, unique restaurant and perfect for a date night out. The steak and brussel sprouts were amazing y'all!
By playing tour guide to Matt all weekend, I realized that I honestly have never really played the tourist in my city. It was so much fun spending all weekend in downtown Memphis and exploring everything the city has to offer. And we still have SO many more amazing restaurants to check off our list!
What about you? What are your favorite things to do in downtown Memphis? When are you planning your next weekend in Memphis? Let me know in a comment below!