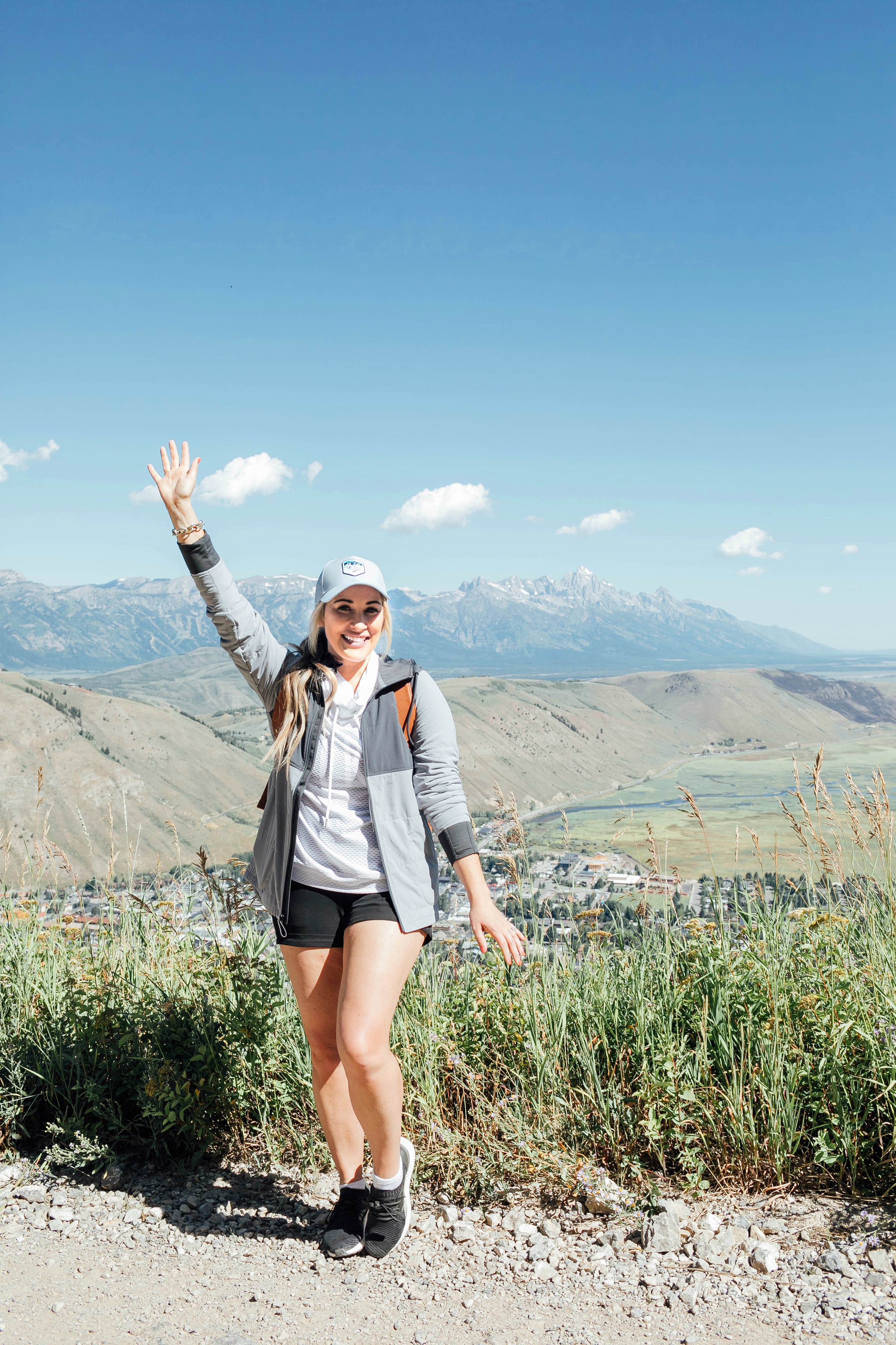 SHOP MY JACKSON HOLE LOOK:

I've been going to Jackson Hole for 18 years…yes half my lifetime! And I love this place! This August I FINALLY got to go in the summer time. I can't believe I had been going for half my lifetime, but I had only been in the winter to ski! When people say it is even busier and their peek season during the summer (not the winter), they're telling the truth! I just couldn't believe it. But they're right, Jackson Hole Wyoming is just gorgeous in the summertime, and the temperature is amazing!
Since I got back in August, I have SO many people ask what the heck do I do in Jackson Hole when it's not cold enough to ski yet. And I used to wonder the same thing, but trust me, there is SO much to do in the summer and fall… even more than during the wintertime! I'm sharing my top list of summer activities to do in Jackson Hole right now. It's the perfect time to visit with their beautiful weather (it was in the upper 70's and sunny each day!)
The Best Things to Do in Jackson Hole Wyoming in the Summer:
Not only is this a great place to ski, but during the summer months, they have an abundance of activities to keep you and the kids busy. If you're taking kids with you, you will definitely want to add this to your list and maybe even stay at Snow King too for the convenience. They have zip lining, a coaster, mini golf, a maze, a bungee trampoline, an alpine slide, paragliding, bullring and biking. If that doesn't keep you busy, I don't know what does!
Matt and I rode the scenic chairlift to the top and then hiked down the mountain. There are several different routes from hard to moderate or you can even bike down or just ride the chairlift back down. I definitely recommend hiking down for gorgeous views and a great workout. Just make sure to pack some water.
There is nothing quite like the Tetons, and the aerial tram gives you perfect views of them. We rode this tram back in January in the winter and got some gorgeous videos and pictures. And Matt rode it this time in the summer. They have a restaurant and bar at the top too in case you get hungry or thirsty! Trust me, you have to ride to the top to see the stunning views of the Tetons.
I have had white water rafting on my list for YEARS, and I finally got to cross it off! Though I don't plan on it being the last time by any means! We had SO much fun! I went with Matt, his sister and her boyfriend and his mom. With the guide, there were 6 of us. There were a handful of spots where we all had to paddle like crazy, hang on for dear life and get soaked by waves…and it was awesome! I would go again in a heartbeat.
The weather was nice so we didn't wear wetsuits, and we all felt great. If you're going a little earlier in the season though, I would probably recommend a wetsuit. There are easier ones and more moderate ones, so make sure to ask when you book a trip depending on whether you'll have any small kids with you.
This was actually one of my favorite parts of the Jackson Hole summer trip. This winery was the most gorgeous winery I have ever been to in my life so far, and Matt and I are racking up quite the list of wineries. The view was stunning. You walk out the back of the winery to a view of the water and the mountains. The back patio is covered so you can just sit, relax, have a drink of wine with a meat and cheese board and have great conversation with family.
Matt and I took his mom and dad to the winery, and I think they just loved it there too. If you go during the winter months, you have to go to their tasting room because you can't get to this location with all the snow and ice, so I'm glad we finally got to visit their winery in the summer! We will definitely be adding this stop to our list each time we go back again!
If you've been to Jackson Hole Wyoming in the summer, let me know your favorite places. I would love to add more to my list and check them out. And if you haven't been yet, trust me, you just have to add it to your list! You won't want to leave Jackson Hole to go back home…and that's how the locals became locals. = )